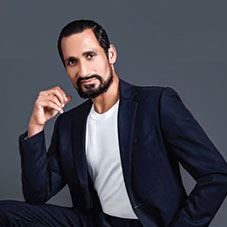 AS our neighbor, China has always been our largest trading partner and assures a favorable ecosystem to promising entrepreneurs as well as leaders who are determined to make it big. While many of the Indians have been immensely successful world wide both personally and professionally bringing in both joy and a feeling of pride to the motherland, very few have represented the country in China. Among those few, Dev Raturi (Founder & Brand Ambassador, Amber Palace Indian Restaurant) is one of those rare multi-talented personalities who is not just a famous actor but also a successful entrepreneur owning a chain of 8 restaurants across China.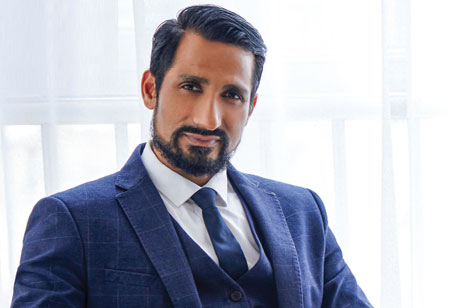 Success Mantra add the below I have firm conviction in Bhagwadgita whose quotes won't let me give up. One of the most famous quote of Gita says "karmaṇy-evādhikāras te mā phaleṣhu kadāchana mā karma-phala-hetur bhūr mā te saṅgo 'stvakarmaṇi" which means I should do my karma without thinking of the fruits. I always believe to do my best, whether I succeed or not is secondary, if your karma is right, it will definitely pay you back. Always be action oriented, not result oriented.
With roots in India, Dev Raturi moved to China in the year 2005 and quickly climbed up the ladder to start his chain of Indian restaurants in the major regions of Xi'an, China. A man of action, passion, will power, and meticulousness, Dev started the first and only Indian Cultural Themed restaurant 'Redfort' in September 2013 to provide a superior dining experience combined with the authentic taste of the Indian culture and cuisine. Famous for providing the customers a whole some Indian royal experience, Dev later upgraded Redfort to Amber Palace, which is one of the most known and successful Indian restaurants in Xi'an, China. Dev also is also co-owner of two Chinese restaurant called 'Shaanxi Soul' serving exclusive Fish Hot Pot. Dev & his restaurant that is raved about in various media channels like Discovery, CCTV 2, CCTV 4, XINHUA News, Shaaxi TV, Voice of Xian, Travel Channel and many more. Featured and interviewed in over 150 media channels of China and India including the Global Times, The Economic Times, Xi'an Daily, China Daily, People's Daily, the Hindu and Hindustan times, Dev was named the 'Successful Indians in China' by indiansinchina.com in 2018.
In an exclusive interaction with CEO Insights, Dev shares his success mantra, tricks behind Amber Palace's successful management, his other ventures, and much more.
What is the success mantra behind your sparkling career in both entertainment as well as hospitality sector?
From working as a milk boy for a salary of 50 RMB/ month to working as a director in a multi nationality hospitality chain for a salary of 35000 RMB/month and then starting my own chain of restaurants, it's always been a roller coaster ride. I believe in dreaming big. If you can dream big, you will find ways to achieve it. You need to have a never back down approach come what may. While I believe that there is a long way to success, still it's my vision and dreams that have made me what I am today.
I find a man successful when he can give back to society in terms of employment, supporting the under privileged, orphanages and making difference in their lives
I also feel that we all have a social responsibility towards our society and humanity. Everyone works for themselves throughout their lives but I find a man successful when he can give back to society in terms of employment, supporting the underprivileged, orphanages and making difference in their lives.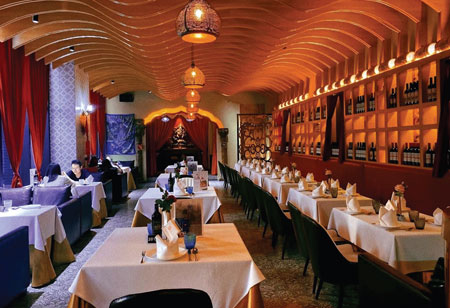 Amber Palace Indian Restaurant is making a mark for itself as one of the top dining experiences among customers. How did you achieve that?
The initial idea after opening Amber Palace was to provide a wholesome Indian experience along with a wonderful dining experience to the customers. Be it the ingredients or the chefs or the handi crafts, everything about the complete experience is so Indian. After coming to China, I could see that there was a huge cultural gap and as a fellow Indian in a foreign land, I took the responsibility to showcase my country and its vivid culture at the best level. We also celebrate many Indian festivals like Holi,Diwali through special events and are also working closely with the Indian Embassy and consulate to take various initiatives across Xi'an, We truly believe in the Indian philosophy of 'Atithi Devo Bhava' which means guests are equivalent to God and now we have many local as well as foreign customers always coming back for a great experience. Apart from that, we have closely worked with Indian Embassy and Consulates to take various initiatives including one of the premium upcoming projects in Xi'an,
What were the challenges you faced before becoming one of the mainstream actors in China? Can the viewers expect you in the Indian movie industry someday?
Since childhood, I have always wanted to become an actor and have even tried my luck in Bollywood but couldn't utter a word in front of a camera. After 20 years, when I got a chance in the Chinese industry, it got me a very good response. Since then, I have been playing different character roles and negative roles in both TV and movies which have helped me enhance my acting skillset. Even though I am not at all trained in professional acting neither I have extensive experience in it, I give my 101 percent to the roles I play. I was supposed to play a key role in one of the Indian films, but couldn't travel due to pandemic related restrictions. However, Indian viewers can expect me soon to appear in Bollywood movies in the future. I
have even received a proposal for my biopic from an eminent Indian movie director and hopefully, it will fall into place soon.
You have been a part of many initiatives as well as promoting fraternities of both countries. Can you share with us more on that?
Due to the major cultural difference, it was tough for me to adapt to a foreign land. Since then, I have always aspired to bridge the gap between the two countries and Amber Palace is one of the initiatives in that direction through which we were able to host many Indian festivals and cultural events as well as invite many Indian dignitaries. We are also working with the Xi'an government to open the biggest Indian pavilion here, which, in the future, will be representing the whole Indian culture including food, heritage and so on in its true color.
I am also a brand ambassador for the Silk Route initiative and working closely with the government for it. We started our first project in the Tang West market of Silk Route which has thousands of years old history and I am glad to have been considered as Silk Road ambassador. Apart from that, I have been pragmatically engaged to establish a connection for strengthening the Sino-India relationship and have addressed various seminars of business houses, young entrepreneurs, and students to share my viewpoint of business. Till now, I have received an overwhelming response and am glad to witness many of such people coming up with different ventures in the past few years.
Is there any dream of yours that you are still thriving to accomplish?
My biggest dream is to open an NGO through which I can help many underprivileged but talented children get the best education facilities. I still financially help many NGOs and charities in my capacity and have already sponsored many children's education in India. I do believe that a man is truly successful when he can give back to society and make a difference in people's life.
Dev Raturi, Founder & Brand Ambassador, Amber Palace Indian Restaurant
An Indian entrepreneur belonging to Uttara khand India, Dev is currently residing in Xi'an, China with his family. An entre preneur, actor, and social activist, Devowns several popular restaurants all over China and had acted in several Chinese movies and TV series. With 10+ documentaries being made on his life; Dev has been interviewed by 100 top international media houses including China.
Awards & Recognition:
•Top 100 Entrepreneurs in Shaanxi
•Deputy Director of Foreign Affairs Committee of Xi'an, Baoji chamber of commerce
•Best 10 foreigner Friends in Xian
•My Story in 7th Standard of English text book in Xi'an,
•Person of the year Award and Best Reversal Award DevRaturi as Salim for TV drama "My roommate is detective"
•Silk Road Ambassador Member of the Silk Road Chamber of Commerce
•Member of Hong Kong International Culinary Arts Association
•International Food Consultant(awarded by China Food Culture Research Association)