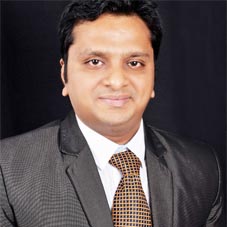 In an exclusive conversation with the CEO Insights, Dheeraj talks about his approach and his journey at Aditya Birla Health Insurance so far.
Delineate on your educational & professional background prior to joining ABHI.
I am a B.Sc graduate and have completed M.B.A. in Finance from University of Mumbai. Post that, I spent my early eight years of career working with IDBI Bank. Deployed in the treasury department - back office at first I was very soon moved to the front office. Being the youngest, I got levied with immense work load from all seniorities, natheless their due support granted me the opportunity to get acquainted with the desk of several fixed income & money market, especially Government securities (pre-deemed) - raising money from the market for the bank in terms of CD then maintaining CRR, and investing in mutual funds to crediting SLR (majorly concerned corporate bonds and Govt. bonds).
Over time, I was entrusted to independently lead the entire SLR portfolio of the bank which was worth over Rs. 50,000 crores, There I got a chance to trade in IRF, OIS, and almost all the instruments related to fixed income & money market.
Joining ABHI in 2016 (Nov.) as Funds Manager was a major turning point in my life. I obtained a CFA from CFA Institute, while working at ABHI. Within a span of six months, in 2017, I got promoted as the company's CIO. However, it's been quite an exceptional & enthralling leadership journey, responsibly entrenching everything concerning investments, also managing operations, right from the ground level.
At ABHI, we don't just focus on the short-term volatility of the market, rather aim for medium to long-term returns to best serve the company's stance
What are the various responsibilities that you hold at ABHI? What are the strategies you follow to manage your organizations investment portfolios?
ABHI, a subsidiary of Aditya Birla Capital, is a joint venture between Aditya Birla Group and MMI Holdings of South Africa. Its current product portfolio includes unique offerings including chronic care and incentivized wellness provided under a wide range of healthcare policies (Indemnity Policies, Fixed Benfits, Global Polices, and Group Protect Plan). Presently, with presence across PAN India we cover 650+ cities through branches and partner offices, nine bancassurance partners, and 17000+ direct selling agents. At ABHI, we don't just focus on the short-term volatility of the market, rather aim for medium to long-term returns (target overall returns, instead of quarterly), to best serve the company's stance.
Here, as a CIO, I am responsible for drafting proposals for investments, getting it approved through my risk management team and getting it implemented, right from creation to execution, everything comes under me. In terms of strategy, my previous understanding of fixed income & equity derivatives, clubbed with CFA have proved helpful. It even shows in the ABHI's last year's investment performance, where our NPA was one of the lowest specifically in health insurance sector. Also, public disclosures of June 2020 portrays that we relished the best return too comparative other health insurance companies.
How was it getting promoted from Funds Manager to CIO role? What were the initial challenges faced in managing such a large organization and how did you achieve success at later stage?
When I joined ABHI, I was served an empty plate. Hailing from a fully-adept organization, where everything was systematic, here not
even a single counterparty was registered with the company. Initially, it gave me thrills. Beginning from scratch, I erected the whole operations set-up, purchased the first bond for the company, followed by much more. I had experience in handling Rs. 50000 crores investment portfolio, yet here I got to handle Rs. 200 crores investment portfolio. Being new to the organization, coordinating with the seniors at the parent company to seek assistance was challenging, however, they did help me and now I am able to handle things smoothly

Has COVID lead to any change in working methodology of ABHI?
Having completely automated working methodology concerning the digital age, our company thriving amidst the investment industry hardly went through any changes, expect the fact that instead of physical signature on documents we have implied digital signature, and introduced work from home.

What is the future roadmap set for ABHI? How are you updating yourself with the latest consumer trends in order to make ABHI & its services reach its future goals?
Right now, we are investing only in fixed income, but two years down the line we plan to diversify our asset class probably in equity, and also if opportunity strikes in alternative investment management.

Reading about market is my hobby, I prefer doing it in my free time, as well as when I am on job. Despite dealing only in fixed income, I expand my reading across all the asset class – be it equity, Forex, or others, keeping a check on global events which could either impact portfolio or entire market.

How do you manage to strike the perfect work-life balance?
I am the kind of person who when does something puts full focus into it. I try my best to avoid any mistakes while doing investments as one bad performance is enough to do away with all success. Hence, creating a perfect life balance, I try not to jumble between the professional and personal.

Dheeraj Agarwal, CIO, Aditya Birla Health Insurance
A hardworking finance maestro with a demonstrated history of working in the Banking & Insurance industry. Dheeraj is skilled in Mutual Funds, Trading, Derivatives, Foreign Exchange (FX) Trading, and Team Management.

Interests: I enjoy reading. I am a socially active person, thus, I try meeting one of my friends weekly by catching over at his place or mine.

Travelling: I love travelling, it could be any place.

Cuisines: Fond of mushroom, anything vegetarian is good to go.