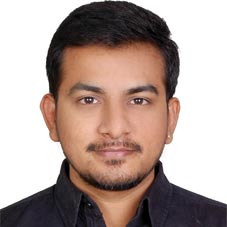 Amidst a technologically advancing Fintech ecosystem, with people turning digital and using virtual payments, cryptocurrencies hold the promise of a new native digital asset class without a central authority. With investments worth $754 million already made in past few years towards the development of this industry, market for cryptocurrency is expected to amount to $200 billion by year end 2027. A large market base, innovation-driven startup landscape, and friendly government policies are key factors hurling the cryptocurrency cause in India. Furthermore, despite the economic uncertainty surrounding the Covid-19 pandemic, foreign investments in fintech-focused startup accelerators & incubators are responsible for an extensive proliferation of startups & MSMEs catering to the cryptocurrency sector.
Leveraging the best out of this burgeoning cryptocurrency grassland is Koushik Mall, ex-CIO, Amesten Asset, a finance expert having hands-on experience in various precints of financial industry. Having started his career at a young age of 18, Koushik (a traditional Marwari) is renowned in the industry for not only his investment management skills and expertise but also for leading his organization with great efficiency and contributing to its growth across different details and functions across. Mumbai-based, start-up Amesten Asset is an explicit exposition of his perceptive leadership acumen in the crypto asset management and investment fund service space. Koushik feels that there is an opportunity in every turmoil, hence spearheading Amesten Asset, he always ensures to direct his focus on identifying such opportunities, and thereby deliver strong, risk-adjusted returns to the investors through an active and consistent investment approach.
In an exclusive interview with CEO Insights, Koushik explains more about his background, fortes, experiences and a lot other aspects. The following are the key highlights of the interactions we had with him.
Could you highlight the major facets of your educational and professional background that helped you steer your journey to where you are today? Also highlight the skill sets and strengths?
I have pursued B.Com degree, and since a very young age have indulged myself into trading. Prior to establishing Amesten Assets, I have performed a couple of odd jobs in the roles of trader and equity dealer which involved client interaction, explaining of brokerage policies, client conversion, and more. I basically acquired my entrepreneurial and leadership traits
going through the process of trial and error, followed by best possible rectifications. Henceforth, the pace at which great work in the past gets overridden today is anomalous.
My journey with Amesten began in 2018 and here I am responsible to handle our investors' capital, engaging in calculated risk, providing downside protection, and delivering consistent profits. Alongside, I sometimes even help my colleagues with the operations management.
Coming to my skill sets, I would say the basic is self-learning, followed by observatory skills. In this technological world to become adept at cutting through fintech investment solutions, it's my zeal that keeps me growing along all disciplines of my role.
I have pursued B.Com degree, and since a very young age have indulged myself into trading. Prior to establishing Amesten Assets
What were the initial challenges in your career and as an entrepreneur that helped frame Koushik who he is today? Tell us about your propelling milestones and journey with Amesten.
Starting off in an industry where finance is the only asset & capital, that too at a young age of 18, the early blockage seemed to be money. I ventured into the field of trading with just a small amount of four-digits at that time, and it took me nearly two years in making the first one lac amount. Losing money was the main challenge and under that umbrella there are many things. I never held any specialized knowledge in finance sector, and since Crypto is blockchain embedded technology tool, I even faced difficulty in understanding coding. Despite brunt with such shortcomings, I never gave up and am engaged in constant learning to prove productive.
Withal, the journey with Amesten has been great so far. It actually kicked-off when I met with Sachin via twitter, where he first propounded the fund management in cryptocurrency industry. Being skeptical, yet perceptive of the vision that this industry is here to stay & mushroom, and the country's leadership will soon recognize its benefits, we progressed decently & slowly. And, today we have been growing significantly, making profits in 7-8 digits.
What are thoughts about the current finance industry in India? What opportunities you foresee from the current industry for your company Amesten?
There is no denying that fintech companies have disrupted the traditionally slow and inefficient financial system. The digital currency has contributed to the shift of online banking and other fintech technologies. Significantly, the year 2020 turns out to be very regarding for global online digital market. Amesten Asset is an open and straightforward crypto asset management and investment fund service management company. Our stance in our crypto decisions come
from strong fundamental research backed by technical analysis. As we deal mainly in cryptocurrency, seeing the current spread of this fintech sector it will not be wrong to say that cryptocurrency is an investment in tomorrow's financial system – DeFi (decentralized finance).

So, yes, at Amesten we believe that cryptocurrency is going to be adopted by everyone in the near future, and has a burgeoning future.

Keeping oneself abreast in this competitive market is quite a necessity. How do you keep yourself updated despite so many engagements?
Technology is ever evolving and the idea should not be to control but to upgrade along in order to have an informative framework of mind. Though, I am not very social and haven't been an avid reader ever since childhood, but, I find social media platforms like Twitter and more quite engrossing. Hence, I have been following inspiring people in the fintech arena in order to get to learn more and more (about algorithms, coding, trends, others), without any bias, and sharing my insights as well.

Family plays an important role in one's life. How has your family supported in your career so far? What about personal and professional life balance?
Hailing from a Marwari family, it wasn't a kind of indifferent to step into business world, mostly one percent of all families do so. Though, the history of traditional failures in the community did bar the support of family members initially. However, they were there for me emotionally and economically, while I faced losses in trading. As now, it's been close to seven years, slowly & steadily things changed a lot and now that they see my struggle of success, they fully support me all along.

Well, talking about personal & professional life balance, it's been quite simple, for me as I prefer keeping them apart. I have been my own mentor. Being mentally and emotionally strong, relying more on hard work rather than smart work, I always managed to have a clear vision about things. I also owe a spiritual penchant and the only book I read is Bhagwat Gita and that also very much helped me to retain balance in my life.

What future plans you have for Amesten Assets?
Hopefully, growing slowly we plan to keep growing helping clints make money and eventually our assets under management. It's completely been trading and investing into cryptocurrency until now, but slowly we are entering into investing in projects as well, (seed investment in projects) and different level investments in different projects as DeFi is also coming into scene.

Koushik Mall, ex-CIO, Amesten Asset
Having worked for diverse organizations in trading & finance, Koushik currently spearheads the overall crypto asset management and investment fund service management of Amesten Assets.

Interests: Sports- Cricket, Chess, and more
Favorite Cuisine: Traditional Indian Cuisine.