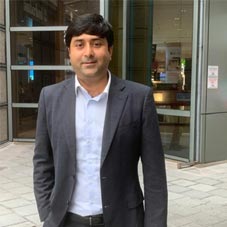 Much more than investment plans and financial assistance, today's CIOs and capitalists are ardently supporting the overall entrepreneurial culture. Their farsighted visions and strong social networks have equipped them with the fullest comprehension of business scenarios and the opportunities that can be leveraged by companies to become a unicorn. A particularly fine example of such a maestro who is predominantly contributing in building a strong business ecosystem is Mohit Ralhan, Managing Partner and Chief Investment Officer of TIW Private Equity.
This successful 21st century CIO is a friend, philosopher, and guide to the many start-ups, which look for strong grounds and success. He is an expert in strategy, macroeconomics, analytics, technology, retention, and his core philosophy of margin expansion. With years of rich expertise, he forms the most accurate picture of a great investment maven. He is phenomenal in his ability to communicate an inspiring vision, to design an effective financial strategy, and consistently achieve growth & margin targets with structured policies, morals, and ethos.
The insightful story of this industry veteran takes us through a ride where he showcases the importance of being an open-minded learner and promoting win-win situations for people, society, and organizations. To know more about his peculiar strategies and the most distinguishing ideas of TIW Private Equity, kindly peruse the following excerpts of an exclusive conversation between Mohit Ralhan and CEO Insights.
Kindly brief us about TIW Private Equity and its operational ideas.
We are a buyout private equity fund based in New Delhi. Our investments are SME-focused and sector-agnostic. Our primary idea is to invest in inefficient start-ups,
under performing assets, fragmented, and low-capital intensity businesses. Unlike other fund houses that invest in businesses that are already doing well, we have taken a different approach to investing. We invest in struggling businesses and work with founders and management team to improve operating efficiencies of the company leading to significant margin expansion. We generally take a controlling stake in companies and typically look at buying businesses that are currently towards the lower end of the margin spectrum but have significant potential to improve the same. We intervene as a consulting firm to put our companies on a rising graph.

How is the organization different from other companies in the industry? In what way is it helping businesses and entrepreneurs?
We are not a growth-driven investor but a margin expansion–driven investor. We focus on turnaround situations where free cash flows can quickly become positive., We believe in dividend payout as a significant driver of returns. The fund strategy may be defined as one that breaks the traditional private equity model by adding a hands-on investment styles and adopting an 'operating consultant approach' to create value for the investors.

The majority of our investments lead to the removal of debt in companies. One of the rules that we strongly believe is that the companies should have zero debt. This improves the outcome of the businesses we invest into. Our philosophy is to drive zero debt in companies and importantly this has helped our companies to survive multiple recessions and steer employment sustenance.

Trace your educational background and professional journey
I'm an engineer in electronics & communication in terms of education. In a way, this was a good choice of qualification because a technical degree was a major deal in several aspects. It helped me understand the analytics side of the business very well as it involved logic. Subsequently, I pursued an MBA in Finance. I have multi-dimensional experience in consulting and Private Equity and have served on advisory board of companies in the interest-rate sensitive sectors, FMCG, Technology, Education, Consumption, Media, Digital Businesses, Real Estate & Manufacturing Consumption.

My biggest learnings were through the recessions we have faced. It has
equipped me to balance hard times and handle failures. When things are normal most fund houses tend to succeed but in the bad market the best of fund manager comes out.

Elaborate on the challenges you observed in companies and the industry.
I recall the sayings of Alvin Toffler from his book Future Shock, which brings the perception of "too much change in a too short period". It talks about the fact that the rate of change of 'change' is accelerating at a rapid pace. There is continuous societal and technological change and organizations are in need to accept these changes. People love to be in a state of inertia, but the reality is nothing is constant. The biggest challenge is to make people accept the change.

The most crucial stumbling block is people management and policy acceptance. The strategies by the Board of Directors dilutes down once it goes down in the hierarchy of a company. The implementation does not happen at the ground level. Another important issue is the growth versus margin dilemma in organizations. Entrepreneurs are happy with the growth, but it is important to drive growth-margin dynamics.

Mohit Ralhan, Managing Partner and Chief Investment Officer
Commandments part of Mohit's Leadership mantras
• Structured and informed board strategies and policy frameworks that are applicable to everyone including the key management
• Bad News First
• 360-degree feedback mechanism from all the employees
• Life is beyond Metros: Acknowledging the talents of remote areas and going beyond the top cities to bridge the urban-rural divide
• Reaching to the experts by accepting that we don't know certain things

Strategies for better Business models
• Increase the labour productivity as it will result in margin expansion.
• The reduction in ICOR indicates an efficient production and investment.
• Appreciating the Automation side of technology
• "Buying when everyone is selling and selling when everyone is buying"

TIW PE
• Total Fund Size USD 125 Mn
• Gives equal opportunities for women
• Envisions to become a Global Fund from India