Donald Fernando: Ascending The Success Ladder With Over Three Decades Of Expertise & A Never-Stop-Learning Mindset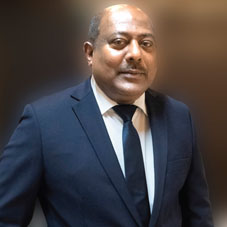 As the apparel industry changes, so must the technology used to make clothing. Garment businesses may now better serve their customers due to improvements in apparel machineries & manufacturing technology. Manufacturers of clothes claim that the most effective methods are those that have been tailored to meet the needs of that particular market. Taking into account all current and future technological breakthroughs and needs led Bitopi Group Director, Mishal Ali along with Donald Fernando to launch Croydon Kowloon Designs Limited. When this company was established, the goal was for it to become the best in the business at providing high-tech and innovative technologies for the apparel industry. And to make this happen Bitopi Group appointed Donald Fernando as the CEO in 2018.
Below is the excerpt of Donald's exclusive interaction with CEO Insights magazine.
Take us through your professional background? Also, tell us what inspired you to take up the role of CEO at Croydon Kowloon Designs?
In 1999, I relocated to Bangladesh to establish Shantha Industries in the Dhaka Export Processing Zone. Over the ten years in that firm, I rose to the position of Executive Director of Industrial Engineering. With the knowledge I gained throughout that decade, I was able to develop Tarasima Apparels, a 7,000-employee manufacturing plant that is now in operation. After that, I traveled to Cambodia and Vietnam, where I worked for three years each at well-known global textile manufacturing companies. Additionally, I was able to expand my knowledge of cutting-edge manufacturing techniques such as Lean Manufacturing, Six Sigma, and others during this period.
Furthermore, in 2017, I met Mishal Ali, the Director of Bitopi Group (the parent company of Croydon Kowloon Designs), who wanted to develop the business and establish a state-of-the-art Best-in-Class organization in Bangladesh centered on Lean Manufacturing concepts. My under standing of his vision was
solidified after we had a long conversation about his goals and objectives. Because of Mishal's drive and excitement, as well as his emphasis on longterm company strategy, I was motivated to take on this task.
I believe that every employee should be given the chance to learn on the job via a well structured training program
Define Croydon Kowloon Designs as an organization and its current position in the industry?
Croydon Kowloon Designs, a subsidiary of the BITOPI group, was founded three years ago to be the best-inclass provider of innovative products in the industry. Today, after three years and with 4600 employees, we produce 7.5 million garments annually for worldren owned apparel brands such as Columbia, Zara, Tommy Hilfiger, Decathlon, Inter sports, and Jack & Jones.
Significantly, Bangladesh today has the second highest proportion of the global garment market. As a young company, we are rapidly approaching a P&L growth rate that exceeds 100 percent year over year. In other developing countries, we want to be a leading manufacturer of technical outer wear. Following our long-term plan, Hoshin Kanri, we aim to increase our production capacity by 2024. As a result, our annual turnover will rise to more than a quarter-billion dollars.
Could you tell us about the unique services that are provided by Croydon Kowloon Designs that make it stand out from the rest in the market?
Our first & foremost priority is the Customer. Therefore, our primary goal is to make our clients satisfied by providing them with the best possible Quality products at the finest possible price in the shortest time frame. Today, the majority of our clients are delighted, particularly in the hightech outwear area, with the quality of our goods and services. We can make certain deliveries within seven days with our state-of-the-art infrastructure, manufacturing technology and a highly motivated youthful workforce.
Our prices are the most competitive on the market, and our KAIZEN principles enable us to continue reducing costs. Despite this, we have a culture of Responsiveness and Flexibility throughout the company. To put it in simple terms, CKDL can make a wide range of
items, from basic clothing to hightech outerwear. The CKDL can also work with a wide range of materials, from delicate silk to dense wool.

What has been the success mantra that constantly helps you arrive at positive outcomes?
The CKDL's success may be attributed to two fundamental principles, respecting people and continuous Improvement. It is our personnel that are our most significant asset. To show our respect for individuals, we make sure to provide our workforce with many opportunities to participate and the authority to make informed decisions. Also, we ensure that everyone in the company is focused on continuous improvement.

I believe that every employee should be given the chance to learn on the job via a well-structured training programs. With our training curriculum, we think that these sessions have helped us connect our workforce with the company's vision and goal as well as entrench them into the organization's culture.

Based on your strong professional experience, what advice would you give to the upcoming leaders in the same domain?
Future leaders should establish their management choices on a long-term mindset, even at the price of short-term financial objectives, since I believe this is the best strategy for success. Also, it is more important to contribute to the greater good of the company as a whole than it is to make a profit. It is also essential to offer workers a sense of where they'll be in the future to encourage them.

As previously said, every day for me is a day of fresh learning. It's 'Learning By Doing' that's the most successful method. Therefore, my next piece of advice is to 'Never Stop Learning' to the grooming leader. Take responsibility not just for your success, but for the attainment of organizational goals as a whole by promoting a culture of learning across the company.

Donald Fernando, CEO, Croydon Kowloon Designs
Donald finished his elementary schooling at St. Anthony's College in Kandy and his secondary and higher studies at St. Mary's College in Negombo. Following extensive study and an understanding of the apparel sector's rapid expansion, Donald shifted his focus to the garment sector & continued his education at leading institutes including University of Moratuwa Sri Lanka, where he studied Industrial Engineering. With 31 years of professional expertise, Donald is now CEO of Croydon Kowloon Designs.