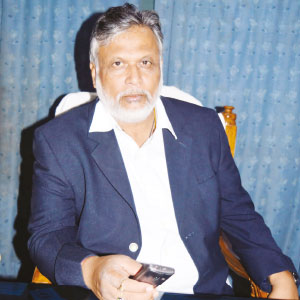 A leader fails when he's unable to take his team along and directs them to organisational goal. A leader shall have acumen of utilising available resources effectively," defines Dr. Arya Patnaik, Secretary, Rourkela Institute of Management Studies. Walking the talk, he gives free hand to people seeking opportunities with new ideas & work designs during management review meetings. In fact, he is eager to changes if they mean good for overall benefit. "The risk lies on my conviction to stand with what I believe. I believe always on challenging the established process & norms," echoes Dr. Arya. His unique attribute of tolerance & absorbing other's negativity bestows every one with a chance to rectify. His patience and endurance makes him a balanced leader against all odds.
Dr. Arya is open to out-of-the-box thinking, with a keen sense of identifying and empowering talent. Confident that technology is a game changer, he has inspired internal team to develop a complete ERP system for the institute, setup a cloud club in RIMS campus, organized Mobile App development that endows toppers with Microsoft certification, and tied up with RxOne, a U.S. based company to provide training to students & faculties on cutting edge technologies. Under his leadership, a team of MCA students represented RIMS in worlds' largest HACKATHON at Noida. Numerous trophies such as 'Best Educationist Award 2017' by Naxatra TV,'Utkal Vikas Ratna Award-2015', 'Utkal Samman Award-2013', 'Distinguished Educator Award-2014' by Discover Education, and 'Indus Foundation Award' on display are a testimony to his success, dedication and efficiency.
Dr. Arya was always all about shouldering responsibilities and setting examples of living life of simplicity & hard work. Having a very humble upbringing, he was never
about thrills and frills, but a simpleton with a focus towards the entire family with a younger brother & sister beside. He has shown leadership inclination from his early school days, as he was the head of boys in school, NCC flight sergeant and represented school football team. During his formidable journey to top of corporate success, industry exposure and learning were carving an impact on Dr. Arya, as he had to deal with tough goal seeking supervisors who demonstrated no respect for peer-to-subordinate relationship.
Having a very humble upbringing, he was never about thrills and frills, but a simpleton with a focus towards the entire family with a younger brother & sister beside
This prompted Dr. Arya to establish his own consultation venture MAX GROW, where he built a mutually supportive team and brought additional business to numerous top notch organizations. However, destiny had another turning point, when his younger brother Prof. Sourya Pattnaik, who was administering family's education venture passed away in 2006. The responsibility was shouldered by Dr. Arya for two prominent B-schools in India - one at Rourkela (RIMS), and other at Bhubaneswar (IMB) and also the two colleges providing +2 education in Science, Arts and Commerce stream viz. UGM Mahavidyalaya at Rourkela and IRODOV at Bhubaneswar. Observing talented students' energy and strong legacy of education, Dr. Arya immersed himself into this business which needed a seasoned leader and propelled RIMS as one of India's top B-school (20th rank by Business Barons – 2016). Further more, he is keen on materialising an international faculty - student exchange programme for RIMS and striving to launch a Medical College in PPP (Public Private Partnership).
Articulate Leader Demonstrating Integrity
His position as President of Odisha Management College Association takes him to represent the entire private colleges in the state providing
MBA education in different platforms like Government, AICTE and others. He is a member of Policy Planning Board and fee fixation committee of Dept. of Skill Development & Technical Education. In this capacity, he raises various relevant issues and brings to the notice important points to the State Govt. Articulate in expressing his thoughts at various institutional & public forums, Dr.Arya stirs up new thoughts amongst industry players & peers. Often encouraging his staff with motivational lectures, Dr. Arya demonstrates integrity, honesty and trust in all his actions and sets examples for the younger generations to emulate.

"Do what you say to enhance reputation and earn respect, promote personal growth which is directly linked to organisational growth, be aware of your weakness and most importantly never give any job in-between, have patience and work till end, and success will be yours," advices Dr.Arya. His strength lies on the fact that he can inspire the team to perform their best and his interpersonal relationship building, while taking calculated risks and trusting people can be deemed as his weakness. Keeping a close watch on all collage activities, he frequently interacts with students and ensures the quality of pedagogy by discussing with related faculties. "Complications need to be straightened out with patience and perseverance to make study a happy undertaking," states Dr.Arya.

Sources of Inspiration
Kick-starting his day with green tea, prayers, meditation, chanting & a power breakfast, he carries out review meetings with concerned people in office and retires to bed with a book & five minutes of meditation, following a light veggie dinner. This non alcoholic vegan enjoys snowy & hilly regions with family and embarks on spiritual tour alone. His extremely co-operative wife Sikha Mohanty takes care of family members including two sons Digvijay and Sohum. His mother Nalini Prava, who has always groomed Dr.Arya toward positivity, self-control & strong belief on almighty, has also been a source of inspiration for the entire family, faculty & students at RIMS. While late P.C.Sinha of Steel Authority of India has had a lasting impact on his persona as thinker and a doer, reading Swami Vivekananda & Sri Aurobondo's philosophy gave Arya the spiritual side of effective management.