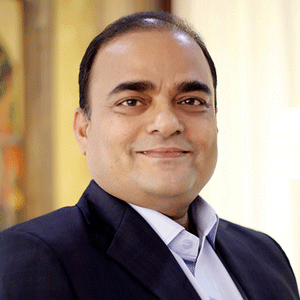 "Within the tertiary education system, education & research institutes must play a critical role in training the professionals, scientists and researchers needed by the economy and generating new knowledge in support of the national innovation system, and that is our mission," asserts Dr. Sandip. Dr. Sandip believes the gap can be bridged keeping in mind the experience of industry and expertise of young students. Leadership can be developed by teaching, training & observation. Along with carving valued professionals, Dr. Sandip is well determined to nurture these professionals to be ready to face future challenges. He has adopted two models for his students to be Industry ready. One is 'Industry-Institute-Interaction Cell'- the platform for students' interaction with industry delegates in terms of sips and Placements, and secondly 'Innovation & Entrepreneurship Development Cell'-providing full time support and platform for student's project ideas, its executions and commercialization.
"Government of India has funded this initiative with Rs.46 lakhs," approves Dr. Sandip. These entrepreneurship and leadership development programmes under IIIC, IEDC and EDC prepare students with basic critical skills expected by any employer and also develops abilities to deal with conflict, communicate & negotiate effectively, create networks, lead meetings, manage projects, influence others, work collaboratively, take decisions and lead teams.
Making His Own Path
Prolonged academic years of Electrical Engineering from B.Tech, M.Tech and Ph.D. In the same discipline had made one thing clear to Dr. Sandip that the typical textbook oriented educational system of our country is running parallel to the distinct & practical requirements of the industry, where ends would never meet. But Dr. Sandip thinks differently.
He wants to take the young minds out of these antiquated curriculums and outdated teaching paradigms. "My father is my motivator. His leadership skills and zest towards education has inspired me to on-board this journey of providing high quality and low cost education to deserving students," adds Dr. Sandip. He incepted Sandip Foundation in 2005 as a Center of Excellence, which has emerged into a magnificent and mighty launch pad to turn out technological gains. "I have been blessed with a family that never lets me down in my bad times. The eternal contributions and support of them are my strong pillars, then, now & always," says Dr. Sandip. Working 24x7 for SF, his appreciation & regards towards his family is topmost.
Education & Research Institutes play a critical role in training professionals, scientists and researchers in support of the national innovation system
"One of the major challenges was to find a proper location for college," Dr. Sandip recalls those days. The challenges compiled a huge index, from highly educated & experienced faculties and supporting staffs to compliances with different government agencies and quality students. More over, he had to establish & maintain the values of SF through various promotional activities. A strong follower of Acharya Chanakya's life and deeds, Dr. Sandip started building SF block by block. "We could make everything possible with the help of 'Local Agencies," asserts Dr. Sandip. He had references from educational field to fulfill the requirements of quality faculties and staff. The next milestone was to admit quality & deserved students, which he along with his team, fulfilled through conducting seminars, career guidance symposiums and one-to-one parent and student counseling. The online/offline promotional activities ranging from digital marketing to distribution of printed advertising materials also helped in the process. As this 200 acre campus is approximately 13 km from Nasik city, the provision of bus facility has been arranged for students and staffs at moderate costs. "We have also started campus residential facility separately for boys and girls with activated security systems including security guards and CCTV cameras for surveillance," proclaims Dr. Sandip. He is pledged in focusing more on students' over all development, which the institute develops through Employability skill & personality development trainings, seminars & workshops on latest technologies in addition to taking a keen interest in placements.
It has been a norm that education has becomes business oriented. But SF is a rebel to these educational paradigms with Dr. Sandip's broader vision of comprehensive career development. The recruiters like Wipro, TCS, Bajaj Capital, HDFC, Bosch, and many more find their perfect candidates from SF. Every parent dreams of his child getting quality education along with good placement and this inspires them to seek SF for their children's Engineering, Pharmaceutical or Management education. "Student-mentor scheme helps me to find out
the difficulties of students and obstacles they face. I listen to the students and their parents personally if my special attention is needed. Most of the time, Principals and hods solve their problems to a great extent," adds Dr. Sandip. He takes personal vigilance of students' progress, in addition to supporting them with Copyrights & Patents, percentage based corporate and government scholarships and personal counseling. No wonder, a gamut of awards & recognitions came in search of him.

Engaging Students & Mentors
Under scholastic leadership, SF works in proximity of industry to learn the changes and challenges that bring about industry and job market. It on-boards a range of student engagement programs which include CII seminars, industry institute symposiums, expert lectures of industry delegates, consultancies & projects, summer internship programmes, membership of associations, interaction with government agencies for entrepreneurship development. Problem Based Learning (PBL) is one such excellent student engagement program which does not focus on problem solving with a defined solution, but allows for the development of other desirable skills and attributes.

Dr. Sandip understands the need for knowledge based upgradation of the mentors, hence innovative program is projected which has long term benefits – Train the Trainer. He elucidates, "Train the Trainer builds self-confidence in the trainer and helps them feel comfortable in managing tough topics". As faculties and staff members become comfortable in sharing information, he perceives that this program also helps to improve the employee retention to a great extent. Furthermore, Dr. Sandip cares to have frequent interactions with fellow peers, listen to their difficulties & suggestions and provide solutions to their queries and also guides them in the light of his experience. Staffs are often inspired by his listening ability, problem solving techniques, visionary approach and positive personality traits. Additionally, he has also deployed an ERP software (incorporates online students attendance & SMS system), advanced video conferencing & 24x7 internet facilities, biometric thumb attendance for faculties, digital library, EPABX & intercom system, App based messengers, RFID parking system & many more. Dr. Sandip has created SF as a destination not only for deserving & quality students but also for highly educated and experienced faculties. "Vision 2021 is to have 100 percent faculties with Ph.Ds including faculties from nits and iits, international faculty & student exchange programme being the priority," Dr. Sandip concludes.

KEY FACTS:
Awards & Recognitions:
• Yashokirti Award by Computer Society of India
• Educator Serving the Community in India Award by ET Now
• Outstanding Contribution towards Society Award

Sandip Foundation:Ratings and Accreditations
ISO 9001-2008 certified Sandip Foundation has been rated by the CRISIL. It is also approved by AICTE, New Delhi among the affiliations.

Programs: Engineering, Management, Pharmacy, Polytechnic and B.Ed