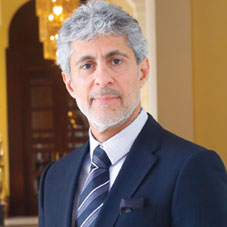 Dr. Essa Faqeeh engages in an exclusive interaction with CEO Insights.
Share about your professional journey so far. What motivated you to venture into the hospitality and services industry?
I started my career with the Gulf Hotel. They sent me for 2 years to Brighton College of Technology in UK to study hotel management, kitchens, operations and the business, after which I came back and started training at the hotel. From operations, I went step by step until I became a deputy general manager after 19 years. I proceeded also with my MBA in Hospitality so I would say I have been very much focused on hospitality. When I did my PHD, it was also specialized in the hospitality business.
When I finished 20 years with Gulf Hotel, I left them and joined a company for franchise development as Managing Director, studying and learning more about franchising business of food and beverage. This has led to my consultancy company creating many franchising systems for local brands to franchise around the world with many successfully stories.
How is Al Areen Investment currently positioned in the market? How is it different from other competitors in the market?
As the CEO of Al Areen Investment
Company, I manage Al Areen Development a substantial mixed use development project located in the Southern Region of the Kingdom of Bahrain. The development offers a whole new town over 2 million square meters of land which can accommodate up to approximately 25,000 people. Fostering a sense of community, and promising our customers a new, modern family lifestyle, this development is made up of 14 major clusters which include commercial offices, retail units, a shopping mall, a souk, several restaurants and hotels, leisure and entertainment, health facilities and a range of residential accommodation. Our quint essential phenomenon is Lost Paradise of Dilmun, which is the largest waterpark in the Kingdom and is ranked as # 11 Best Water Park ­ Worldwide on TripAdvisor and International Brand award of the year in 2019. It is located on the 77 thousand square meters land. It includes several different attractions and entertainment options and it hosts over 200,000 visitors annually.
Al AreenPalace and Spa impressively showcase the mesmerizing Arabian charm, sophisticated elegance, restaurants, and carries the character of the Saharawi Arab Maghreb in urbanism
Developed over an area of 131,309 square meters, Al AreenPalace and Spa by Accor features 78 luxuriously appointed pool villas that impressively showcase mesmerizing Arabian charm, and sophisticated elegance, restaurants, and carries the character of the Saharawi Arab Maghreb in urbanism. The resort attracts visitors from the Gulf states of Bahrain and international tourists. We have signed with ACCOR Group to brand the Resort under RAFFLES Luxury collection and upgrade the full facility to a most luxurious Resort in 2022.
So, you work very closely with the tourism authority of countries?
Started approaching Tourism Authorities to enhance and upgrade their Classification system to a state of art system considering latest challenges and improvement required with many new ideas. Another idea implemented in Bahrain is the KPI statistic Dashboard integrating hotels PMS systems to Tourism Authority to collect real time data to support the industry to promote and improve the industry. This has significantly improved hotel performance and Tourism GDP. The system is now under upgrade to collect more data and will soon be rolled out to many other countries.
Do you find the hospitality industry in Bahrain an evolving and professional one?
Bahrain has good standards compared to other GCC countries, but there is more that we need to do to reach that level we want. There is more emphasis now on quality and standards of hotels with the recent transformation of Bahrain Tourism
and Exhibition Authority. This system that we put up for them helps a lot. BTEA has the mandate to implement standards for the hotels and help them leverage their investment.

The Tourism industry has been noted as one of the prominent non oil industries that are flourishing in Bahrain today. What do you see as the future of hotels and tourism in Bahrain?
Government of Bahrain has unveiled a tourism strategy targeting 11.4% GDP and over 14.1M tourists by 2026. Some to mention, the new Airport with larger facilities to attract more international flights and create Bahrain as a destination for transit and attract many new markets for tourist. The new Bahrain Conference and Exhibition center with more than 100,000 sqm of space, expected to be ready Q4 2022 attracting MICE and congress businesses to Bahrain. New Sport City next to F1 Race circuit to attract Sport activities expecting to be ready late 2023, and many new beaches with Café, Restaurant and hotel facilities, many new hotels opening in the coming 3 years, King Hamad Cause way creating a new access to from Saudi Arabia with railway transportation, and many new infrastructure improvements achieving Bahrain vision 2030 and many new initiatives in the pipeline to improve non-oil economy.

Dr. Essa Faqeeh, CEO, Al Areen Investment
With over 30 years of operational and management experience in hotels, spas and resorts, Dr. Faqeeh holds a prominent expertise across the hospitality business. Having worked with many well known consultant and advisor for high profile projects in the region Dr. Faqeeh has built quite a reputation by strongly and successfully supporting tourism and hospitality in all its aspects.

Achievements
2002 Guinness World Records ­ Biggest Kabsain the WorldHotel Classification & Rating System for Abu Dhabi Tourism Authority 2013Hotel Classification & Rating System for Bahrain Tourism Authority 2014 and Qatar Tourism Authority 2015KPI Dashboard system created to integrate Hotels with Tourism Authority to obtain Realtime statistic, implemented for Bahrain as a pilot country. Olery & Review Pro Social Media Quality monitoring system for Hotels Abu Dhabi, Bahrain and Hotels in GCC

2002 Guinness World Records Biggest Kabsain the World

Hotel Classification &Rating System for Abu Dhabi Tourism Authority 2013

Hotel Classification & Rating System for BahrainTourism Authority 2014 and Qatar Tourism Authority 2015

KPI Dashboard system created to integrate Hotels with Tourism Authority to obtain Realtime statistic, implemented for Bahrain as a pilot country.

Olery& Review Pro ­ Social Media Quality monitoring system for Hotels­ Abu Dhabi, Bahrain and Hotels in GCC