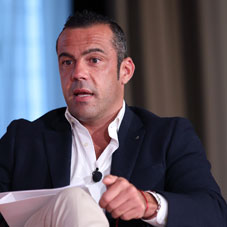 The generation segment is progressing at a rapid pace in the construction of its first own photovoltaic plants with a current pipeline of 2.6 GW. The objective is to allocate the generated energy in its supply division, adding the sales force needed to grow the generation area. The integration process of Nagini Energía, acquired 51 percent, with effect from January 1, 2022. In March 2022, 100 percent of ODF Energía was acquired and both companies contribute €194.9 MW.
A former private banker and CEO of a SICAV, Fernando Romero founded EDF Solar in 2008 focused on designing and implementing solar installations for industrial self-consumption.He has over two decades of experience in the energy industry and has been a driving force in the growth of EIDF Solar. Fernando is a strong advocate for using renewable energy and has been instrumental in developing several renewable energy projects.
In an exclusive interview with CEO INSIGHTS, Fernando provides further insights into his professional background and the unique operations of EIDF.
Throw some light on your professional background and
experience. What motivates you as a new-age leader?
My background in the financial sector, including several years of private banking experience, has provided me with a comprehensive understanding of the market. My participation in several renewable energy projects in Spain gave me the chance to gain deep knowledge of the development and financial aspects of the sector. It's a growing industry with much potential and constantly evolving, and you need to remain updated on market data and be ready to adapt quickly to new developments. With the growth of the renewable energy sector, it is anticipated that we will see a global movement in this sector that may lead to a change in the energy model, and therefore a social transformation. We want to be a part of this transformation and help to develop this sector further.
This is a growing sector with a lot of potential, constantly evolving, where you need to be up to date with market data and be ready to quickly adapt to new changes.
With more than two decades of experience, tell me about your path to success. What is your mantra for success?
Success is not individual but the result of a great and unique team which represents our main competitive advantage.Our team at EIDF is made up of individuals with different skillset and strengths working towards a common objective. The team has a clear vision of what they want to achieve and a plan to get there. They are willing to persevere through challenging times and have faith that they will ultimately be successful. Despite our struggles over the past decade, we have survived and are now in good shape. Seeing is believing! Success comes from perseverance faith, vision, constancy and good habits.
How do you define EIDF Solar as an organization and its current position in the market? Can you tell me what factors you consider when suggesting your green solutions to SMEs and large corporations?
EIDF is a unique organization, and we have demonstrated it every year. We know what we want and what it takes, and we never look back. We are positive and proactive. We are always looking for new opportunities and ways to improve. PV (Photovoltaic) is a financial product that provides its customers with profitability, recurring revenue, and visibility in the mid as well as long term.
What are the sustainable practices that EIDF Solar has adopted in its
operations and what is the companys vision for sustainability?
We strive to improve the economic, social, and environmental conditions of our surroundings and those for future generations through our activities.The mission of our organization is to build a sustainable economy by bringing attention to the broader costs of economic activity to society, thereby ensuring long term sustainability and encouraging the adoption of clean technologies.

Would you mind sharing your leadership approach, along with the methods you use to lead your team?
My idealogy is "Creo que debes pedir lo que das, el ejemplo es la base.Debemos ayudar, compartir, exigir y sobre todo que sobre estos valores desde la posicion que ejerces lo demuestres a diario." In other words,I believe one should lead by example. My commitment is to ask for what we give. I believe I must help, share and demand as much as I prove on a daily basis.

Going forward, what are the changes in market behavior that you anticipate, and what are the opportunities that you foresee?
There are many promises in this sector, which is constantly evolving and developing, making it difficult to predict what it will look like in 10-20 years. There is only one direction, and we have not even reached 5 percent of what we are capable of. Every industrial revolution or economic cycle articulates over time; we have just begun and have only one way to go. As the market adapts to new opportunities, current changes will be seen as part of the past.

Fernando Romero Martínez, CEO, EIDF Solar
Fernando Romero was worn in Basque Country in 1982. He studied Law at Deusto and Santiago de Compostela Universities. Initially, he worked in private banking, where he gained an understanding of renewable energy sources, the product itself and the margins Involved.

•Hobbies: Billiards and CrossFit
•Favorite Cuisine: Rice with eggs and chicken
•Favorite Book: The Lord of the Rings
•Favorite Travel Destination: Uzero

Awards & Recognition:
•Best Company of BME Growth, Best CEO in the Galician
•Industry, Best company of the year (La Razón), Best International Young Entrepreneur.
•Shortlisted in the category of Best CEO 2022, Best Energy Project in Galicia, Best Industrial Initiative to Decarbonization (El Periódico de la Energía) and for the European Small and Mid-Cap Awards 2022 in the category Rising Star.