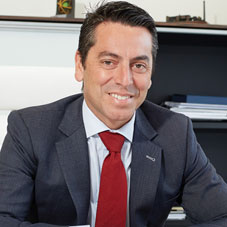 An Economist, Executive MBA, and Master in Management, Joaquin Garcia Rico began his professional career as a financial analyst in 1998 at British Telecom. Joined TSK as Quality Management Director he climbed through his success ladder with perseverance and became the company's chief executive officer.
Joaquin Garcia Rico engages in an exclusive interaction with the CEO Insights Magazine.
Tell us about your leadership approach and the values and guidelines you follow as a leader.
I believe that the essential thing in being a leader is your team; without it, the business can't even start. When all the members feel personally and professionally fulfilled, they're more effective and more likely to produce great work regularly. It is critical to boost employee loyalty and productivity, improve employee development and decision making, cultivate trust, and create, at the same time future leaders inside the company.
What are some of the most critical milestones in your journey? Also
what do you consider the turning point of your successful career?
As I have worked for this company since 1999, my professional life has a majority of experience from TSK. The most significant milestones were the internationalization and diversification of the compay. With a turnover of 88 million euros in 2008, we achieved a turnover of 1.100 million euros in 2018. A decade of growth to double digits, where we have multiplied our volume of business by more than ten, executed projects in more than 50 countries, and diversified our activity from a small electrical contractor to a prestigious engineering and construction company.
With being persistent, risk taking and optimistic, one also needs to value learning as it is a way of growing
How would you define TSK as an organization? How does it take part in building sustainable industrial solutions for the future across verticals?
After decades of experience, we work with our customers, suppliers and partners at TSK to offer technologies and services. We contribute to more sustainable development, providing solutions for industry and the energy sector that reduces costs, increase productivity, save energy, decrease the environmental impact, and improve working conditions. TSK is a company with a solid industrial tradition integrating many technologies in the most varied technical disciplines in sectors such as steel, cement, paper, sugar, fertilizers, gas to power, ports, water treatment, environment, energy or storage and transport of raw materials. We continue to develop new solutions that help our clients on the road to energy efficiency decarbonization and digitalization of their activities.
Tell us about the sustainable practices the company has adopted. How do you perceive the responsibility toward a green future as a leader?
At TSK, we believe that social commitment is inherent in business activity, to which society's growing level of prosperity and well being is mainly attributable. Our primary responsibility is to be able to provide better customer service every day. It
allows us to create value, generate quality jobs, invest in research and development and get involved in activities that benefit society. We maintain an ongoing relationship with the community during the execution of our projects . Although the company's impacts are primarily positive, TSK analyses local regulations to provide mechanisms for information, complaints and restoration of negative social consequences. We believe social progress, environmental balance and economic growth must always go hand in hand. Our commitment to sustainability is to our vision, mission and values, incorporating UNapproved Sustainable Development Goals(SDGs) into our corporate social responsibility policy, which aim to promote economic growth, work towards social inclusion, combat climate change and protect the environment. TSK is firmly committed to promoting ethical behaviour by all our interest groups, regardless of where we carry out our activity, allowing it to differentiate itself in the market and ensure competitiveness. We promote a working environment in the company that enables equal opportunities and the possibility of reconciling our staff's professional and personal lives. TSK has established an Equality Committee to ensure respect for diversity and equality.

How did you approach the need for new operational and financial strategies after the pandemic? What are opportunities that you foresee in the future?
Pandemic time has been a challenging moment in history in which we have suffered with many projects stopped, with countries closed and our people at home, but we learned the virtue of cooperation, the importance of science and the need to think beyond efficiency. The developing countries are centre stage in our strategy as they need to continue improving their energy and industrial infrastructures; on the other hand, we continue to be very active in renewables CO2 capture, hydrogen and hybrid plans.

Joaquin Garcia Rico, CEO, TSK
An inspiring and determined leader, Joaquin Garcia Rico believes in being selfaware, innovative and supportive towards others. Through his commitment towards sustainability, he is passionately building a better life for future generations.