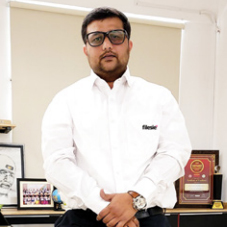 Customer is always the king! Someone once wisely quoted ~ "The goal as a company is to have customer service that is not just the best, but legendary". Today, majority of the companies are in the lookout for new ways of approaching customers, understanding their mindsets, and accordingly delivering them the best-in-class services in tandem with the emerging industry trends. Among them, small scale businesses are posed with numerous marketing challenges such as dearth in resources, budgetary constraints, unclear plans, lack of time, and many others.
It is here Hyderabad-based Filesie, an inbound marketing agency & growth-driven design agency, has been engraving its excellence by helping these small businesses and startups get online! Established in 2014 by SaiKalyan Chakravarthy Anupindi (Founder & CEO), Filesie handholds its clients in generating leads through diverse inbound marketing channels and creating growth-driven websites that convert.
By perfectly blending marketing, technology and its deep-rooted passion, the company delivers the right, interesting, inspiring and rewarding dialogues to its clients, thereby enriching their customer experiences.
In an exclusive interaction with CEO Insights, SaiKalyan has articulated a great deal about his company and its magnificence.
Brief us on the journey of Filesie so far.
Back in 2014, we witnessed a huge demand for digital marketing companies that can deliver timely outcomes as per customers' needs and generate business, while considering the price conscious market. Hence, we laid the foundation for Filesie as a technology and digital marketing service provider for small & medium business owners who are striving to enhance their RoI.
From delivering multiple digital marketing services, we have transformed into a growth & results-driven inbound marketing agency, presenting customers with viable and maintainable strategies. Customer success has always been our greatest achievement!
Despite facing challenges such as low-level market traction to shutting-down the company, we managed to sail ahead with unswerving determination amidst the burgeoning competition and also bagged a few awards. Some of them are 'Most Promising Digital Marketing Company in Telangana' by India Achievers Awards 2019, 'Udyog Ratan Award' by National Achievers Recognition Forum at Parliament Press Club and being nominated for the 'Small Business Awards' by Entrepreneur Magazine for the year 2020.

What differentiates Filesie from its competitors in the market?
We carved-out a niche position for ourselves in the market by devising customized solutions for our clients to 'Go Digital'. The differentiating factors of Filesie are that we make a great case for prioritizing our clients' digital (re)design, make them discoverable to their target audience, support them in every digital interaction, deliver them responsive & optimized digital footprint with 10x value, and make every customer experience unique via personalization technology. This way, clients can enjoy more conversion, better engagement with their customers, and ultimately high RoI.

The core competency of Filesie is hyper-personalization of digital marketing business for our clients, wherein we also monitor browsing behaviour and real-time data to change messages on the fly via manufacturing principles like just-in-time. We apply concepts and principles from other fields into digital marketing to connect content to consumers in ways that no other digital marketing agency would even think about!

Enlighten us on the various tools and technologies that you deploy across your offerings.

Our in-house proprietary framework SHARP (Situation-Hypothesis-Analysis-Reality-Prognosis) is used to execute all our clients' projects and deliver them 10x returns for their digital footprint. Over the last two years, our clients have reported an average of ten times increase in their revenue. Besides, we deploy WordPress, HTML & PHP (technology stack), Agile CRM & HubSpot CRM (marketing automation stack), Send in blue & Mailchimp (email automation stack), and many tools in campaign monitoring & Growth Hacking stack.

What are the major challenges that you basically face?

Hiring digital marketers and retaining them has always been our biggest challenge! Hence, we established an exclusive digital marketing academy to identify, train and deploy candidates in the same field. With respect to marketing, generating traffic and leads for our clients every month is our main challenge, and at times, even producing freshly brewed content.
Thus, we started producing video content that attracts people of all ages and prioritized on brand awareness for increasing lead generation.
Cast some light on your team of experts at Filesie.
We are a team of 15 including creative inbound certified experts, technology evangelists, digital strategists, account managers, content specialists, designers, and engineers. I spearhead Filesie's end-to-end operations with passion for digital marketing and 'customer first' approach. We have Shoba Tata (Co-Founder) who oversees HR & Finance at Filesie, Srinivas Ganti (US Partner), a technology specialist with a 20-year track record, and many more experts who always pledge to deliver their best for Filesie.
We apply concepts and principles from other fields into digital marketing to connect content to consumers in ways that no other digital marketing agency would even think about!
Tell us about your current and future plans.
Currently, we are working on Hydio, a marketing tool for SMEs to enhance their online presence, and Connect with Kalyan, an industry-specific blog to help marketers stay abreast of the unfolding trends. We are planning to launch both of them by second half of this year. Our future plans include doubling the talent pool, training existing employees in niche areas, expanding coverage to more metro cities, increasing brand reach to global market, and introducing IBM Watson marketing capabilities into our existing offerings to serve large companies. Moreover, we will also be setting-up a fully functional office in North America soon!
Key Management:
SaiKalyan Chakravarthy Anupindi, Founder & CEO
SaiKalyan has over 14 years of experience in Sales & Marketing, and has always been focused on upscaling the small & medium-sized businesses through his motive – 'Tell a story before you sell a story'. He has also been awarded the E4M OOH 40 Under 40, and even authored a book - You Don't Have to Sell your Ferrari to Become a Digital Monk.
Quick Facts:
•
Inception Year:
2014
•
Locations:
Hyderabad & Katy (Texas)
•
Offerings:
Growth-driven Design, Lead Generation & F360