Futureshift Consulting: Create And Launch Outstanding Products In The Market Using Robust Product Development Frameworks And Scalable Technologies

Acommon misconception about leadership consulting is that strategic management consulting is by large firms for large organizations. Futureshift turns that myth on its head with its Virtual CxO or "CxO on Tap" service by bringing global competence and cutting-edge technologies towards building in-house capabilities for its clients. Their range of expertise helps launch products efficiently, towards successful transformation - a pivotal need for businesses of all sizes, especially the start-ups and mid-size companies wanting to cross the chasm.
Futureshift works with founders and business leaders who are charged with a mission to transform organizations by challenging status quo and by being outcome-focused. CEO Insights interviewed Vinodh Soundarajan (Co-Founder and Chief Technology Officer) and Rajesh Soundararajan (Co-Founder and Chief Problem Solver) at Futureshift Consulting, on their secret sauce for success, their consulting methodology, and challenges facing the industry at large.
As leadership consultants are required for strategy formation, planning and problem-solving in almost all industries, what are your strategies to make the most out of this vast business opportunity?
At Futureshift, we develop future-proof strategies for our clients based on three core values - expertise, passion, integrity.
Our Customer engagement begins with a thorough review and understanding of business, goal setting, and outcomes. We then build a scalable sustainable progress or transformation model, covering market, people, process, solution, technology, investment and execution. We follow it up with maniacal focus on execution through POCs, Pilots and Scaling with course corrections as required.
While the above approach looks commonsensical, it is most often the only right way to build consensus and deliver bold outcomes.
Brief us about various offerings of your company.
Our mission is to deliver success, scale and sustainability at the intersection of business and technology. Since this is a leadership focus area - we provide "CxO on Tap" or Virtual CxO (Chief Product Officer, CTO, CMO) service to achieve stated organization goals.
ZMOT.ly [Zero Moment of Truth] is a blended consulting offering of Business, Product and Technology, where we provide clients, Virtual CxO or 'CxO on the tap'. This management consulting service is designed to achieve future-proof scale, sustainability and agile, progressive transformations of product and engineering, organically.
Futrlabs, the second offering, is a deep-conceptualized innovation centre that builds technology components for the consumer, industry, and social service sectors. With technology as the bedrock, we address the right issues with the right solution, be it using AI/ML, RPA, Mobile, Social or simply 'common sense' technologies. These solutions are designed to help achieve success effectively and quickly. Our flagship products are e-commerce (Shoppeazy) and e-learning (3x3 Learning). Futureshift is also a strategic AWS partner in the Education vertical.
Our mission is to help clients transform their organizations and build scalable, sustainable products rapidly by working at the intersection of strategy, business, technology, and market
Better Bhavishya, the third pillar, is an effort to give back to society and drive a lasting impact in the fields of education, healthcare, and environment. Better Bhavishya blends industry expertise, and technology capabilities towards social change. It delivers strategies and a roadmap for measurable outcomes and profound impact in social-sector space and NGOs. We are also a strategic knowledge partner to Katha.Org's 300M initiative.
What are the differential factors of your services that separate you from your competitors? Explain your USP.
Three critical factors set us apart and make us different in the market.
1. We bring strong leadership experience from reputed global firms, with deep cross-Industry expertise, and pan-global presence.
2. We work with a lean start-up culture, yet bring the outcome-focus of an established brand, to our global clients within India, Asia, the Middle East, and the USA.
3. We are uniquely positioned to work at the intersection of strategy, business, market and technology, achieving seamless scale and sustainability.
What opportunities do you foresee in the current market dynamics and how are you leveraging the most of these opportunities?
Industry 4.0 has completely changed the way manufacturing and
service companies are doing business. Technology and efficient software solutions are critical for businesses to reach and engage with their clients. Futureshift's 'CxO on the Tap' offering is uniquely positioned to provide its client's the best Strategy, Market and Technology solutions. We give shape and action to customer's dreams, bringing to fore 50+ years of experience in Product, Market Strategy and Technology Transformation to deliver wildly successful and sustainable outcomes.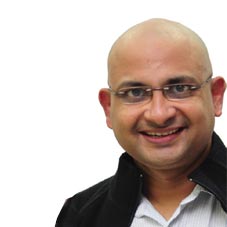 Rajesh Soundararajan, Co-Founder and Chief Problem Solver
Tell us about the recent revenue growth, and the future roadmap of your company.
2020 has been an excellent opportunity for us. Two of the areas, e-commerce, and e-learning, that we have advocated for almost a decade, took prominent shape during COVID-19. Communications breakthroughs and high broadband speed that reached masses, combined with burgeoning digital payments is a generational shift, and we were adequately geared to take advantage of the situation. In parallel, with the severe shortage of global experience and trusted leadership, Virtual CxO's will be in high demand, where organizations large and small can get 'CxO on the tap', just enough to make their business transformations real and sustainable.
Vinodh Soundarajan, Co-Founder and Chief Technology Officer
Vinodh Soundarajan has 25 years of experience leading global technology platform and product engineering organizations at Manugistics/ JDA, SumTotal Systems, 24/7 iLabs, Mercator (Emirates Airlines), Somnoware and Prochant, transforming businesses from on-premise to profitable SAAS/cloud models in Supply Chain, Healthcare, Talent Development and Airline verticals.
Rajesh Soundararajan, Co-Founder and Chief Problem Solver
Rajesh Soundararajan has 27 years of experience in leading product, incubation, sales, channels, and business teams and held leadership positions in Asia-Pacific with IBM, Microsoft, NComputing before founding Futureshift in Singapore. He has managed successful product incubations and transformations with innovative go-to-market models and has wide experience in managing product strategy, partnerships, business development, sales and marketing across geographies.
Offices:
Bangalore, Hyderabad, Singapore