Easyrewardz: Help The Brands Deliver Seamless Customer Experience While Creates A Deeper Customer Connection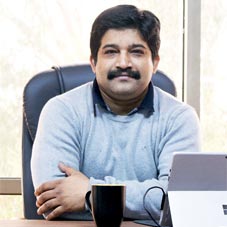 Retail customer relationship management will increase customer loyalty, lower your expenses and boost the market success of your business. To build opportunities for all parties, CRM manages the relationships with individual clients. The companies have to know how CRM operates and what impact it has on your retail operations to pick the right software and ensure it contains the functionality you need.
In an exclusive interview with CEO Insights, Soumya Chatterjee (Co-Founder and CEO), an industry professional with experience of more than 16 years in CRM, Loyalty and eCommerce Management shared few significant factors about his company, Easyrewardz.
What are the main points of your company – Easyrewardz?
At Easyrewardz, we believe that every customer data captured, has a story to tell! Our key focus has always been to help brands deliver seamless customer experience and create a deeper customer connect by leveraging actionable insights obtained from data. The Indian retail ecosystem is still learning to rely on data when it comes to delivering consistent customer experiences throughout the journey, hence, we have tried to address those gaps and pain points with our CRM and Loyalty Suite. Our entire gamut of solutions has Customer Data Platform at the core providing intelligence that powers every product and enables Single View of Customer.
We foresaw the struggles faced by retailers and their customers with COVID-19 and the resulting lockdown and social distance requirements and therefore pivoted to develop an exclusive COVID-19 toolkit for retailers. This timely product driven by conversational and contactless commerce is now helping to improve their store sales and visits in the new standard for multiple retail brands.
Brief us about Easyrewardz's unique proposition that differentiates it from its competitors in the market, with regards to the CRM & Loyalty solutions. Explain your USP.
We provide our partners with end-to-end customer lifecycle management solutions that collect data at every stage, with CDP and AI at the core of all our solutions. Actionable data insights help us to predict patterns in client behavior well in advance. Keeping in mind the rapidly shifting customer behaviors as well as their need for a consistent Omni channel experience, our products have been designed with an in-built strategy to deliver seamless CX offline and online. The plug-n-play modules are also highly customizable and can be pivoted as per the brand's requirements.
Is there any innovation or up-gradation currently happening at Easyrewardz that might soon be made public?
With the outbreak of the pandemic, given the competitive retail industry scene, we are continuously evolving to come up with customer-centric strategies that can help retailers raise revenue and remain relevant to their customers. Our to-be-launched Shopster 3.0 claims of advanced new features which will help the retailers to offer personalized experience throughout the buying journey right from product browsing to checkout. Latest features include:
Our key focus has always been to help brands deliver seamless customer experience and create a deeper customer connect by leveraging actionable insights obtained from data
Advanced product Browsing and Recommendations with this feature, retailers can show product recommendations, new collection and more to customers in just a few clicks.
Enhanced Product Filters and Searches for specific products can now be more refined for consumers according to a category, attributes and price.
Assist customers while the shop enables customers to switch to 'chat' anytime during their buying
journey by using the 'switch' option to get assistance.

Share nearby operational store details allows customers to fetch the store details. They will receive nearest store name, address and contact details.

What is the future roadmap set for Easyrewardz? How are you updating yourself with the latest consumer trends to make Easyrewardz products & services reach its future goals?
At Easyrewardz, customer-centricity is at the core of all that we do. We relentlessly work towards ensuring a seamless brand experience for our clients and their customers.

With COVID-19 and the subsequent lockdown and social distancing norms, we foresaw the struggles that retailers and their customers would face, therefore pivoted to create Shopster – an Exclusive COVID-19 Toolkit for Retailers. This timely product powered by conversational and contactless commerce is now helping multiple retail brands boost their store sales and visits in the new normal. The upcoming version of Shopster, Shopster 3.0 will facilitate deeper customer engagement and help brands boost sales further with its enhanced features.

Through our creative, cutting-edge technology solutions that strive to provide the best possible CX, we are committed to preparing our partners for the future of retail at every level, taking into account the needs of the modern customer.

In addition to Shopster 3.0, an innovative, cutting edge ticket management system (Bell) and feedback engine (Collecta) will soon be introduced. Both of these latest features in our CRM suite will support our customers on the journey to improve the consumer experience of their brand.

Soumya Chatterjee, Co-Founder & CEO
Having an experience of more than 16 years in CRM, Loyalty and Ecommerce Management Experience. Before his current position, Soumya has worked at Sahara Airlines and Yebhi.com also has Co-Founded a company named LoyltyRewardz. Later, Soumya established Easyrewardz which is now a successful venture, and in 2019, he did Strategic investment and partnership with Flipkart at $4Mn ARR.
Office: Gurgaon