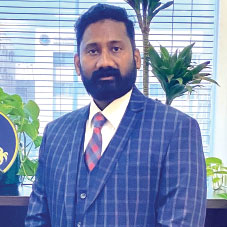 Over the past few years, the Insurance Sector has been facing various challenges in terms of ever increasing customer demand, competition and technological advancements. In the process of managing those,the role of Chief Technical Officers in the industry, which traditionally implied a facilitator, has undergone tremendous changes to enable them to contribute directly to organizational growth. While playing the role of a modern day CTO to perfection, his impeccable business sense and tremendous knowledge and experience of the Insurance industry has been the game-changer for Gnanasekar Kalavgunta, VP & CTO Saudi Arabian Cooperative Insurance Company. Hailing from Chennai, Gnanasekar started his BFSI career as early as 18 years of age, and today holds close to three decades of experience in the segment; not to mention his stellar academic qualifications, including CPCU (US), FCII (UK), ARM (US), MBA, M. Com, MBM, FIII, CAIIB, and CIP (ANZIIF). Joined Saudi Arabian Cooperative Insurance Company 13 years ago, Gnanasekar has been instrumental in the company's growth over the past decade. CEO Insights engages in an exclusive interview with Gnanasekar.
Tell us your story of building a career in the insurance industry and what are you passionate about?
I started my insurance career at the age of 18 with one of India's Public Sector Insurance Companies. Though I had a career change for some time in Banking, I always had a passion for building up my career in Insurance. I got an opportunity to work in Saudi Arabia in 2008, and in no time, I realized that Insurance was a booming industry in KSA. As a growing market, I had a lot of opportunities to showcase my expertise in the Insurance Sector backed by my continuous gaining of professional qualifications from the Insurance Institutes of India, the UK, the US, Australia & New Zealand.
Nearly three decades of experience go into your professional journey. What has been your success mantra towards achieving the level you have reached today?
I was always determined to achieve success in whatever I ventured into. I believed in continuous learning, knowledge sharing, team building, and leadership qualities which showed a path for my career development. While my professional qualifications from world class institutes recognized my presence in the industry, the business acumen qualities led to my success. They helped me a lot in my professional journey.
Saudi Arabian Cooperative Insurance Company is the oldest Insurance entity in KSA and started conducting insurance business in 1952
How would you define Saudi Arabian Cooperative Insurance Company as an organization and its position in the market?What is the USP that differentiates it from its peers in the market?
Saudi Arabian Cooperative Insurance Company is the oldest Insurance entity in KSA and started conducting insurance business in 1952. As its slogan states, it has been Insuring Generations successfully and keeping up its promises in paying claims. It ranks amongst the Top 10 Insurance Companies in KSA. As its history validates, SAICO is one of the stable insurance companies amidst a competitive environment, adapting to changing trends, customer demands, and meeting insurance needs.
In your current role, what are the latest technology trends and innovations that you have helped the company adopt?
As a Chief Technical Officer and an Executive Management member, I was instrumental in changing the company's technological requirements in selecting the latest technologies to meet customer demands. Customer Centricity is the key factor for SAICOs success. I adopted strategic changes in building up a new team for the e-Commerce, Research and Development, and strategic business units to explore the untapped business opportunities within the sector.
What is your style of leading the ship forward irrespective of the challenges on the way ahead?
With the ever challenging and competitive nature of the Insurance market in KSA, there is no question of complacency. I strongly believe that the success of a leader is building a team and inculcate confidence in them to execute their work with great success. I keep motivating the team and empowering them with knowledge transfer and expertise. Keeping yourself updated with the market challenges and finding solutions like digital trans formation, introducing new products, building customer loyalty and centricity are key factors for existence.

What are your goals for the road ahead, and how do you plan to execute them?
The market is very dynamic. The goal is to keep apprised of market demands, introduce new products and services through digitization, and increase the company's market share by establishing various sales channels. We are also working to enhance customer service excellence through digital transformation in liaison with InsurTech Companies. We will continue to motivate and lead our team to adopt this transformation and continuously work towards achieving corporate goals.

Gnanasekar Kalavgunta, VP & CTO, Saudi Arabian Cooperative Insurance Company
Hailing from Chennai, Gnanasekar started his BFSI career as early as 18 years of age, and today holds close to three decades of experience in the segment; not to mention his stellar academic quali fications, including CPCU(USA), FCII(UK), ARM(US), MBA, M.Com, MBM, FIII, CAIIB, and CIP (ANZIIF).

Hobbies:Listening to Music & Playing Sports (Member of Cricket & Badminton Clubs in Saudi Arabia)
Favorite Cuisine:Indian, Oriental, & Arabic
Favorite Travel Destination:
the US, the UK and Singapore

Awards & Recognition:
•Chartered Insurer from the Chartered Insurance Institute, UK
•Certified Insurance Practitioner from ANZIIF(The Australian and New Zealand Institute of Insurance and Finance)
•Member of Insurance societies (India, US, UK, and the Australian and New Zealand Institute of Insurance and Finance)
•Successful Insurance Professional with Business Acumen(From CEO Desk, SAICO Saudi Arabia)