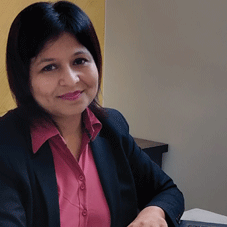 If you view recruitment and talent acquisition with the same lens, you aren't doing the right thing. Talent acquisition is more than just hiring a professional; it is a strategic approach that starts with establishing relationships and ends with evaluation of candidates' performance post joining. And Heads Quest believes in this approach of hiring process. Leveraging its founder's, Padma Luhana (Director), 14 years of industry experience, the company creates a win-win situation by placing applicants with faultless candidature required for the job. Thanks to this profound experience, Padma has created a robust network of candidates at senior management levels across the industry that helps her deliver world class executive search services to her global clients.
This is how Heads Quest have been successfully serving clients from across industry verticals, including Pharmaceuticals & Biotech, Manufacturing, Engineering, Procurement and Construction (EPC), Chemicals, FMCG/Consumer Durables, Retail and IT. Padma indulges in a deep conversation with CEO Insights to speak about Heads Quest unique features, its offerings and the future plans.
What makes Heads Quest stand out in the industry where we see a new company emerging each day who claims to offer similar services at lower price?
It is our indepth industry and business knowledge of our client companies that enables us serve our clients with perfection. We have a team of highly experienced research associates that keeps creating maps and pool of passive candidates, which helps us in quickly identifying the right candidate for the role.
Heads Quest was incepted four years ago. How has been the journey so far?
It's been a wonderful journey so far!We have always seen upward
trend with trust, support and on-going business from our clients. Our existing clients have supported and referred our services to their network they wouldn't have if they were not satisfied them selves. We have diligently handled and successfully closed such projects which other executive search firms had given up.
We provide clients with their competitor's company maps and discuss with them about the road map for closing the search assignment successfully
Tell us about your experience that helps you drive Heads Quest to success. Post working in the recruitment industry for around 10 years with two Executive Search and Selection firms in March 2016 I plunged into entrepreneurship. I incepted Heads Quest with the vision of making this company as one of the leading Executive Search firms in India.
My indepth knowledge of EPC/Construction/ Oil and Energy/Manufacturing verticals is the key strength of our success. Focused approach towards expanding these verticals is the strategy of high success ratio. We have proactively done competitors mapping for our clients and their industry. And the pool of database created with mapping the industry is utilised majorly rather than starting with a new search for each assignment.
Executive search is a growing market. What opportunities do you see and how are you framing strategies to grab them?
India is expanding, inviting not only the local but the global companies to set up their business here. This expansion of business will require companies to have new leadership roles to be hired. This indeed is an excellent phase for the EMPI vertical. However, already established search firms have a large pool of clients due to which they may not be able to give proper focus on the new projects. This surely creates huge opportunities for emerging firms like ours.
Throw some light on your services. How do you ensure quality delivery and authenticity of your services?
Our processes are very transparent. We provide clients with their
competitor's company maps and discuss with them about the road map for closing the search assignment successfully. We conduct detailed evaluation of the candidates before presenting to clients. Along with that, we also provide value added services like market intelligence, leadership advice, competitive analysis and market bench marking.

At our firm, we have numerous sources from which we build our candidate pools, while robustness in our process helps facilitate smooth transition from preoffer release to on-boarding of our candidates. The entire process is a five-step process. This includes establishing relationships (client touchbase, understand client organization and business, and signing of agreement), need recognition (understanding client's hiring needs, mandate briefing, and JD preparation & approval), formulating solutions (developing candidate pool, assessing and evaluation potential candidates, and presentation of shortlisted resumes to clients), placement of candidates (interview scheduling & follow up, accurate documentation, seamless transition & on boarding formalities, and candidate communication) and finally deliver & evaluate (turnaround time from need recognition to on-boarding, offer, and optimizing cost of placed candidates).

What would you define as the strength of your team?
Our team is expert in head hunting. Detailed evaluation of the candidates with various modes of interviews and effective selling of companies & jobs to passive candidates is their core strength.

What is your future plan?
The key to success in any executive search assignment is having a pool of large database of passive jobseekers from the industry. We are in the process of creating software, which will provide us company wise and department wise organograms in just a click. This will fasten & smoothen our service offerings, while ensuring the best delivery.

Key Management:
Padma Luhana, Founder & Director
An expert in talent acquisition, Padma has carved a niche for herself by delivering successful projects in middle, senior and top management recruitments.

Office: Ahmedabad
Offerings: Executive Search, Recruitment & Selection, Learning & Development, and HR Outsourcing,