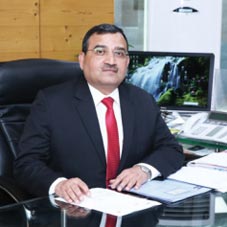 There is no denial that construction & infrastructure sectors have been seamlessly contributing to the overall development of India. Even the present state of the construction industry in India is greatly buoyant due to the burgeoning demand and growth of the real estate & infrastructure sectors. Poised perfectly in this construction space of India is Ircon International Limited (IRCON), a Government of India Undertaking under Ministry of Railways, breathing a legacy of 43 years across India and abroad. IRCON has been the mastermind behind a swarm of landmark construction projects, thereby outclassing as a diversified infrastructure player, both sector & geography wise.
Recent Awards: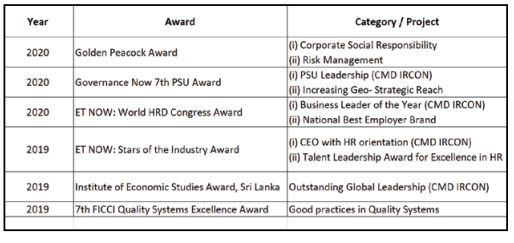 2019 was a landmark year in its legacy! The company has successfully listed its shares at BSE & NSE with overwhelming investors' responses and also acquired highest ever income of Rs.4,680 crore and an operating turnover of Rs.4,415 crore on a standalone basis. IRCON was also ranked 235 in the list of top 250 International Construction Companies in 2019 by Engineering News Record, US. It is currently undertaking 33 railway projects (four in abroad and rest in India, with an aggregate length of 1792 km) along with two highway projects, five electrification projects and five building projects in India & abroad.
To know more about IRCON's excellence, read the following excerpts of an exclusive colloquy between S.K. Chaudhary (Chairman & Managing Director) and CEO Insights.
Firstly, we would like to know about your educational & professional background.
I pursued my Civil Engineering from Delhi College of Engineering, Master's Degree in Management & System from IIT Delhi, and PG Diploma in Alternate Dispute Resolution from Indian Institute of Law. Besides IRCON, my professional background includes working as Sr. Executive Director (Projects) at HUDCO for seven and a half years and also as Director (Projects) at National Buildings Construction Corporation Limited (NBCC) for three years. Altogether, I take pride in holding profound knowledge about infrastructure projects like highways, railways, airports, flyovers, bridges and others, along with rich experiences across international markets, finance appraisals, feasibility study and many more brackets.

Brief us on a few idiosyncrasies of IRCON.
The journey of IRCON began way back in 1976 in the name of Indian Railway Construction Company, which was registered under the Companies Act, 1956. The main motto behind its establishment was to help nations of the world to install or maintain their own railways and also accomplish railway projects for private sector. Since then, IRCON's performance has always been synonymous with unparalleled quality, commitment and consistency.

IRCON is truly a construction maven! It was the first construction company in India to procure the ISO 9001:2008 Certification from TUV Germany for its full range of construction activities in 1996. It is also accredited for Environment Management system since 2011 and Occupational Health & Safety Management System since 2012.

What range of construction projects has IRCON accomplished so far?
IRCON is basically an integrated engineering and construction company in India with specialization in major turnkey infrastructure projects, including railways, roads, highways, expressways, bridges, flyovers, tunnels, aircraft maintenance hangars, runways, EHV sub-stations, metro & MRT, and others. This roster also entails electrical & mechanical works, commercial, industrial & residential buildings, complexes, and other infrastructure activities on EPC, DBFOT and Cost Plus basis. Not just in highly competitive environments, the company operates even in difficult terrains and regions in India & abroad by strictly adhering to the international standards. No wonder, IRCON has successfully completed 384+ infrastructure projects in India and 128+ projects across 24+
countries abroad, while being an active participant in executing prestigious nation building projects. Moreover, with railway as its biggest forte, IRCON has executed several prestigious railway projects in India and abroad.

Walk us through IRCON's subsidiaries and Joint Ventures (JVs).
With a motto of contributing to infrastructure development, IRCON owns five subsidiaries namely Ircon Infrastructure & Services Limited (IrconISL), Ircon PB Tollway Limited (IrconPBTL), Ircon Shivpuri Guna Tollway Limited (IrconSGTL), Ircon Davanagere Haveri Highway Limited (IrconDHHL), and Ircon Vadodara Kim Expressway Limited (IrconVKEL). It also holds JVs with CERL, CEWRL, ISTPL, IRSDC, BRPL, JCRL and MCRL.

What are IRCON's future plans?
IRCON is all geared-up to undertake turnkey projects under new project execution models, including EPC/HAM and annuity in railways, highways and other infrastructure projects. The company is also striving to procure more projects across Bangladesh, Sri Lanka, and African countries. With a strong vision to double its turnover, IRCON envisions foraying into other segments where its presence is non-existent or insignificant, during the next few years.

S.K. Chaudhary, Chairman & Managing Director
S.K. Chaudhary is pioneer in the infrastructure sector with 36 years of experience in national/international project preparation & planning, bidding, financing, execution, contract management of mega projects of Railways, Highways, Tunnels, Bridges, Buildings & Real Estate, and many others.

Office: New Delhi (Registered office)

Key On-going Projects:
• Civil and Track Works of DFCCIL in three packages between JNPT – Vaitarana, Vaitarana – Sachin, and Sachin - Vadodara sections
• Construction of three railway projects of approx. 300 km length at an estimated cost of Rs.5,000 crore in Chhattisgarh
• Kiul-Gaya Doubling Project (ECR)
• Katni-Singrauli Doubling Poject (WCR)
• Katni Grade Separator Bypass Line Project
• 8-Lane Vadodara-Kim Expressway Project in Gujarat
• 6-Laning of Davangere-Haveri in Karnataka
• Railway projects in Nepal, Bangladesh, Sri Lanka, and Algeria.