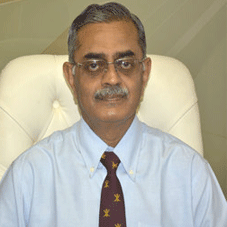 Working with the motto of 'More than Healthcare, Human Care', the hospital under the aegis of Lt. Gen.(Dr.)V Ravishankar (COO) is moving towards achieving new goals each day. Post retirement from a fulfilling and challenging army life in October 2015, he joined Lilavati Hospital in November 2015. He speaks with CEO Insights to highlight on his and the hospital's journey to serve people beyond healthcare.
Q. You have been awarded the Vishisht Seva Medal by President of India and Commendation by Army Chief for your exemplary service to the nation of the highest order. Tell us about your experience that is fuelling Lilavati Hospital to new heights.
Post my graduation from one of India's most prestigious medical colleges Maulana Azad Medical College, Delhi, I joined army in 1975 to serve in Armed Forces Medical Services(AFMS).I have served on deputation in the Middle East in Sultanate of Oman, following which I did my Masters in Surgery (MS & DNB) followed by super specialisation from Armed Forces Medical College in M.Ch (Cardiothoracic surgery). I also underwent training at St Vincent's Hospital, Portland, Oregon, US and at Perth, Australia in adult cardiac surgery.
During my journey in the Indian AFMS, I have served in the war like situations in Sri Lanka as a surgeon and also in sensitive areas of J&K at Srinagar and beyond. As a Cardiothoracic Surgeon, I have served in prestigious Army Hospital (Research & Referral) Delhi, and at Military Hospital, Pune and performed a large number of adult and complex paediatric cardio surgeries. Later, I took charge as the
HOD in the Department as Professor and Examiner in M.Ch & DNB Cardiothoracic Surgery.
As an administrator, I headed the 1087 bedded Command Hospital, Pune affiliated to AFMS, the largest hospital of our Armed Forces in the rank of Major General and subsequently promoted to the highest rank of Lieutenant General a three star General rank. When I headed the Army Medical Corps Centre & College as Commandant & Director at Lucknow, I also looked after training of all doctors and 55,000 paramedical staff.
We have a large panel of highly competent and qualified consultants who are renowned in their respective fields of speciality and have been with us for over two decades
Q. What makes Lilavati Hospital unique among the other tertiary service providers?
Lilavati Hospital is a patient and doctor friendly hospital. We have a large panel of highly competent and qualified consultants who are renowned in their respective fields of speciality and have been with us for over two decades. We give them complete freedom to perform their duties. They are among the most qualified, and professionally competent in our country.
We follow a very vibrant teaching program and have post graduate courses in nine specialities and super specialization in six specialities with highly competent teachers. We have been awarded the National Board of Examination Best Teaching Hospital Award 2017. At any time, we have almost 100 post graduate students in the hospital, including fellowship courses under MUHS, Nashik.
Q. How has been the growth of the hospital, and how strictly do you follow the regulations framed by the government?
The hospital is growing steadily, has been rated amongst the top 10 in the country, and remains in the top three in the city & state. To keep up with the trends and expansion in the healthcare industry, Lilavati Hospital is expanding and acquiring latest world class equipment and technology. Our services are extensive. We have 18 bedded dialysis centre, chemotherapy centre, state-of-the-art physiotherapy department, 24/7 emergency services with two ambulance, including a coronary care ambulance..
Q. Lilavati Hospital is committed to
the well being of the poor. Please
throw light on the initiative.
Lilavati Hospital, Mumbai is a 320 bedded hospital accredited by NABH. Being a charitable trust organization, we are committed to serve the weaker section of the society and hence earmark 20 percent of our beds for them. We treat many patients free of cost, including high end surgeries like Coronary Bypass, Complex Congenital Head Surgeries, Joint Replacement, Spine & Neuro Surgeries, Liver Transplant and many more.

All the departments are well equipped. We have three Tesla MRI, 250 Slice CT Scan, PET CT Scan, gamma Camera, latest Philips Azurion Cath Lab, Digital Mammography and more. The pathology department is fully automated, and so is the radiology department with radiology & lab information systems. A pneumatic tube system has been established, which connects all wards & departments for sending blood samples, medicines, documentation and others.

Q. Highlight about the excellent support services provided by the hospital.
A. Our support services are top notch, some of which are outsourced to Sodexo. We serve vegetarian cuisines, the menu of which is changed frequently, thus keeping clientele satisfaction atop. The laundry, housekeeping and catering services are probably the best in the city.

We give personal attention to any complaint or dissatisfaction and rectify them immediately. We will soon start online food preference based on dietician's recommendation using tablet and internet to transmit the menu preference check from patient to the kitchen.

Q. What are the expansion plans?
A. We have a proposal to expand with addition of another wing in the hospital, proposed to start wellness clinic, stem cell transplant centre and robotic centre.

Key Management:
Lt. Gen.(Dr.) V Ravishankar, COO
Awarded the Vishisht Seva Medal (VSM) by President of India and Commendation by Army Chief for his exemplary service to the nation of the highest order, Dr. Ravishankar is the linchpin leading the positive change in the healthcare sector.

Office: Mumbai
Offerings: Ambulance, Multispecialty Centres of Excellence, Daycare, Dialysis Centre, Preventive Healthcare Checkup, Interventional Radiology, Pharmacy/ Chemist, Social Initiatives, Blood Bank, Critical Care, Diagnostics, Emergency/ Trauma, Interventional Neuroradiology, Out Patient, Physiotherapy, and Visa Investigation