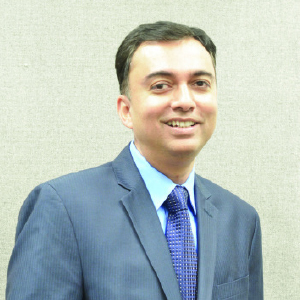 Often, life is not just about dreams, but the courage to pursue them and constantly evolve in this journey. A chaser of evolving life-goals and a change-driven entrepreneur, Manish Krishnan came out of the apprehension-aura of a Indian family – from being a financially secured IT consultant, to venture Advanced Technology Consulting Service Inc. (ATCS)in 2000, which currently is one of the leading boutique business & development consulting firms in the U.S.
Rewinding three decades, Manish(Global CEO, ATCS) did his bachelors from BITS Pilani and Masters from Columbia University. He had his baptism of fire in the U.S.'challenging IT consulting industry. Cut to the present, he has grown ATCS into one of the fastest growing IT consulting firms in the world. Manish shares about ATCS and the amazing anecdote of evolution exclusively through CEO Insights.
What can one experience with ATCS from the inside, and from the outside as a client?
We create advanced data driven decision making solutions to lead automotive and healthcare companies in guided analytic capabilities. Our highly focused approach brings success for our clients and in turn for us.
When it comes to the in-house, we have a culture of thriving and supporting entrepreneurship within the organization. While giving comprehensive security to them, over a period of time, we have setup our HR Policy accordingly. Owing to this culture, we have grown 10 times in the last seven years. Which is a collective outcome of such entrepreneurial groups within the organization and a sense of ownership it brings along.
It's in fact a time tested culture, which is one among the learning from my professional journey that spans across TCS, KPMG, and
Capgemini. I picked-up selective leadership lessons in each of these experiences and implemented them in ATCS with conviction. Today, I spend a lion share of my time on building leadership inside the organization. We have 11 exceptional leaders across the world based out of our eight branches.

ATCS indulges in a niche area of consultancy. How well do you leverage the vital learning curves of the past three decades of your journey?
One thing that I have learned over the years is to identify the niche area, play within that area, and never become commodity. ATCS is hugely influenced by my own learning, and we focus on our niche strengths. The stints with large organizations were a priceless learning curve in my journey. In the first decade of ATCS-journey, we restricted our geographic-radar to the U.S. with around 30-40 people. In the second innings, which started from 2011, I used the learning I had in the past decade in terms of growing at an exponential rate. It was my evolution as a leader as well.

Over the past two decades, IT has become the backbone of almost every business' DNA. Having been a part of this wonderful evolution from its early days, as an organization, we have gained foresight to identify upcoming IT trends, and thus we move faster than anybody else. While decision making in the initial days was confined around me and the board of directors. Today, I completely trust & highly collaborate with my team to savor remarkable ideas. Also, while I waited for 100 percent data to take decisions in the initial years, now it takes only 70-80 percent data to take an important decision. That's a perk for being an industry veteran.

What about your first venture? What made you foray into entrepreneurship?
I was tired of the commodity business in IT. Every company offered the same body at discounted prices from different locations. Hence, I thought I would start a smaller organization with specific focus, rather than doing nothing in a large organization. My first venture was a drive to get away from IT commodity business. However, the small venture taught me how to run a company.

How supportive is your family in this journey and what about the work-life balance?
I couldn't have done this without my wife, who is a professor in Pace University. I constantly strive and believe do a pretty good job in balancing my work and life. I restrict and wholly commit myself to where I am. For instance, if I am travelling, I work from 6AM to 10PM. But when I am in New York, I always come home at 4.30PM, and spend time with my family and friends. My family and I are involved with local community for last many decades. We have organized cultural programs and participated in them to contribute to the societyat grass root level. I encourage this throughout ATCS more so in India.

What are your hobbies and how do you socialize, update yourself, and keep abreast of the trends?
I love cricket. Alongside, I challenge myself to read new books, especially autobiographies of entrepreneurs and cricketers, besides motivating people around me to do the same. President Obama had a huge influence on me. I also have a fondness towards Hindi movies, even after being in the U.S. for almost 25 years.

I am quite good at connecting with people in a genuine way; in fact, I look for 360 degree feedback from people around me, not to mention the conferences and forums. Just like Jack Welch once said, 'If the rate of change on the outside exceeds the rate of change on the inside, the end is near'. I constantly undergo change.

What advice would you give other young entrepreneurs?
Be flexible. Confucius also emphasized on flexibility as one of the best virtues of a leader. Don't fix opinions about what you want to learn and where you want to drive your career.

Key Management
Manish Krishnan, Global CEO
Having accomplished his graduation from BITS Pilani, MBA from Columbia Business School, and Executive Education from Harvard Business School, Manish is a transformative thought leader in IT Services with a distinctive ability to identify and solve the industry's varied challenges.

Offices:New Jersey(Headquarter), India, Germany, China, Canada, & Australia

Offerings:
• Consulting
• IT
• Social Media