Medicover Hospital: Breaking The Geographical Boundaries To Deliver Quality Healthcare Across The Country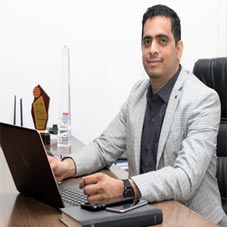 Today in India, especially as the pandemic prevails, standardizing healthcare to the international level has become a crucial necessity. Moreover, driving quality healthcare in TIER 2, and TIER 3 cities, towns, and regional districts has always been in a big void. As India holds one of the highest figures in population across its geographical area, there must be a robust healthcare facility, irrespective of the particular region being a metro-city, district, or a town.
Medicover Hospital is one of the most respected healthcare brands globally with a presence in 13 countries across the globe – Germany, Sweden, Poland, Turkey, Belarus, Bulgaria, Georgia, Hungary, Romania, Serbia, Moldova, Ukraine, and India. With a large number of experienced teams of renowned doctors backed by advanced technology and European treatment protocols, Medicover is arguably one hospital brand that has been balancing the quality treatment without any compromises on the outreach of the care.
Medicover Hospital has in-depth specialization in cardiology, orthopedics, neurosciences, critical care, gynecology, general surgery, general medicine and gastroenterology, among others. Furthermore, Medicover also offers patients with services such as booking an online appointment, online consultation, home quarantine packages, and health checkup packages. In our rendezvous with the Executive Director of Medicover Hospitals, Hari Krishna, we get an elaborated picture of the organizations endeavours and practices.
What is the major USP of Medicover, which sets it apart from its peers?
The major USPs of Medicover is that we are always in line with the latest technologies, experienced doctors, robust infrastructure, and effective methodologies that we have set to deliver healthcare in India. Currently, we are operating 16 hospitals in
India, where we are consistently striving to deliver patients with quality healthcare service, irrespective of geographical constraints.
We never compromise on our hospitals' infrastructure, whether the hospital is in a rural area or a metro city. The locations are very well selected to meet and match the demand for healthcare from those places. Therefore, the clinical expertise, service deliverability, and the location-based setup give Medicover Hospital a cutting-edge advantage among its peers.
How has Medicover Hospital's journey been so far, and what challenges did you encounter during this journey? How do you, in your perspective, see the market evolving currently?
Out of 16 hospitals, we have four hospitals in Hyderabad, while onco facilities are also in pipeline. The rest of the hospitals are located in TIER 2 and TIER 3 cities that include Waizak, Malore, Kurnool, Nasik, Aurangabad, among others. Hence, our target areas have always been tier two and tier three cities, so as to take healthcare deeper into society by penetrating these smaller towns and cities. By catering to the rural population of the country, we are on a mission to balance the healthcare service quality for everyone without looking at their caste, creed, religion, financial status, or geography.
We never compromise on our hospitals' infrastructure, whether the hospital is in a rural area or a metro city
Elucidate the unique selling points that segregate you from your competitors and help you to attract more customers?
We constantly believe in improving our healthcare deliverability with the changing times and advancements in technologies and other equipment. Also, we try to make it affordable, seamless to every community; one can get the same kind of quality service for an endoplasmic as is done in Hyderabad. Thus, patients need not travel all the way to cities to avail better healthcare services. For instance, if they need to take any other chain, patients are routed to metro cities for high-end healthcare services.
What are some of the new age challenges confronted by your
company in this market? Also, how do you safeguard people's health without having to travel long distances?
Basically if you are in the interior rural areas of India, getting highly qualified doctors is a big challenge as many doctors prefer to stay in cities, for the sake of the education of their children, lifestyle and other surrounding factors. Fortunately, we are able to manage/overcome this crucial challenge by delivering better compensation for these doctors who are experts in their respective fields by providing them with two days of weekly off and other special facilities.

Tell us about the innovations, upgradations and expansion plan that the hospital is working on at the moment?
In terms of innovation, we are spending lots of resources, energy, money and efforts in developing and leveraging information technology, especially when it concerns artificial intelligence. We have our own R&D team who are consistently working for the same. Furthermore, we also have a development team who are working especially in the space of Tele-radiology, Patient Care Coordination, while also taking most of our services online. Thus, transitioning from traditional form of healthcare delivery to a digital one.

How has the journey been so far for Medicover Hospital? What future do you envisage for Medicover?
Initially, we started as an Indian organization, but, after the strategic investment by Medicover from Sweden, we are now an international company with presence across 13 countries. We have 16 hospitals in India with 5 more in pipeline, which will be completed in a four-six months of timeframe. Currently, we are focusing on three states, i.e.. Andhra Pradesh, Telangana, and Maharashtra. From 500 employees in June of 2015, we now have 7000 employees as of this date. All this took shape in a span of five years with a turn over now clocking around Rs.100 crore per annum.

Hari Krishna, Executive Director
Hari brings nearly two decades of consumer & healthcare marketing experience. He began his career as a Sales Officer for ICI India, later serving as the area manager for Novartis India, General Manager for Kamineni Hospitals and Vice President of Sunshine Hospitals.

Locations: Hyderabad, Vishakhapatnam, Nashik, Aurangabad and others
Offerings: Urology, Oncology, Gynecology, Plastic Surgery and others