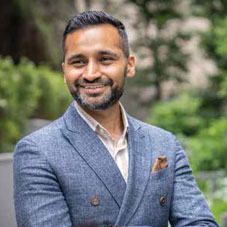 Looking into the next century, Bill Gates once said, "Leaders will be those who empower others". Mithun Soni, Founder & Managing Director, Saachi Partners is one such leader in the recruiting industry who believes in rising by lifting others. He is leading an exceptional vision of empowering others by building strong relationships with people around him. During his long stay in the recruiting industry, he observed that it lacked some of the major features. To overcome the un-attended gaps in the industry, Mithun decided to establish Saachi Partners and created a vision that focused less on shortterm strategies and more on building longterm relationships.
With core qualities like integrity, insight, and inclusiveness, he has been successfully translating his vision into reality. Commenting on his business style, he says, "I believe in taking time to understand our people, listening to their motivation for working and building long-term relationships with our clients & candidates". His expertise lies in Technology, Digital Transformation, Mid to Senior Leadership Roles Cross Industry, Operational Set Up and Business Execution. Mithun is a passionate leader who values the art of listening and identifies growth opportunities for his people. Let's hear it from him.
Take us through your professional experiences and what did you learn from them?
I started out doing door-to-door sales, I sold to all different kinds of businesses and people. This gave me a great opportunity to learn the art of communication, sales, and empathy. I was placed in positions to interact with people and build relationships with customers, this, proved to be the greatest learning when I decided to join the recruiting industry.
I started working in a recruiting company in Japan where I got the chance to learn the recruiting business from the ground level as a Researcher. It was extremely tough being in a new country, culture and business I'd never tried before. I faced a lot of rejection, my motivation level would drop, but I saw other consultants around me doing well and wanted to prove myself. (I also didn't want to go back to England as a failure!) I just didn't give up.
After a tough couple of months, I started to find my pitch, voice and was able to engage with candidates and clients, at which time I became a Consultant.
I love to close deals, place people into positions they've aspired to,
create value for candidates and clients, so I found myself always wanting to improve and deliver more.
I worked in a senior level leadership role, but my influence and decision making was limited. There were many things I wanted to do differently and thought the industry could be greatly improved. After nine years of working for a company, I decided to take the plunge and start Saachi Partners.
I want to empower people and see them develop into their best selves. I embrace having relationships with people in business which are not purely transactional. I love to see innovation, value creation and people living their dreams
I've learned so many things in business, being resilient, having a strong work ethic, listening and digesting before answering, always having a student mentality to learn. Always moving forward to achieve your goals, etc. But also had to unlearn and retrain myself and my approach too. The older we get, the more stubborn and stuck people can become too, but being able to find a fresh approach, re-imaging yourself and how you can bring value contribution is a true test of oneself.
Define Saachi Partners as an organization. How are you leveraging digitalization & your industry experience to craft outcome-driven solutions?
Saachi Partners is a Japan-based executive search firm where we focus on relationships rather than networks. Saachi in Sanskrit means truth, as the name suggests, we as an organization believe in being transparent & true to our clients as well as candidates. We believe that by being the best, the truest version of yourself, you will reach your true potential.
Everyone has the capability, but sometimes cannot find their way and need someone to roadmap their career based on their skills, experience, values and aspiration. We are that way finder and will give you the hard truths that perhaps other consultants can't/won't. The Jerry Maquire of recruiting if you will!
We work from a first principles perspective rather than looking at traditional business models, which is why we have been able to not just compete with far larger, resource heavy competitors, but in many cases out perform them.
I think this resonates with our people too because we our tagline is "we evolve". This means helping our clients and candidates evolve their companies and careers, but also evolving our people at Saachi.
We leverage our deep-rooted relationships across industries and
the market knowledge we have on the market. Moreover, we leverage digitally advanced tools in our operations as we are a fully remote company. We have our office in Tokyo but our team can work from any part of the world.

Reflect on the major challenges you have encountered in your journey so far. How did you overcome them?
Getting started is probably the biggest challenge. It is quite daunting to start everything from scratch. But I like to see things from a first principles perspective and build something that has not been seen before.

Getting people interested in working with us at Saachi was hard. I didn't have a large network of recruiters I knew, so I'm always IN THE MARKET sharing our value proposition. Luckily, we have been able to attract some extraordinary people and this is without a doubt, the best group of people I've ever worked with.

Personally, I struggle with challenges like anyone else, I've fought with anxiety for years and had some hard times, but I found that it's not stress that kills us, but our reaction to it.

Muay Thai, a healthy diet and quality time with friends/family helps me immensely.

What are the opportunities that you foresee for Saachi Partners? What advice would you give to budding professionals in the recruitment industry?
The future is very exciting for Saachi Partners. Although we are just six years old, we have already crossed 23 people across three different countries namely Japan, the Philippines, and India. Our mission is building successful teams through creating the best working environment at Saachi. We are in a rapid growth stage showing 200 percent growth in the past year and our revenues being over 267 percent.

We are looking forward to working in new technologies & sectors across the globe. I would advise young professionals to stay hungry & foolish, always have a student mentality and create value. Work on your listening skills and be driven by your passion and a strong mission.

Saachi's culture is our people, so I would advise any budding professionals to get in touch with me or any member of our team to join us on this exciting journey! Don't wait, take action.

Mithun Soni, Founder & Managing Director, Saachi Partners
Cut the noise, talk the truth and leverage our relationships to ensure a win-win scenario for all parties. Saachi means "truth" in ancient Sanskrit. Our mission is to help people and organizations evolve through truth. Truth is at the core of what we do, how we do.

•Hobbies:Travelling, Muay Thai, Cars, Food
•Favorite Book:The Godfather by Mario Puzo
•Favorite Travel Destination:Hawaii