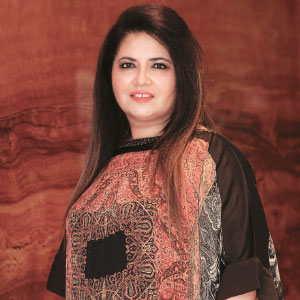 Someone anonymously said, "Dad, your guiding hand on my shoulder will remain with me forever". These aesthetic words have been the quintessence of Monica Malhotra Kandhari's (Managing Director, MBD Group) story, who has carried forward her father's (Shri Ashok Kumar Malhotra, Founder, MBD Group) legacy by taking the publishing business of MBD Group to newer heights. It has been a fearless entrepreneurship journey with extremely positive attitude and exceptional team management skills that led MBD (one of the leading education brands in India with over six decades of experience, diversified into various verticals including E-Learning, M Learning, Skill Development, Capacity Building, Eco-Friendly Notebooks, Paper Manufacturing, & ICT Infrastructure) enter into other industries like Hospitality, Project Design & Construction Management, Real Estate, and Mall Development & Management.
Journey to Excellence
Her passion towards entrepreneurship is not an abrupt turn around. When her peer group had buried themselves under textbooks containing massive curriculums, Monica was interested in preparing those, and started attending office from the age of 15, alongside her studies. "In those days, my favourite place was my father's office," she recalls. When she started to manage the operations of the venture in an era where women were just entering into corporate world, she was assured about one thing - to smoothen the journey forward, the focus should be averted from societal convictions. Being blessed with supportive parents, she never had to turn back in her life since then. "I knew it from the very beginning, be it man or woman, it's only the mettle at work that matters," adds Monica. A persistent learner, Monica invested her time in polishing acumen and learning from her father's leadership style clubbing with hard work.

And when the time passed, she along with her younger sister Sonica Malhotra were given the complete stake, every one in the organization and even corporate world was in pursuit of the reflection of Ashok Kumar Malhotra in his two beautiful daughters. "I derived inspiration from the kind of decisions he made for the Group," she adds. Since then, the world saw this young lady living up to the expectations of her father on-boarding a rigid & flexible approach judiciously to manage the system, and in turn taking the brand beyond the national boundaries to SAARC,
South African and Sri Lankan markets. Today, she has transformed MBD Group into a full fledged education company that proffers 360° education solutions starting from notebooks and pencil to educational tablets, AR systems and VR devices; over 40,000 schools in India leverage these cutting edge educational products.

Touching New Heights
Born with unlimited spirit of innovation and unbounded energy to keep pace with the times, MBD Alchemie (one of the benchmark for e-learning platforms in India), MBD Skills - (a skill learning platform) and ICT Laboratories (teachers' training platform) are some of the clinching proofs of this undying enthusiasm of Monica. Following this path breaking approach, she has now also moved to gen next educational tools like AR apps (Nytra) which are integrated with MBD textbooks. Industry couldn't close its eyes at her, and in fact honored her with Industry Leadership Award, Indira Gandhi Priyadarshini Award, Naari Shakti Sammaan, and many more.

She gives equal importance to work and family and accommodates all the responsibilities from both the ends. Not letting her passions go, Monica has also designed the interiors of every MBD Group ventures. For the future, she has only one pledge to fulfill the oath which she took long back, to keep the dream of her father alive and take the Group to newer heights.