Monish Gandhi: A Designer & Innovator Who's Passionate About Bringing The Power Of AI To All Businesses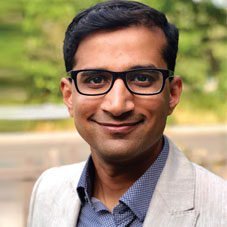 Artificial Intelligence (AI) is creating a major influence on the global economy. It will have an impact on practically all aspects of the global market, including employment rate, productivity, innovation, and income disparity. AI can assist and benefit businesses in a number of ways and is transforming every sector, company, role, and process. Research shows that 72 percent of business leaders believe AI to be a fundamental 'business advantage'. (PwC) The time for businesses to leverage AI is now. From automating organizational processes to innovating new products to compiling data analysis results, there is an AI solution for every business.As a result many multinational organizations, as well as small businesses, have implemented AI technology to enhance employee and consumer engagement, increase valuation and improve competitive positioning.
From automating organizational processes to innovating new products to compiling data analysis results, there is an AI solution for every business. Monish has a strong passion for AI and is always working to find the right solutions tailored to the needs of the business. Monish began his entrepreneurial journey in 2017, intending to help companies get ready for, get started with, and get better at AI by producing end-to-end AIpowered products and solutions.
Below is an excerpt of Monish's interview with CEO Insights.
Tell us, what inspired you to establish Gradient Ascent and what motivates you today?
I've been interested in artificial intelligence for a long time, even while I was still studying engineering over 10 years ago. I have had the opportunity to work in a variety of industries manufacturing, aerospace, telecom with some experience at Microsoft as well. Following that, I spent most of my career working for enterprise software firms, assisting in the development of products that customers love. I've always had a passion for using math to solve problems. And now we're capable of
doing that with AI, which in many ways uses math and data to solve business challenges. It's because I'm passionate about this field that I founded Gradient Ascent it is something I've wanted to accomplish for a long time. Now I'm doing something I truly enjoy and sharing my enthusiasm to help others succeed.
I worry that AI technologies will be owned by just a few companies and that's very detrimental to society. We work with businesses of all sizes to create and own their technologies so that we can democratize this technology. This is a huge part of my motivation: How do we help businesses succeed in this new era? How do we help them win? This is why we're so hyper focused and specialized in data and AI.
Gradient Ascent helps customers grow and win in our AI-powered world
AI is frequently used to automate tasks, but we believe it should also be utilized to innovate. It can help you accomplish today what you couldn't do before. It's not just about innovation it's about innovation as well as disruption. This is what we're interested in, which is why I established this company. Gradient Ascent's vision is to figure out how to assist all businesses in surviving, thriving, growing, and succeeding in an AI powered future, which is also a motivating force that keeps us moving ahead.
Define Gradient Ascent as an organization and its current position in the industry.
Our underlying principle is that AI will have a significant influence on all elements of our future, including every company, every product, and job, including mine. CEOs have one of three choices: innovate, automate, or disrupt. Gradient Ascent aims to assist businesses in surviving, thriving, and succeeding in this AI-powered future. We are a group of individuals that firmly believe in and are committed to the ethical application of artificial intelligence.
Our ideals are to profoundly understand and create a lasting impact for our clients, to learn and develop along side them, and to help them win. We don't simply design AI solutions for our clients; we also assist them in becoming AI companies and building that level of expertise inhouse until it forms a fundamental strength. We are grateful to be growing very fast: we quadrupled in size last year. Also,
the company is well positioned given our strategy and has worked on almost 50 projects from various industries. The efforts and dedication of our small workforce have created a big impact in a short amount of time.

What has been the success mantra that has constantly helped you arrive at positive outcomes?
One must be truly passionate about what you do and believe in it. This means we really focus on the quality of our service, about the customers, employees, and the community in which we operate. To help clients succeed, we have deep commitment and care towards our clients. We share our expertise with clients to help them become AI companies themselves. We don't hoard knowledge. For us, it's all about channeling our interest and concern towards maximizing learning, sharing it, and eliminating risk factors. Hence forth, my mantra is you can't serve a customer and execute a satisfactory service if you don't know what their problem is. You have to care about the customer and their challenges and focus on doing the best work of your life for them.

Based on your strong professional experience, what advice would you give to the upcoming entrepreneurs in the industry?
Having spent so much time as an entrepreneur, my first and foremost advice would be: don't do it for the money; do it because it's something you're deeply passionate about. Then you'll have the energy you need to succeed, as well as the ability to stay focused, humble, and thankful. I feel lucky to get to do what I love. Also, most firms today are talent driven; therefore, entrepreneurs must believe in their employees, invest in them, and care for them. Entrepreneurs must treat their employees and partners as they would like to be treated. Most importantly, invest in their future since it is ultimately an investment in your own.

Monish Gandhi, Founder, Gradient Ascent AI
Monish is a recognized AI expert, having delivered almost 50 AI projects. Monish completed his Engineering degree in Systems Design Engineering from the University of Waterloo, and an MSc in Finance and Financial Law from the University of London. Monish has almost 15 years of experience in operational, leadership, and strategic roles in fast paced, ever-changing, and entrepreneurial firms. He has been engaged in the design, development, introduction, and growth of a wide range of productsand new enterprises, resulting in greater revenue and customer satisfaction.