Mridula Sankhyayan: Transforming Individuals And Teams Through Holistic, Heart-Centric And Engaging Learning Experiences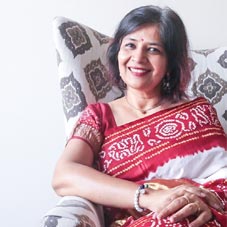 Having more than 25 years of experience in shaping the HR Industry across various sectors in India, UK and the UAE in Banking, KPO and E-commerce, Mridula Sankhyayan has led talent functions at Goldman Sachs, Flipkart, Lehman Brothers and Nomura designing and implementing strategies to build these companies to scale while addressing both local and global charters. CEO Insights interviewed Mridula Sankhyayan, CEO at Global Talent Track and she enlightened us with the challenges she encountered in the personal and professional journey.
As a woman in leadership, how are you influencing and inspiring others in and around your professional and personal stratum? Also, how do you manage to maintain a balance between your personal and professional life?
To me leading and inspiring is to bring in the Positive Vibes and be an Empathetic and Conscious leader. I bring in Passion to work every day. If I am not feeling fully energized and charged, I take a break, re-energize, reboot myself and get back in the trenches again with force and drive.
As a Woman CEO of GTT, whether you do it by design or default, you are being a Role Model each day. As I walk into the office I am aware that my mood, my energy, my behaviour sets the tone for the day and I consciously approach my work and people with mindfulness. I am hands on when I need to coach by demonstrating and hands off depending on the skill, will and capability of my team members.
Creating opportunities for my team members to succeed in existing or new assignments is important to me, and they grow and feel challenged in a positive way. It creates a sense of pride and belonging for their work and organization.
When they do something successfully that they didn't think they could do earlier, gives me immense satisfaction.
On Personal front, I am a trustee with Educait, an NGO that supports the education of underprivileged children majority of them are girls under 16. Every other weekend I take out time to teach them skills such as communicating and presenting with confidence, help them to speak about their dreams and share a social cause that ignites their passion. Giving them confidence and voice at this young age, I believe will help them pave their way forward with strength.
This moment is all you have. Pour yourself fully into it. In this oneness, you can touch the depths of your heart and experience secrets of the universe beyond time and space
Maintaining Balance: I am conscious of when I am in the flow and aligned heart, mind and soul and when I am not. The balance is not external to me. Balance is always internal. When I am aligned internally I find my inner balance and everything externally then mirrors that inner balance.
Kindly share the inception story of Global Talent Track? What were the major challenges that you encountered during the establishment of your firm and how has your journey been so far?
Global Talent Track was conceptualized by Dr. Uma Ganesh & Dr. Ganesh Natarajan through their experiences with Aptech, NIIT, and Zee Education and in the field of skill development. Whereas in these entities students would pay for skill development for bettering their career opportunities, over the years with the demand for talent increasing dramatically, employers started bearing the cost. This was a major change experienced and adopted into the business model. GTT has been able to identify the exact skill sets required in resources being onboarded by corporates and make them job-ready from day one.
Today we run multiple projects with
large multinationals in IT, BFSI sector employing a large number of youths and giving careers and livelihood opportunities to them. We also look at skilling and employability for people from underprivileged backgrounds as well as persons with a disability under our CSR led skill development programs.

How do you update yourself with the latest technologies and industry trends in order to keep your company in-par with today's cut-throat competitive world?
Learning is continuous journey, I learn on the go, read, write, engage with friends and colleagues, listen to enlightened masters, and take on things I haven't done before. I consciously get out of my comfort zone. Eventually I learn from by self-reflection and self-enquiry. As I see the patterns, link the points and coincidences, understand the synchronicity, connectivity and effect of things.

Looking at the current pandemic and its long-lasting impact, how are you preparing your company to deal with it? What changes are you adopting for serving better?
We are keenly studying the future of work and adjust customer requirements closely and review our market plan to integrate our approach with our customers. At Global Talent Track, we are revisiting and in some cases redesigning our products and services to align and better meet today and future customer needs. We are taking on the promise of revolutionary resources and technology as businesses aim to create readiness among employees for Future of Work. A composable business model, a composable technology and a composable attitude, all three will be combined to resolve and go beyond the pandemic risks, so that they have a lasting impacts as also shared in the report by Gartner on this analysis of composable market strategy.

Mridula Sankhyayan, CEO, Global Talent Track
Graduated from BITS Pilani in the early 90s, Mridula has worked towards shaping the HR industry across various sectors in the countries such as India, UK and the UAE. Prior to her current role as CEO in Global Talent Track, Mridula has offered her services in companies like Goldman Sachs, Flipkart, Lehman Brothers and Nomura.
Location: Pune