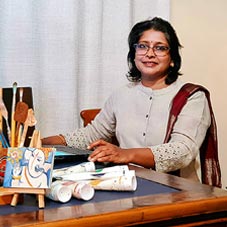 Since the very beginning of SOI in 2007, it has been providing design solutions to Biotech, Healthcare & Pharma projects. The company took more than a decade with various projects to arrive at a new startup offering client centric solutioning and delivery model. An interesting twist came in the form of adding the CEO, Sandhya K Sirsi's portfolio of art to design giving birth to DnA, Design n Art.
Sandhya says, "We had to first reorient ourselves to prepare to offer clients a unique proposition or not heard of anything like this exist situations. The usual struggle to articulate our thoughts for acceptance took a lot more than anticipated time. The inputs, review, feedback & suggestions from various persons in presentation, projects, events & travelling were invaluable".
The company wholeheartedly acknowledges encouragement from the IT & BT Department, Govt. of Karnataka during its period of struggle to recognize it as a Startup. Sandhya says, "Since we offered services predominantly, we were not listed for any Govt. support despite participation or we were lacking in our ability to convey effectively to qualify for any type of funding. We got into a precarious situation of nearly draining all our sources with no sight of garnering resources."
"Important twist came along in June 2019, the day we were opening Bank account of our new company not knowing where the next money will come from. A call to invite us to work on a project for Cell Therapy with Design & Art portfolio," adds Sandhya to her last statement. Since then, the company's clients have been kind in offering more projects & giving out its reference for more client engagement."
Sustaining the growth
Sandhya talks about three major challenges that the company had to face in order reach to the next level. Firstly, SOI started solutioning designing as efficient function & art as a metaphor to celebrate with visual creatives to establish connect with client ideas, ethos, values, vision, process or products for effective capture.
"Then we started focusing on developing of methods of our own initiated by art analogues for digitization & visualization by technology. Careful selection of type, medium, scaling to suit with flow evolved," states Sandhya. Over the years the company has put in place steps & processes to develop & deliver concepts based on client brief and requirements in the beginning of each project.
Sustaining the growth would have been impossible without the contributions of Sandhya and her husband. She emphasizes, "Both I & my husband Madhavaraj V Sirsi felt that it is best to capitalize on our
talents to collaborate and offer Design n Art: DnA solutions to clients to make a difference to projects if we can bring about a confluence of application of design and art for Science and Technology."
The real shot in arm came about in the form of Nihaarika Sirsi joining our team after her graduation in design from Raffles – Singapore. Currently, the company is advancing to the next level by working on various projects induced with art. Opportunities came to SOI in various forms. The company never said 'NO' to any opportunity to apply art and aesthetics that are functionally relevant and aesthetically appealing.
The company wholeheartedly acknowledges encouragement from the IT & BT department, govt. Of karnataka during its period of struggle to recognize it as a startup
Hitting the Mark
Innovative processes have been developed in the company's house over the years with a unique process of analogue creation developed & applied digitally with technology. SOI's solutions are based on the visual interface and visual experience addressing client needs, transpiring thoughts to visual creatives connect stems from client ideas, ethos, values, vision, process or products for effective capture.
The company's experience of selective use of contemporary art, thematic art & concept art, convey, communicate and connect with the visual approach. It also provides customized designs to create products from art in projects to enhance experiential value by relevant forms, the vibrancy of colours and application in different mediums to convey or communicate. It enhances the way the company brands itself.
Sandhya claims, "We are experienced professionals in total project designing to deliver with spatial planning for clients in Science & Technology. Our designs collate the needs of various client requirements of the process that are distinct with easy reach & approach for personnel and process with optimum utilization of space. Our strength truly lies in our technical ability to detail and deliver functional needs. The safety of users, process and environment is the essential parameter of design.
We provide design solutions with integrated technical options accentuating energy consumption, sustainability, and efficiency on a lifecycle basis. Effective use of natural light wherever permissible and pleasing aesthetics." There is a unique offering of services available currently to clients. Efficient design with spatial planning accentuating conceptualized creatives & products based on a theme that is client-specific.
Words from the CEO
Regarding her personal journey, Sandhya says, "A life with a definite purpose is what I have always aspired for. Transpiring thoughts and ideas to a functional form are what I have strived for. The
responses have always been encouraging in my journey so far. The recognition I earned in being consistent & being able to contribute continuously enable the ability to learn, influence & inspire mutually. Having a team approach to coordinate to develop & deliver definitely enhances in belief in larger opportunities for growth.

I have the complete support of my family and we believe in doing all work, whether personal or professional, together with restraint & intended breaks. That helps a great deal in being able to balance personal and professional life." She also states, "I have always aimed at providing a unique offering of products and services available currently to clients in this space. Efficient design with spatial planning accentuating conceptualized creatives & products based on a theme that is client-specific – an effort to create a celebration with a balance of elements & essentials, function & aesthetics, forms & fill, budgets & timelines and design & art."

Flourishing in the Market
Due to the coronavirus situation, SOI has adopted technology to deliver the promise to clients & drive business with safety as a paramount function in every aspect of business function. Most importantly, the company took care of people working for it to follow protocols of testing or appointing remote care for asymptomatic positive in quarantine or paying wages during idle time.

Work has been resumed with illustrative banners about the dos and don'ts. Sensitizing & training to create awareness among the teams about social distancing have been added to the to-do list of the company. "We distributed masks & PPE as required. We ensure & continue to work with the set rules & protocols," adds Sandhya referring to the Covid-19 protocols.

Going forward the company has thought of a plan to flourish it. The company is planning on constantly upgrading itself in terms of innovatively apply usable formats, be it knowledge, learning & technology to make its business process efficient. Constantly inputting time & investment to upgrade in anticipation of the outcome is also something the company is focusing on.

Sandhya makes it very clear that "they are not going to depend on external sources, for scaled-down development of design or creatives. They have their own Proto Lab in their studio with a 3D printer installed, to begin with, and more additions to follow".

Moving on
Sandhya believes, "ability to innovate, relate & apply constantly to changing times will reward sustainability & growth." "Any opportunity that comes your way in the line of your business is important irrespective of size because, with every opportunity, there is a challenge, a learning and a step forward." concludes Sandhya.

The company is planning on approaching every challenge with a positive attitude and it is certain that success will follow. The company has been fortunate to be on the side of clients who wanted to do their projects differently by engaging in the application of art and design projects. It is advancing to the next level by working on various projects induced with art.