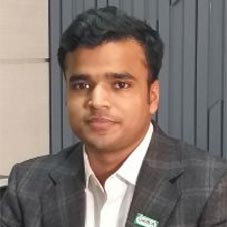 Workplace safety has emerged as a top priority for companies across the board. With companies taking a broader view of safety as a workplace benefit, it should be no surprise that their view of health and wellness has become more holistic. It is shifting away from physical health toward a multifaceted approach encompassing physical, emotional, social, financial, and environmental health. More than that, companies are coming to realize that a proactive approach to worker safety is more than just an investment in future productivity; it's a demonstrated commitment to their employees.
In 2010, the Okaya Power group entered the healthcare sector with its flagship brand Nasaka to cater to India's masses by providing top quality health appliances. Nasaka is a water purification and filtration company with revolutionary OrpH+ technology. A new age technology maintains the essential ORP and pH levels of the water, including essential minerals while giving out 100 percent sure water that boosts the overall immunity of the body. Further, in an exclusive interview with CEO Insight, Arush Gupta, director of the company, explains how they are committed to making the world a healthier and sustainable place to live in by serving a fundamental human need.
Nasaka's prime objective is to satisfy its clients by offering them world-class safety products in the committed time frame. Bring to fore the approaches it observes to do so?
Brand Nasaka's objective is to provide life's basics such as clean water to drink, clear air to breathe, and sanitized & disinfected environment to live for all. To meet
its objectives, we have introduced pioneering technologies in the industry, such as OrpH+, Biomag, Antivoc & recently SNW. These technologies are unique & ensure good health & virus-free life.
Tell us about the factors that have helped Nasaka achieve the pinnacle of success and have helped it acquire a vast clientele all across the country?
The brand strategy has always been to reach out & benefit the masses by positioning its pioneering technologies with the most competitive pricing. The cherry on the cake is all the attributes of pioneering technologies is available in all variants of products at different price points lowest to high end.
Brand Nasaka's objective is to provide life's basics such as clean water to drink, clear air to breathe, and sanitized & disinfected environment to live for all
The Nasaka service network is available on a PAN India basis with over 600 field service engineers & more than 200 authorized service providers. Customer satisfaction and prompt post-sales services are the two core factors for Nasaka to stand out in the market. Amidst intense competition, the primary differentiating factor for Nasaka is the ability to offer first-rate, satisfying customer service.
Kindly elaborate on the top-notch facilities and offerings the company is rolling out to its clients? Highlight its USP?
In today's scenario, if you fail to provide seamless customer service, you won't be able to sustain in the market for long. We at Nasaka boasts of a wide range of products such as water purifiers, air purifiers, and India's biggest range of touchless hand sanitizer dispensers. Each of these categories has unique USP's to offer to the customers. Nasaka water purifiers are enabled with OrpH+ technology to provide the purest & balanced Alkaline drinking water. The RO's are also
equipped with Biomag technology, which helps in the absorption of minerals present in the water. Furthermore, Nasaka Air purifiers are enabled with Anti- VOC technology, which helps to eliminate all types of tiny volatile organic compounds present in the air inside the home. Also, the recent launch of automatic hand sanitizer dispenser for covid- care is enabled with SNW technology, which ensures safe & no waste of Alcohol-based Sanitizer, thus providing maximum safety without wastage of sanitizer.

How does the company ensure complete testing and certification services for safety products to ensure employee's protection and compliance with industry regulatory standards?
In ten years, the brand has been recognized with the top of the industry certifications and awards, including ISO certifications & other safety-related certifications. The brand has its manufacturing plants situated in Baddi, Himachal Pradesh. All products manufactured & sold by Nasaka are 100 percent Made in India and living the legacy of "AtamNirbhar Bharat". The brand has grown leaps & bounds and aims to launch many more health appliances shortly and address the need gaps in the market.

What is the roadmap ahead of Nasaka? How is the company gearing up for the same?
Nasaka is aiming at the targeted revenue of 500 Cr in the next two years. It is present in Pan India with a network of 250 distributors and more than 500 dealers. Its international footprints to are visible in many countries of Asia, Europe & America.

Arush Gupta, Director & CEO
Born on 2nd December 1993, Arush Gupta is the young scion of Okaya Power Group (OPG), with an engineering degree from BITS Dubai. Arush has shouldered the group's biggest responsibility at a very young age of 23 years in 2016 and has taken the organization to newer heights within a short time. His passion for technology has catalyzedOkaya Power Group to attain complete digitization.

Offering – Air Purifier, Domestic RO, Super Connect, Bio Sure, Commercial RO, Gravity Operated, and Sanisafe.