Nishant Singhal: Introducing Ground Breaking Variations Through Novel & Innovative Concepts Across The Legal Arena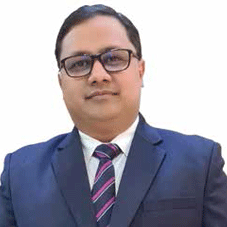 A veteran Legal Professional, Nishant Singhal holds an established history of working in the financial services industry. Skilled in Litigation, Drafting, Negotiation, Banking, Credit Analysis, Receivables Management, Debt Recoveries and Cred-it Risk, since his first assignment in the corporate sector with ICICI Bank in 2006, he has risen through various ranks. Nishant is currently positioned as the President and Group General Counsel of Religare Enterprises Limited ­ a diversified financial services group.
Inspired by his father who has been a practicing lawyer since 1980 and also acted as an Arbitrator for various Banks and NBFCs, Nishant felt his inclination towards law and commenced his career as an independent lawyer. An efficacious industry stalwart, he has been associated with many multinational firms throughout his illustrative career. His unique problem-solving attitude, quick decision-making, and time management skills are the most important aspects that keep him in the limelight amongst his peers.
Engaging in an exclusive interaction with CEO Insights, Nishant shares his journey as one of the phenomenal legal personae of the country who has managed to introduce some ground breaking variations through the novel and innovative concepts across the legal arena.
1. Please share about your journey as General Counsel. What are the challenges you encountered during your professional journey?
After Joining Religare in April 2018, I started with looking after litigation in the NBFC arm, i.e. Religare Finvest Limited (RFL), the most affected subsidiary of Religare Enterprises Limited (REL) which was trying to cope-up with the huge hole left by its erstwhile promoters who had just left the organization in February 2018. They, along with some erstwhile senior management officials were indulged in fraudulent and suspicious transactions and siphoned away crores from the company, leaving the company with huge asset-liability mismatches and a bundle of legacy issues.
The role was challenging for me and certainly it was not under normal circumstances that I started my journey with this company. I remain awestruck to see a company taking such firm stands against its own erstwhile promoters and senior management officials to set things right. This could have only happened with the most professional and independent board members who had joined the company to ensure that all wrong
doings are unearthed and the company revives. Through aggressive steps, robust courage and a lot of planning, we were not only able to initiate, but also to establish the fraud played upon the company.
2. What are the roles and responsibilities you have been undertaking at Religare?
So, I look after the entire corporate legal and the litigation function for the group. Listed on the BSE (formerly Bombay Stock Exchange) and National Stock Exchange (NSE) in India, Religare Enterprises Limited (REL) is a CIC NBFC offering an integrated suite of financial services through its underlying subsidiaries and operating entities, including loans to SMEs, (RFL), Affordable Housing Finance (RHDFCL), Health Insurance (CHIL) and Retail Broking (RBL).
I ensure that the company continues to be on the right track and does not face any legal challenges
I have been actively involved in advising the Boards and Management of these companies on all possible issues, whether being purely legal or even other critical decisions which might impact the overall growth and business. RFL is undergoing a debt restructuring plan with all its lenders, and I am an integral part of the team interacting with lenders and regulators.
With my legal acumen, expertise and experience, I have been able to become an integral part of the company.
3. As General Counsel of Religare, how are you identifying and preventing litigation and regulatory risks?
So, I frequently interact with a lot of vendors like lawyers, consultants, regulatory advisors and other experts, and that keeps me updated with relevant industry trends which may impact our business across any sectors that we are currently dealing with. Besides that, I am also active on Whatsapp groups and other social media groups in order to abreast myself with the latest developments in the industry. Being there for almost 20 years now, I have a strong network in the legal and regulatory fraternity.
Keeping in touch helps. It is very important to keep an eye and study the behaviour of counter parties and anticipate actions being planned in advance. It has helped us a lot, and we have been able to prevent various such sudden risks coming-up digging through a table approach.
4. What are the key drivers that you de-ploy to ensure that the company's regulatory compliances are used appropriately to meet its short/long-term needs?
As I told you, I don't directly look after the regulatory compliances of the company, and we have a dedicated team to look into that. But
I do advise them regularly. As I said, given the nature of litigation we are
into, we keep getting queries from the regulators, and we also ensure that our regulators are kept informed on all developments in the company. I do keep interacting very frequently with the team not only to resolve these queries, but also to ensure that the company is on the right track and we do not face any regulatory challenges. I am also a part of social media groups which usually keep updating important changes in guidelines issued by the regulators.

5. In your journey over the past, which are the milestones that bestowed you with utmost satisfaction - both as an individual and a General Counsel?
So recently, I was selected among the Top 100 GC in India by the BW legal world. We received another intimation that we have been nominated by the Asian Legal Business for banking and financial services Inhouse Team of the Year. Apart from these achievements, my journey with various corporates has been very fruitful, and since the very beginning, I've been assigned portfolios, which were the most difficult ones to handle. I have always been given the best of ratings in all my previous jobs and I've had a lot of promotions and rewards.

Within just two and a half years of my journey into the corporate sector, at the age of 28, I was selected for a National Role at Videocon. During my stint with India Bulls, where I spent almost five years, I was leading a team of more than 70 officials. I always got selected as a participant in the company's annual conclave, which was held every year in Europe. I have been awarded for exceptional performance in the legal domain. As a part of the reward I was bestowed to visit a lot of places like Prague, Barcelona, Athens and Copenhagen.

Since I joined Religare, I've been promoted and also elevated to the role of the General Counsel of the company in June 2020 and currently placed as President and Group General Counsel for the entire Religare Group. We recently had our first annual event at Religare called `Aarunya' where-in I was awarded the title of Laser Focus, in line with my line of work, eye for detailing and perseverance.

Nishant Singhal, President & Group General Counsel, Religare Enterprises
Currently positioned as President & Group General Counsel in Religare, Nishant has also been selected among Top 100 GC in India by BW Legal world. Born and brought up in Delhi, Nishant completed his schooling from Manav Sthali School, New Delhi, Graduation B. Com (P) from Sri Venkataeswara College, Delhi University and LL.B. from Dr.B.R.Ambedkar University, Agra. Being an active sports person, he has represented his school and college teams in various sports like basketball, football, cricket and table tennis and won various awards and trophies. An adherent singer, Nishant has been honored with various awards owing to his prolific singing capabilities and knowledge of Indian Classical music. Having won various singing competitions organized in and around Delhi, he also judged several music competitions at the national level.