Nitin Singh Bhati: Pioneering Legal Professional Setting-Up New Benchmarks In Indian Legal Fraternity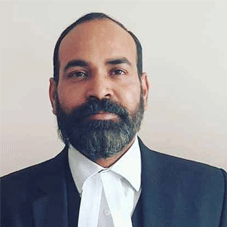 The entire journey till now had a lot of challenges, including the long working hours where you start missing family events. There's a lot of stress and pressure to excel at what you do in most fields. That pressure can be even greater in the legal field because of the gravity of what you do. New technologies are becoming more disruptive, and these technologies are raising legal questions about net neutrality, election transparency, and a host of other hot topics. We are expected to understand new and emerging technologies, and these expectations only add work to a lawyer's plate," says, Nitin Singh Bhati, who is the General Counsel of RackBank, when asked to reflect on his professional journey.
In an exclusive interview with CEO Insights, Nitin talks more about his career as a General Counsel in the corporate realm.
1. Elaborate more on your educational and professional background.
I did my B.A. LLB (Hons.) from School Of Law, DAVV, Indore, LL.M in Criminology from Madhav College, Vikram University, LL.M. in European & International Law from London Metropolitan University (LMU), London, PhD in `Achieving Sustainable Development in India through CDM' From Vikram University, and Diploma in Cyber Law from Nalsar, Hyderabad..
I am a professional with more than 17 years of experience as a self-employed lawyer, Associate lawyer, General Counsel and Legal Advisor for a number of companies in India, and I also have solid experience in Indian domestic law matters as well. I also have more than seven years of experience as a member of the Investor Grievance Redressal Panel of MCX exchange, and I have received many awards as an Arbitrator of matters referred by the National Stock Exchange.
2. As General Counsel of RackBank, how are you identifying and preventing litigation and regulatory risk? Can you describe how you
identify, assess, and determine how to manage these uncertainties?
We mainly focus on Due Diligence and Compliance of third party, and proper Risk Assessment reduces our liability. Security/Protection of Data in the servers is another thing, which our experts duly perform. Apart from that, we also maintain the confidentiality of data vis-à-vis interoperability with cloud servers. Our job is to implement existing laws in consonance with international rules and regulations along with domestic ones to avoid conflict in interoperability. Also, laws like GDPR, PDP, IT act, Intermediary guidelines and many more are issued and updated from time to time as well.
Our job is to implement existing laws in consonance with International rules and regulations along with Domestic ones to avoid conflict in interoperability
3. In your professional journey, which are the milestones that bestowed you with utmost satisfaction ­ both as an individual and a General Counsel? Also, what are the steps that you take to stay industry-ready?
As a Litigating Lawyer, I have handled various day-to-day matters, pending before the Hon'ble Supreme Court, High Court, District Court the various tribunals like NGT, National Commission, NSE, Consumer Court, DRT matters, Appellate Tribunal for Forfeited Property, Board for Industrial and Financial Reconstruction (BIFR), Appellate Authority for Industrial and Financial Reconstruction (AAIFR) and Company Law Board. I have joined as an Arbitrator in the Panel of The Mediation and Conciliation Network (MCN) Federation of Integrated Conflict Management (FICM), Member of Executive Panel of Accredited Dispute Resolution Experts from Madhya Pradesh since June 2018.
I have also been a National Stock Exchange & MCX Arbitrator since 2013, MP Electricity Board, AKVN, IMC, and Indore Development Authority Arbitrator since 2013. Apart from this, I have also done Corporate Legal representation, Elaborating indictments & opinions for Samsung India, LG India, Rack Bank Data Centre, Idea Cellular, Shakti Pumps and New India Assurance Company.
Being up-to-date with the latest industry trends is crucial to remain relevant in the industry, and to keep myself abreast with the latest happenings in the industry by updating myself on new laws and regulations as well as new technologies on which my clients are working and constantly updating on Regulations and Policies related to the industry. Also, I stay connected on various professional forums and social platforms for better Network, which helps to keep up on new information.

India now becoming hub of data centres thanks to PM Narendra Modi's leadership as now all big giants are opening up data centres in India and Rackbank is also planning to expand in metros like Chennai and Mumbai. Scalability and colocation is where the future lies and preparing ourselves legally for that is the main focus. As I am heading the legal team, focusing on new foreign investors is a very interesting domain, as global capital is showing interest in Indian data centre industry. Thus the road ahead is very tough and hard specially for legal team.

Nitin Singh Bhati, General Counsel, RackBank
Nitin Singh Bhati, General Counsel, RackBank He is an energetic, analytic, and hard-working lawyer with extensive academic research skills and substantial experience in the preparation and strategic conduct of risk assessment, arbitration, writ petitions, contract drafting, NDA drafting, civil litigation, cyberlaw, intellectual property law, and consumer disputes & mediation disputes. Nitin is also an organized team-player who can bear responsibility, rapidly deal with unfamiliar issues and withstand highly stressful situations.

Awards & Recognition:
· Article published on Sept. 2020 in International In-house Counsel Journal, UK on `Intermediary Dilemma'.
· Certificate of Recognition LEX-FALCON Award 2021 at LEXTALK WORLD GLOBAL HYBRID CONFERNCE, DUBAI (UAE) ­ 7th April 2021.
· Recognition facilitation done by many media groups such as Dainik Bhaskar, Times of India, Free Press, Red FM, Big FM, Naidunia and Patrika.
· Facilitation Awarded as a Jury Member for various National and International Moot Court Competitions.
· Member of INDIA DISPUTE CONFERENCE organized by Informa Connect, London UK.
· Registered United Nation Volunteer.