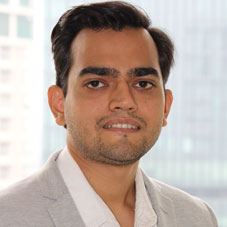 Leadership is much more than just getting the job done, the core of leadership is the ability and willingness to inspire others. In addition to issuing orders, a leader's job is to provide an example for his followers so that they are happily willing to follow in his footsteps. With this leadership approach, Nivesh Jain, the Head-Digital Marketing at Handelnine Global has built brands that are market leaders today. He is an engineer and a global market leader with expertise in data analytics and martech, and he is passionate about the digital economy, cyberculture, and new technologies.
During his initial years, Nivesh led the digital launches of the National Stock Exchange of India (NSE), Reliance Energy, Mumbai Metro, Lodha Palava, Priyanka Chopra's Production Company, and WWE India and generated successful digital strategies for FMCG powerhouses like Hindustan Unilever (HUL) and ITC Group. His domain experience and expertise have helped Handelnine Global revamp its business model and maximize revenue manifold. As a marketing leader, he has achieved exceptional results by restructuring teams, renovating day-to-day processes, and fostering accountability cultures. While many businesses suffered losses during the COVID-19 outbreak, Handelnine Global soared to new heights under the leadership of Nivesh Jain. CEO Insights engaged in one on one interaction with Nivesh, let's read the snippets.
Tell us about the professional experiences you've had in the past and how you've applied them to your current job and business operations.
In the early years of my career, I gained exposure to the differences in consumer behavior across markets while working with an online jewellery firm. Applying this, I prioritized localization when
developing Handelnine Global's international expansion strategy, and it worked very well for us. My experience with some big franchises like Hindustan Unilever, ITC Group, Yes Bank, and the IPL, has helped me understand brand-building at scale while working with startups has taught me to accept accountability for the firm's financial stability and endorse strategies that perpetuate profitable growth. In addition, I've come to understand how crucial it is to strike a good balance between short and long term growth goals.
I strongly feel that as a digital marketing and growth leader, you have to be hands-on yourself, but also understand when to delegate and when to participate
Give us a brief overview of Handelnine Global's presence and significance in the online retail industry.
We create online retail brands from scratch and grow them globally. With our commitment to customer satisfaction, and strong internal technological and analytical capabilities, we are rapidly creating new brand experiences and expanding into new markets. We position Handelnine Global as a global house of brands and manage order fulfillment through our own warehouses in Mumbai, New York, and Los Angeles, along with a 3PL presence in other regions.
When I started working here, the business was known by a different name, catering to the Indian market, and sold mainly on Amazon. In 2019, we decided to focus on a global clientele, and Handelnine Global was formally established. We expanded swiftly and now operate localized online stores in over 60 different countries.
What inspired the foundation of Handelnine Global and what are the most recent market trends you have incorporated?
At Handelnine Global, we have been quick to adopt emerging e-commerce technologies, such as programmatic advertising, and machine learning, providing personalized user experiences, enabling a wide range of payment methods, and collecting first party data. We have built additional layers of ad optimisation to supplement
the offerings of big adtech and observed an improvement in conversion rates. This has helped us reduce our customer acquisition costs and also promoted repeat buying by encouraging customer loyalty.

Do you have any five year plan for the company and how do you intend to achieve them?
We have a vision for the next five years that includes expanding our online retail footprint to more than 100 nations, launching and developing new brands in a private label model and improving brand salience for our best performing online retail brands in their respective categories. We expect martech to play a significant role in the execution of the strategy.

As a digital marketing leader, what would you consider your leadership style to be? And, what are your approaches toward leading a team?
I've been in leadership roles for almost nine years now and my leadership style has significantly evolved over the years. I like to empower my mid-managers, allow them to take decisions, and even give them room for experimentation. I strongly feel that as a digital marketing and growth leader, you have to be hands-on yourself, but also understand when to delegate and when to participate. It is important for me to align every member of the team to the end objective, quantify success and failure, measure progress regularly and hold people accountable. I've found that this is a sure shot way to eliminate mediocrity and have a high performing team.

Since you like reading books, would you care to name a few favourites?
I read a lot, mostly biographical books. I could name dozens but my favourites are Steve Jobs by Walter Isaacson, Delivering Happiness by Tony Hsieh, Made in Japan by Akio Morita, Direct from Dell by Michael Dell, It Happened in India by Kishore Biyani and Pour Your Heart Into It by Howard Schultz.

Nivesh Jain, Head - Digital Marketing & Growth, Handelnine Global
Nivesh is a digital marketing leader, with over eleven years of expertise in brand growth and development. Currently, he is the Head of Growth & Marketing for a multinational e-Commerce company, where he has contributed to the launch of 15 online retail brands across 60 nations.