Rohit Katyal: Leveraging On Smart Digital Solutions To Solve End-To-End Payment Use Cases For Indian Msmes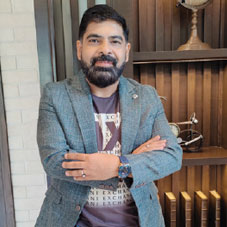 In an era of digitalization and significant technological innovation, the trend is shifting gradually from traditional banking to FinTech. Compared to traditional banking, FinTechs provide better user experience and functional efficiency to their users. With around 23 Indian FinTech companies receiving unicorn status, the FinTech sector in India has been on an exponential rise. After working in the banking sector for more than a decade, Rohit Katyal took a plunge into the FinTech sector, working for new-age FinTech companies. Rohit is currently working as the Group Head of Business at Easebuzz, guiding the firm on its quest to become one of the preferred partners for SMEs in the Payments & neo-banking space.
In an exclusive interview with CEO Insights, Rohit shares the impact and presence of EaseBuzz across the market, the vital leadership lessons he has inculcated from his previous experiences, and much more.
Could you enlighten us about Easebuzz's impact and presence across the IT Services and IT consulting domain?
Easebuzz is a digital payments solution company that offers technology-based solutions, which are integrated with payments to digitize collections with ease. Over the years, the firm has created an affordable and easy-to-use APIs-based platform that offers to solve the collection related problems of small businesses. It also helped in bringing value in terms of subsidized pricing, easy-to-integrate APIs and availability of all payment modes for the end user.
Easebuzz is currently serving more than 70,000 Business Clients in managing their Payment Collections and Payouts with products like Payment Gateway, Payment Links, Payout services, ePOS, UPI, Smart billing and associated Value Added Services(VAS)crafted for varied payment use cases across different sectors like BFSI, Retail & E-commerce, Education, Healthcare, Real Estate, Travel & Tourism, and so on. Our primary focus sector has been the MSMEs. Easebuzz is solving end-to-end payment use cases for MSMEs. It seeks to be the financial operating system for the existing 63 million Indian MSMEs and be the catalyst for Digital Transformation.
Tell us about the vital lessons you have inculcated from your previous career experiences and how you find them helpful in your current role and operations.
Before working for new age FinTech companies, such as Paytm or Easebuzz, I was working for large scale organized companies. In those organized firms, I was mostly organizing the unorganized by setting up the processes from scratch, improvising the business journey, setting up the entire sales processes, automating the sales processes, and so on. Over the years, I have learned that inorganic scale ups, such as acquiring business through partnerships and alliances are very important for business growth. So I'm partnering with banks SaaS players and other FinTech companies, where we work together and bundle up our product solutions for a joint go-to-market strategy. Another expertise that plays a vital role in my career is multitasking, which has given me a new edge in my leadership style.
Startups need to have the right Speed to market attitude to move in the market
I also believe in working with closed cross functional groups. Even you get a lot of opportunities to learn while working with early stage startups like Easebuzz, where you get the opportunities to work closely with cross functional departments. Speed to market is another factor that I consider very important, and startups need to have the right Speed to market attitude to move in the market. We shouldalways consider multiple strategies, as there is no single formula to success. We shouldn't be afraid of failures and keep moving forward. Another factor that is very important for driving people management is a semiregimental approach. You shouldn't be fully regimental and do micro management. These are some of the vital lessons I have learned from my previous experiences and implementing in my present company.
Describe your leadership style and the success mantra that has been helping you arrive at positive outcomes in your professional journey so far.
One of the key attributes of my leadership style is decisiveness. I ensure to take decisions quickly both in my personal and professional life. I strongly believe in the speed to market theory, which demonstrates individual agility. At a time, when my friends were reluctant to transition from traditional banking to FinTech, I took the risk and joined the FinTech sector. I also strongly believe in treating everyone equally and exhibiting fairness at work. I try to keep my enthusiasm up and going
irrespective of the situation and focus on the positives.

One of the foremost aspects of my attitude is integrity. Another important aspect of my leadership style is transparency, which has been very much helpful in motivating the team. You have to be transparent with your team and clients, which always works for a long term relationship. Learning and imparting my learnings is a continuous activity that has led me to success.

How do you maintain the perfect balance between your personal and professional life?What is the future destination you are heading towards?
I believe in prioritizing my tasks, which helps me with time management. It is not easy to maintain a perfect work-life balance, especially when you are building and scaling a business. I have been allocating specific times toward my health regime. I also allocate some time for selfdevelopment, such as reading books or binge watching during the weekends. I also exercise every day for half an hour. Even spending time with your family is also very critical. The most important thing is to allocate some time even though you can't have a fixed routine for it.

As a part of Easebuzz, currently, I am fully involved in nurturing the massive FinTech ecosystem, which is crucial for the country to achieve its goal of becoming a $5 trillion economy by 2025. I am also working on building and scaling my current responsibility to make Easebuzz the preferred partner for SMEs in the Payments & neobanking space. I want to grow professionally in the FinTech & Neobanking space for the next five years. I would also like to be a part of building a successful and sustainable business model in the Digital & SaaS space to solve B2B2C problem statements.

Rohit Katyal, Group Head-Business, Easebuzz
Rohit is a Sales & Business Development professional with more than 21 years of experience in various sectors, such as Fintech, Digital Payments, Retail Banking & Insurance with functional exposure in P&L, Revenue generation, Strategy management, Corporate sales & Alliances, Direct Sales, Channel Management, Product management. A strong supporter of transparency and fairness at work, he has done his B.Com from Delhi University and his post-graduation in International Business from IIFT Delhi.

Hobbies: Playing Football, Binge watching
Favourite Cuisine: Thai – Green curry with rice
Favourite Book: Jonathan Livingston Seagull by Richard Bach
Favourite Travel Destination: Maldives