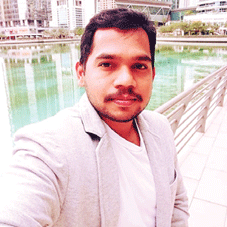 Connecting billions of people worldwide, the internet has become a core pillar of the modern information society, and in the current era, it's considered as a game-changer for a huge array of prominent industries. The most affected one is the marketing industry, where the internet along with the advancement in technology has unlocked the market potential of each & every business. Simultaneously, the progress of technology, combined with the globalization of commerce has led to the rise of digital marketing. Organizations nowadays are considering digital marketing as one of the most critical strategies to achieve growth by reaching more consumers.
Indeed digital marketing has the capability to put a business on a global platform however, to attain success, one should incorporate correct & suitable digital marketing strategies by collaborating with a professional marketing firm. OPT-C Digital Solutions is one such professional digital marketing service provider that is dedicated to offering best-in-class digital marketing solutions to its clients, helping them to achieve their marketing goals. Under the aegis of Bhanu Prakash (Digital Marketing Strategist & CEO), OPT-C Digital Solutions has carved-out a niche for itself in the digital world. Besides, with the best quality solutions, the company has cemented its hold in the marketing industry as one of the leading digital marketing service providers that operates as a highly professional partner for marketing solutions. Talking to CEO Insights, Bhanu shares in detail about the company, its offerings, and future plans.
Tell us more about OPT-C, along with its unique elements that differentiate the company from other industry players. What are the various services that you offer?
OPT-C Digital Solutions is a software & digital services firm that serves clients on their various requirements. However, our prime goal is to put our clients' website high on the growth curve. To
achieve that goal, we channelize every possible effort in providing them a competitive edge over their competitors in the market. We don't charge our clients for the services that we offer, but we earn our share according to their RoI. This is the level of commitment that we have, and maybe this is what makes us different from other players in the market.
When a client considers us as their partner, we don't just provide them SEO or SMO solutions, but we aim basically for the benefit of the company and offer them varied options with our research solutions
Gone are the days when conventional information door keepers told people what is right or significant. In today's peer-to-peer business scenario, marketers are directly communicating with customers. Hence, we at OPT-C offer specialized services for digital marketing which includes SEO & SEM,social media marketing, SMS marketing, viral marketing, target marketing, vlogging, blogging, and branding. Apart from that, we also offer software development, web design & development, graphics designing and much more, as we completely understand that adapting to the latest software technologies to provide better services to the customers improves the business with less effort and time.
We use a certain aspect to boost our client's business. We help them to promote their business, showcase their portfolio, sell their products online, and grab more customers & revenue with our strategies.
Tell us about your unique working methodology, and explain how it aids in your client's business growth?
We don't just work with great clients, but we create them. We strive to deliver exceptional work; however, as passionate as we are, we don't just work alone. We involve our clients in every stage of our work, where we guide them with the best option for them and their organization's growth. When a client considers us as their partner, we don't just provide them SEO or SMO solutions, but we aim basically for the benefit for the company and offer them varied options with our research solutions. With a strong research based approach, and by
implementing an effective SEO marketing strategy, we ensure to improve the client's lead generation efforts. We also plan and implement the right marketing strategies for our client's business using customer insights and analytics, which improves their remarketing campaigns' RoI.

Throw some light on your team of professionals.
We have a team of professionals who are multi taskers, realtime experts with experience & knowledge on all of the services that we offer. The team is a mix of seniors with a minimum of 10+ years experience, and juniors with a minimum of three years of experience in the digital marketing field. Not just that, but we as a team are capable of doing more, as we constantly keep learning the latest technologies and aim to provide the best solutions as well as a more user-friendly experience to our clients. We currently are a team of around 20+ professionals, and have branches & professional teams in Dubai as well who provide delivery of our outsourcing work in time for quick TAT.

Can we expect to see newer innovations & additions to your existing service portfolio in the near future? Also, tell us about your future roadmap.
We are working on travel technology and the platform name is TripGo.AE – a travel & tour booking system from OPT-C. We are also in the process to create the AI Board, which once completed will help SMBs. The purpose of creating this board is to reduce the burden from employees, as well as decrease the cost for the companies. In addition to that, we are also working on Byo Clouds a new automated cloud solution from OPT-C. The plan is to launch this cloud solution by 2023.

In terms of business expansion, keeping the quality of our services intact while offering our best to the clients, we aim to spread our operations to six more regions like Canada, Philippines and more in the next three-five years.

Key Management:
Bhanu Prakash, Digital Marketing Strategist & CEO
An IT Engineer with over eight years of experience in the corporate industry, Bhanu leads operations for digital marketing operations at OPT-C.

Location: Tirupati
Offerings: All kind of digital marketing solutions like SEO & SEM, social media marketing, SMS marketing, viral marketing, and also software as well as web design development