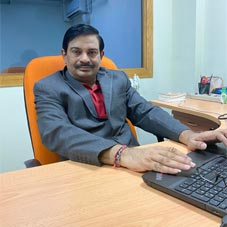 The dawn of the new millennium was extremely generous to the IT world, hosting a paradigm shift and engendering an elite group of selfmade technology leaders who became the torchbearers of genuine change. They opened new avenues for businesses, regardless of the industry. Right from the start of this digital age, P V S Durgaprasad, the Founder & CEO of Datadot Software Solutions, has been an ambassador of making that difference for organizations around the world by enabling them to travel abreast of the dynamic technology landscape. An entrepreneur by nature and a technologist by passion, Durgaprasad always foresaw the bigger picture and utilized his skills, banking on an envious level of experience spanning across a wide spectrum, ranging from General Management to Sales & Marketing, Business Development, and Innovation & Change Management.
Over the past two decades, Durgaprasad's wisdom, combined with unparalleled leadership skills, has allowed Datadot – aCMMI Level-3 company – to become one of the leaders of the IT solutions industry with a great global presence and operations across India, Malaysia, USA and UK. Datadot is a pioneer in providing comprehensive IT solutions in various domains, including Software Development, Cloud Computing, Web Development & e-Commerce Solutions, ERPs Solutions, and IT Infrastructure Management Services. The company is home to some of the stellar trend-setting products like EduNext (Campus Management System), HRMS+ (HR Management System), GenX Payroll (Payroll Management System) and DigitalNext (Legacy Digital Transformations Solution). CEO Insights is delighted to engage in an exclusive conversation with Durgaprasad, who has established himself as an inspirational leader & mentor with a supportive yet challenging management style that motivates both teams and individuals to achieve & exceed targets and job responsibilities.
What were the initial challenges that taught you the basic lessons of managing the diversified functions of large organizations? Also, how did you manage to achieve the success that you had in the later phase?
The company had a humble beginning in 1999 with limited capital, while the competitive IT industry demanded large investments. Like every business person, I also faced many challenges throughout my journey. From having no proper partnership to inflation of the market, competition from the peer companies, and a lot more. Be it on the personal front, financial side or in business, those experiences & challenges taught me valuable lessons, which always keep me motivated and drive me with unstoppable determination in operating the business in a positive mode. It helped me mold a few of my ways, change my perspective towards many things, add smart work and hard work, and start building relations in the corporate sector for business development.
Working with multi-disciplined and multi-cultural people in different projects globally is something that has always helped me to grow as a leader
Today, we are a trend-setter in our business. For instance, the Training Institute Management System that we developed in order to cater to the needs of our training division is today used by many training institutes in Hyderabad. We are determined in giving this success back to the society in the form of Skill Development Programs, providing free IT training to the rural youth and under privileged.
How does your vast industry experience help you to chalk-out efficient business modules at Datadot?
I am a people person and I maintain public relations with poise. This helps me build connections with executives, managers and employees at different levels easily. Moreover, my personal interest in Business Development and my experience of working with many visionaries and leaders till date help me run the day-to-day business activities with utmost discipline and work towards the growth & sustaining of the company in today's competitive world. I am also an
ardent learner who spends a minimum of one hour every day learning new technologies and latest trends happening in the industry. That way, I always stay ahead of the curve.

What's your mantra in bringing people together in a global organization and helping them find their best versions? How has it worked for the overall benefit of Datadot?
We believe that our team is our strength and asset. We at Datadot follow a great work culture based on respecting the contribution of every member of the team. Over the years, we have brought in many changes in the way our team functions to develop the feeling of utmost responsibility, and by enabling them to own the work assigned to them and deliver to their maximum capacity. Today, it amuses me and gives me the utmost satisfaction when I witness the way my next-level executives are owning the work and taking the responsibility of working towards fulfilling the company's objectives.

Working with multi-disciplined and multicultural people in different projects globally is something that has always helped me to grow as a leader. My hands-on personal experiences help me mentor, guide and motivate our teams working in different offices of our company.

Managing a company involves a lot of stress, skill, and time. How do you manage to balance between your personal & professional lives?
I am both a business and a family person. I believe in a work-home balance. Regardless of how much busy I am at work, I will contact my family at least twice (morning & night) a day and ensure that their day starts and ends with me.

P V S Durgaprasad, Founder & CEO, Datadot Software Solutions
Durgaprasad is a Post Graduate in Electronics & Communication Engineering by academic qualification and possesses more than two decades of experience in the IT Industry. This spans across IT Portfolio/Program/Project Management, IT Consulting, Application Development, Re-engineering, Maintenance, and IT Operations, involving Planning & Administration with strong command in Program Management. He started his entrepreneurial journey in 1997 by incepting APEC, which today is a renowned Software, Computer & IT training organization, having the state-of-the-art training centers and 351 franchise institutions.