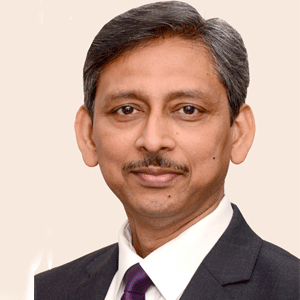 Ashish K Srivastava, MD & CEO
PNB MetLife has been addressing the insurance needs across various geographies of India since 2001. Being recently ranked among the top 10 trusted life insurance companies of India by The Economic Times, one of India's top financial dailies, the Company with it's PAN-India, multi-channel distribution network and a comprehensive product portfolio provides an end-to-end customer centric service experience.
Ranked as the second largest bancassurance platform in India, PNB MetLife is present across in majority of 723 districts of India (Source – Crisil). Thriving on its four core values - 'Put Customers First', 'Be the Best', 'Make Things Easier' & 'Succeed Together', PNB MetLife has been serving its customers with 11,000+ bancassurance branches, 7000+ dedicated life insurance advisors and 109 branches.
With a workforce of above 10,000, PNB MetLife takes pride in its employees who are the biggest assets and the key ingredient to its success. Asish K Srivastava (Managing Director & CEO, PNB MetLife) has exclusively discussed with CEO Insights about PNB MetLife's work culture, employee benefits and other aspects. Below are the snippets!
Brief us about the singularities of PNB MetLife with regards to its employee power.
Our recruitment is focused towards hiring building a team of people who are ready to challenge assumptions and use innovative thinking and produce solid results; people who not only embrace change but also effect the change. High performers who thrive in an environment that acknowledges their energy, creativity and diligence and a team player who understands that partnering is essential to the success of all. Every individual is expected to bring a wide range of ideas,skills and abilities to table, bringing innovative thinking that will enable the organization to tackle problems creatively.
Our EVP pillars are reiterated with our hiring partners and success stories of our employees are published on our website & social media. In fact, our targeted selection process via competency-based interview and motivational leadership are the key elements contributing to our organizational talent besides propelling us as a world-class company.
We are an equal employment opportunity employer nurturing a diverse, inclusive, supportive and collaborative work environment that makes all employees feel respected, engaged and cared for. Also, we infuse accountability by allowing them to perform to the best of their abilities and collectively work towards accomplishing PNB MetLife's goals. We were certified as 'A Great Place to Work for 2018' which endorses us as a highly trusted brand.
We have gone digital with our 'e-branch' initiative wherein our sales staff has the freedom & flexibility to complete the entire sales process at any remote location instead of coming to office. More over, our non-sales employees are offered email access on their smartphones to facilitate official communication.
How are you executing the aspects of talent management & development for your employees?
Talent management at PNB Metlife begins from the time of attracting and on boarding a new employee into the company by offering a compelling Employee Value Proposition. Through our
competency based robust selection process administered by trained assessors, we ensure that we get capable new employees not only fit for their current job, but also demonstrating leadership potential to grow and develop in the organization (this process is done at mid management level and above). Our talent management philosophy is that every person has some talent and it is upto the organization to best fit them suitable role and create a supporting eco-system, which enables all employees to perform to their best capability.

"Leadership commitment to developing talent is at the core of all our initiatives and this is manifested in the way our senior leaders coach and mentor colleagues in the organization by spending quality time"

Our learning and development platforms support fine tuning and development on an ongoing basis and customized to the need of the employee based on their individual needs. Our approach on learning is blended approach with limited classroom training but includes working on live projects to test their skills /learnings. We also have a large set of learning tools and programs offered through our digital learning platform e-Pathshaala.

While there are standard career progression guidelines, for consistent high performers (specially in Sales), we have accelerated progression process, which motivates employees to give their best and also enables us to differentiate based on performance. Internal career moves happen through a transparent Internal Job Posting (IJP) process and also for any promotions to supervisory or leadership levels, employees have to go through a rigorous Assessment Development center. We also continue to leverage our parent company 'MetLife Inc' to provide career opportunities at regional /global level for some of our employees who started their careers at PMLI in India. One of our differentiators is our willingness to experiment and provide cross functional career development opportunities to employees. This initiative has yielded excellent results for us with some of our management leaders have done cross functional assignments and benefited from the same.

Overall, leadership commitment to developing talent is at the core of all our initiatives and this is manifested in the way our senior leaders coach and mentor colleagues in the organization by spending quality time.

Tell us about the various benefits that you provide to your employees.
At PNB MetLife, we have kept the interests of our employees at the center, while designing our benefits programs and initiatives. Some of the core themes on which our benefits programs are built are on flexibility, employee interests and choice, health and well-being and including family members wherever feasible for us to do.

In terms of flexibility, we have policies in place offering flexi time and work from home options. Additionally, our leave policies provide for several additional (beyond standard leaves) life stage oriented leaves like birthday & anniversary leaves, leaves for volunteering, bereavement or study. In terms of health and well-being, we encourage employees and their family members to get periodic health checkups done through our discounted partnership with clinics. This in addition to organizing round the year several workshops and awareness campaigns on stress management, yoga, mental health across several offices and branch locations.

Further, we have an educational assistance program which sponsors the financial fee towards a learning course, for aspiring employees (two exclusive seats for females) to elevate their professional skills and an employee assistance program to counsel /support employees & their families 24x7. Through our partnership with Kwench, we
provide access to extensive collection of books/magazines/online content to our employees and this has significantly enhanced the habit of reading in our employees. We have always been at the help of assisting our employees who have been affected by natural or personal calamity. Our tie up with Optum for providing Employee Assistance Program is well used by several of our employees and their families.

In addition to the above, there are standard benefit programs around medical and hospitalization coverage for family and extended to parents (including in laws), extensive recognition platforms for employees including very aggressive reward program for sales employees.

Could you articulate on how Diversity & Inclusion (D&I) is being imparted at PNB MetLife?
We at PNB MetLife are extremely proud of proactively building a diverse workforce and enabling them to give their best to the organization through our inclusion oriented policies and day to day working. Our diversity journey began in 2014 where conscious decision was taken my leadership to focus on D & I through proactive interventions. Through focused efforts and leadership commitment, we have been able to increase female representation in our organization from 22 percent (2014) to 35 percent (2018). We did not stop only at gender diversity and over last two years focused on bringing on board 10 differently abled colleagues as well.

Our D&I policies and approach has been externally recognized by several reputed institutions over years; some e.gs being 'Top 20 Companies at DivHERsity Awards 2019' in the category of 'Top 20 Most Innovative Practices – DivHERsity Policies', '100 Best Company for Women Award' by Working Mother and AVTAR for HR best practices consecutively in 2016 & 2017 and many more.

There are several women friendly policies that we have implemented (many times based on suggestions from them) to ensure providing adequate support when required for instance, providing official transportation for late night working, flexibility to club privilege & sick leaves with 26 week maternity leave, paid leave for illness arising out of pregnancy, 12 weeks leave for surrogating /adoption and six weeks leave for miscarriage. Additionally, we ensure that sales targets are adjusted during the pregnancy/maternity period. Also what has worked well for us is also pre-maternity leave counseling to the female employee and also her manager so that the leave process and re-integration post leave is managed seamlessly.

We conform to the Prevention of Sexual Harassment policy and have a robust internal complaints committee in place for the same with a reputed external representative. Additionally, we have policies of no tolerance for any incident of harassment and is reported at the highest level of audit committee in the board.

All this is managed through a well-organized D&I ambassadors around the country who support initiatives on a voluntary basis over and above their regular job and get enrolled due to their passion to support D&I. We also have a senior leader lead D&I council which overseas D&I policies in the company and provides guidance to the group.

Key Management:
Ashish K Srivastava, Managing Director & CEO
Ashish has a long-standing, proven track record of 26+ years across financial services, services sector and manufacturing with profound experiences in establishing and escalating various businesses.

Headquarters: Mumbai

Offerings:Life Insurance Plans, Retirement Solutions & Employee Benefit Programs