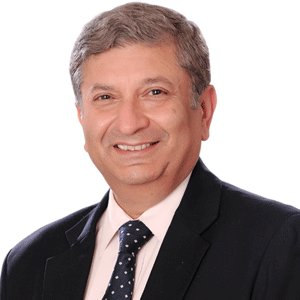 Deepak Uppal, Executive Director, Vatika Hotels
Over the past few years, Integrated Facility Management Services have proven their worth which outshines today as the instrumental factor in propelling businesses towards their objectives, while also enhancing productivity and boosting performance; thereby cutting-down on costs,time, energy and resources. Anchored across the facilities management space for over 20 years, Enviro India, a subsidiary of The Vatika Group currently silhouettes as an integrated facility management company offering high-caliber building management & maintenance services. A people-focused firm, Enviro India presents a conducive work environment with umpteen growth opportunities to its employees where in they impart effective communication, commitment towards work, quality in deliverance with absolute integrity. A Mechanical Engineer from IIT and a business professional with 39+ years of experience across diverse industries, Mr. Deepak Uppal embarked onto the Vatika Group in 2008 as its Executive Director. Mr. Uppal has exclusively shared interesting facets about Enviro India with CEO Insights, and below are the excerpts on the same.
Tell us about the idiosyncrasies of Enviro India that attract the best talents of today.
Firstly, we ensure 360 degree supervision in maintaining a healthy environment for all our employees. Being completely transparent in each operation, we provide them with a periodic performance evaluation. As the majority of our workforce involves blue collared professionals, we vest immense emphasis on organizing periodic T&D sessions as per the employees' Key Result Area (KRA) and work on amplifying their personal & professional growth. We also regularly garner feedbacks from them on their learning requirements and constantly improve the training programs as per their necessity. Moreover, we circulate informative news letters to keep them abreast of the emerging industrial trends.
How is hiring and retention simultaneously imparted and balanced at Enviro India?
Besides our prime goal of recruiting the best talents, we promise to always keep them motivated with our available resources. We are proud to have around 2500 employees (blue & white collared combined) wherein the ratio of experienced employees and freshers accounts to 80:20. We are also blessed with multiple referrals for diverse roles, thanks to our employees who revel in healthy communication with their peers.

What keeps our people to stay proactive at work is our spectrum of employee retention strategies. We give them a respite from their daily regimes by letting them participate in offline employee engagement activities, team outing and events which mostly include learning initiatives. These initiatives are designed to capture our employees' best interests and bestow them with rewards & recognition (non-monetary motivation). Apart from these activities, we celebrate each festival with utmost enthusiasm and also organize ample fun activities that include gifts & prizes. To further escalate the employees' morale and ambitions, we conduct annual and half-yearly rewards & recognition ceremonies such as Mr. Patakha, Ms. Perfect, and Traditional Day, to name a few. Even at the management front, we adhere to an open door policy wherein we address and resolve any grievance of our employees, thus maintaining a healthy balance across the workplace culture.

Walk us through the various benefits that employees can relish at Enviro India.
Our employees are endowed with six causal leaves, six sick leaves and 18 earned leaves per year with a 12 percent basic deduction in their salaries for PF. They can savour the perfect balance between personal and professional lives through our flexible login (8-10am) and logout (5-7 pm) options and also bring-in their families to our office premise, if the need be.

To create a safe environment for our female staff, our women grievance cell strongly tackles all their issues entailing sexual and mental harassment. We also provide them with a maternity leave of six months. Moreover, employees who work for our external clients abide by their respective employer's calendar and enjoy the benefits accordingly.

How has been your company's growth with regards to employee strength?
Backed by 21 percent rise in our employee headcount, we have been able to scale new heights in our day-to-day operations. Further to our YoY growth of 38 percent, we are aggressively expanding deeper into residential and commercial sectors and simultaneously addressing our bigger requirement of hiring experienced employees and freshers. Today we stand at 77 clients, 115 sites and 77 million sq ft handled daily.

Key Management:
Deepak Uppal, Executive Director
Mr. Uppal is a well-experienced leader in the facility management services sector. His core competencies include framing & implementing strategies for better operational efficiency, manipulating cost-effective programs, operations management and many others.

"Enviro ensures to accommodate its employees in a progressive environment and make them feel at home. While being at home may not be synonymous to how we look at an employee's personal growth, which is why our T&D team periodically assesses their learnings and provides necessary aid on any work related requirements. This keeps our attrition rate much lower as compared to any other facilities company. We also provide academic encouragement through scholarships. We believe in retaining our talent by means of their specific demands and help them step up the ladder and foster their personal & professional growth as best as we can."

-Gaurav Bhalla, Managing Director, Vatika Group

"I had joined Enviro India seven months back. I struck a chord with my team from the very first day. They went out of their way to make me comfortable and get introduced to different departments' personnel. Thankfully, I got close to 2-3 weeks to understand the work culture and work methodology. The flexi login allows me to decide my office travel time. In the last seven months, I have been part of two reward programs, outstation picnics and many festivals that were celebrated. It's good to be part of a progressive company which has clear ideas for next five years".

-Employee, Enviro India

Offices:Gurgaon & New Delhi
Offerings:
•Technical Maintenance & Operations
•Building Soft Services
•Business Support Services