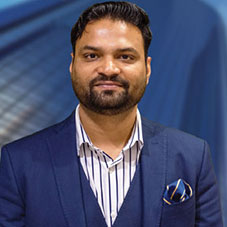 India and the Middle East have walked miles together, endorsing a strong business relationship for many centuries and addressing the nuances of industry verticals like investment, energy, and security, in business relations. Apart from providing a convenient lifestyle to the millions of migrants from India, the Mideast has also emerged as one of the pivotal pedestals for many Indian businessmen, with some of them even managing to remold themselves as prominent entrepreneurs and established business tycoons. As the Founding Partner of HUED the first and largest design and innovation consulting firm in Saudi Arabia, Prashant Dixit remains in search of thrilling business problems that can not only boost his creative energies but will also refurbish him as a sturdy professional.
"The human engagement, the whole problemsolving aspect, and then eventually being a part of something that creates an impact is what motivates me on a daily basis"
Remaining a designer as well as a thinker all his life, Prashant's passion for new challenges brought by emerging technologies fueled his interest in design and problem solving. During his tenure at IIT, Guwahati, Prashant was exposed to the international design practices, the opportunity to work in Europe and apply his knowledge to more mainstream commercial projects, which ultimately strengthened the foundation of Prashant's business adventures. After working with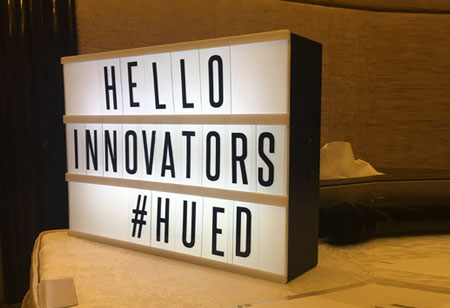 some of the prominent corporate conglomerates of India, along with numerous distinctive clients from North America, Europe, Asia, Prashant moved to the Middle East region about seven years back to resume his professional journey as a senior design professional. After his entrepreneurial instincts got wings, Prashant played a significant role in starting HUED after the firm got spun off from its parent group. For the last five and a half years, HUED has been doing phenomenally well under the guidance of Prashant, and the favorable statistics of the company's performance promise some noteworthy success stories yet to be written under the joint endeavor of Prashant and HUED.
Below is an excerpt of Prashant's interaction with CEO Insights.
What inspired you to venture into the innovation and design consultancy segment? What keeps you motivated on a daily basis?
Since my growing up days, I have
had a natural inclination towards problem solving through innovative solutions, and design plays an instrumental role there. I think every solution starts with being able to understand where the problem or the gap lies and conceive ideas towards viable solutions. This process has always intrigued me to plunge into the design stream and as I completed my Master's in design research, it helped me understand the people's side quite profoundly. Since then I've been able to combine the research the exploration and the discovery aspects with designing solutions to craft benevolent solutions for the customers to envisage their business viability and constantly improve.
With respect to the present industry challenges our designs as well as our offerings have evolved drastically
It has been a long and arduous journey, but solving the issues of my clients satisfies me the most. And that's the reason why I remain motivated to stay in this domain by doing better and continuously improving ourselves in the process. So, the human engagement, the whole problem solving aspect, and then eventually being a part of something that creates an impact is what motivates me on a daily basis.
How would you define HUED as an organization and its current position in the market? What unique proposition does the company offer to its client base?
Although we started as a service design group trying to address the need of the market back then, we decided to spinoff from our parent group Araamis a management strategy consulting firm in the summer of 2016 to focus exclusively on design. And since then, we have been an independent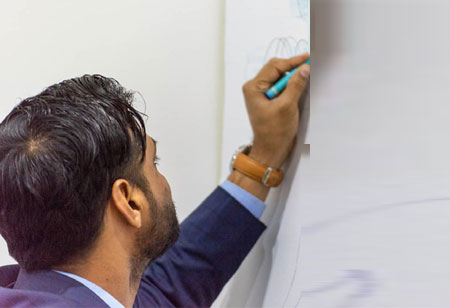 entity and growing phenomenally well in the market. We do have some very high profile international clients as well. As our portfolio has quadrupled in the last two to three years, we are witnessing some massive growth now, and from 2022 onwards, we aim to create a big difference in the market.
With respect to the present industry challenges, our designs, as well as our offerings, have evolved drastically. Addressing the current market demands, we have been able to work with our clients to achieve a certain level of maturity within the projects and the operational capabilities, which has been our key proposition so far. Although a lot of consulting usually happens outside the realm of contracted projects, we work hand in hand with our clients and partners to develop the solutions.
Secondly, we are deeply rooted across the local market. So, the cultural nuances and the cues that
we need to pick up to craft any solution with respect to a certain market are something that we are very much focused on. While operating, we also ensure that the solutions are aligned with the cultural context. So, these are the two key differentiation that we bring to the table.
Share some of the noteworthy milestones that bestowedyou with utmost satisfaction, both professionally and personally level?
Growing from being one of the founding partners of a small design group to playing a pragmatic role in transforming the company into one of the biggest and most sought after design firms in the market is definitely a big achievement for me. A lot of blood and sweat has gone into creating HUED,and every year,we keep on reinventing, rebounding and expanding this organization.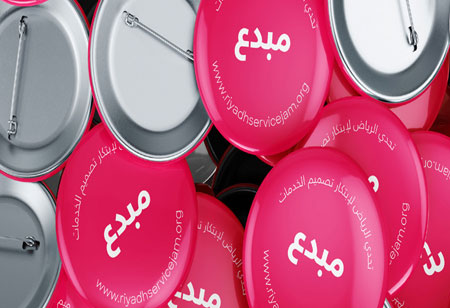 I also happen to be the founder of another startup named 'Sorted', which has just been launched, and we are gearing up for all the marketing and user acquisition efforts via it. So,'Sorted' is basically the world's largest skill and hobby monetization platform and being able to create a product like 'Sorted' is an achievement as well.
What major changes in market behavior do you anticipate, and what opportunities do you foresee?
Although digital transformation came a bit late in the market, it has been going very strongly. With industry taking new turns almost every day, numerous digital transformation projects are currently popping up and this phenomenon is also creating a significant demand for innovative design professionals. So, I think the biggest opportunity that we see will remain pretty much in the digital realm.
I also believe that organizations will have to find a way to meet the growing demand for talents, and this will always be a huge challenge. Because of the pace, the demand has increased and in accordance with that, the availability of talent has not really been able to match up to the demand. So that will be one of the big challenges that organizations will have to face.
What will you advise the upcoming leaders and entrepreneurs of the design domain?
I would strongly recommend they keep experimenting. Rather than sticking to a particular arena, explore your options and opportunities because the industry remains highly unpredictable. There will be times when one cannot afford to stick to a particular domain, and I think this is where your expertise across a different domain might help you. Without deviating from your path and staying focused on the evolving trends of your domain the budding professionals should try and explore other areas as well.This approach will definitely expand their horizons of under standing regarding how other complex systems function along with their different dimensions.