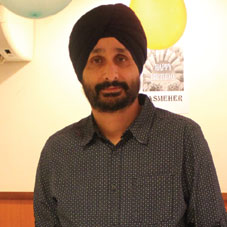 Rajbir Singh, Managing Director, Green Light International has led a dynamic professional lifestyle with first hand experience in Sales & Marketing and Business Development in the Electronic Safety & Security Sector. He has spent the last several years of his professional career at Zicom and Imatrix in India as well as Suhail Bahwan Holding Company and Johnson Controls International (Tyco) in Oman. He has been responsible for achieving sales goals, managing relationships, and developing innovative strategies for business growth for India and the Sultanate of Oman. In his role as the MD of Green Light International, Oman, he is responsible for driving growth and market expansion related to fire alarm, fire protection, security systems and clean fire suppression systems while building and enhancing vendor relations, as well as identifying efficiencies and streamlining processes. Rajbir has successfully built and maintained lasting key business relationships across a diverse range of business sectors including government, ministries, oil and gas and various private sector organizations. He is a responsible, dependable, punctual leader who takes pride in his work and possesses an in-depth knowledge of technical skills. He endures excellent leadership skills and is known for his caring and professional attitude towards his team members and enjoys working with people with diverse backgrounds. He is a strong believer of the philosophy "A person who is quietly confident makes the best leader" by Fred Wilson. Below is an excerpt of Rajbir's interview with CEOInsights.
Tell us about Green Light International as an organization and how does it differentiate itself from the competition?
Green Light International plays an important role in shaping the differentiation of offerings. We focus on gaining a deep understan
ding of our customer's problems and requirements, reviewing their full product offering and understanding the total value delivered, defining their price within the total value they deliver and the buyer's next best alternative. The process indicates how we differentiate our product & service from that of our competitors. Our marketing positioning strategy is affected by plenty of variables related to customers' requirements and motivations, as well as by its competitors' actions.
The ability to matter to a great number of people is one of the most rewarding experiences of being an entrepreneur
As the Managing Director, how are you developing strategies to preserve this legacy of being Oman's leading Fire Protection System Integrator and Equipment Supplier?
GLI believes in ESOP(Employee Stock Ownership Plan). My team members know my vision, mission, and quirks. They've spent years working shoulder to shoulder with me and understand exactly how finicky the business can be. Most importantly, they understand how important the business is to the community and take pride in its operations. ESOPs require a solid team and good buy in from the staff who are going to take over shares in the company. With the right people in the right places training the right way, one can have the recipe for a very successful ESOP.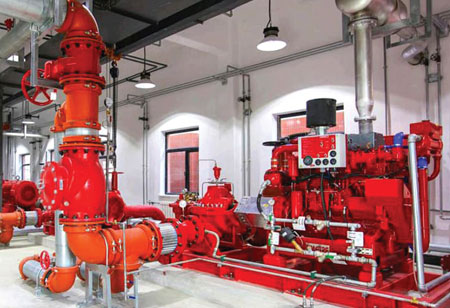 How would you describe your role in tackling the challenges posed by the COVID-19 pandemic?
COVID-19 has caused the most serious health crisis in a century and the most serious economic crisis since the Second World War. This has meant that shifting to a more comprehensive work from home program during this pandemic was a natural course of action. We already had the technology and systems in place to enable remote work, and if anything, the pandemic has been a chance to strengthen
and enhance these processes and tools, and to work even better than before. We guided team members on how to work remotely, and leaders on how to manage, motivate and engage their isolated teams. I sent out regular communications to ensure everyone was aware and engaged, and regularly review our response to the situation.

As a leader, what is your anticipation of the changing market behavior and what are the opportunities do you foresee?Also, what is your advice for the upcoming entrepreneurs?
The future of marketing in 2022 is flush with new consumers' desires, personas, and marketing methods. In 2022, expect to see many brands continuing their transfor mation into more nimble and agile organizations. Some of the opportunities will be in the development of on demand services, but some will require different types of solutions to evolve areas of infrastructure like local government, law enforcement, energy consumption and creation, broadband access, and healthcare. I would urge the upcoming entrepreneurs to embrace the opportunities. The ability to matter to a great number of people is one of the most rewarding experiences of being an entrepreneur. The intrinsic happiness that results from helping the community and the team as a business entity is pretty profound. If they haven't already started giving back in some capacity, they really should. The positive impact one business can have is quite large.

Rajbir Singh, Managing Director, Green Light International
With a Bachelor's degree in Electrical Engineering, Rajbir has strong and an accomplished 22+ years of professional experience in Sales & Marketing and Business Development in the Electronic Safety & Security Sector. Currently, he is the MD of a reputed firm, Green Light International.

Hobbies:Travelling, Hiking, & Creative Arts
Favorite Cuisine:Indian
Favourite Book:SPIN Selling book by Neil Rackham
Favourite Travel Destination: Europe

Awards & Recognition:
Sales person of the Year for 2007, 2008 & 2012. The best Sales Team of the Year 2018.