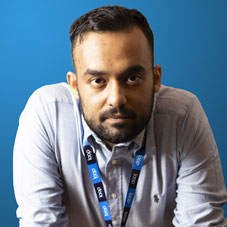 I am grateful to my family and friends; especially, my mom and fiancé the two women in my life who are my strong pillars of support. My extended family the team of Loop Freight has been there in my ups & downs and trusted me even at the worst. I owe a great deal of appreciation to each one of them. All of their hard work and dedication help us achieve our company-wide goals.
I also want to express my whole-hearted gratitude to the investors who believed in our potential. And off course last but not the least, every note of thanks must include our invaluable customers, vendors, and our truck drivers who believe in us every day and make it happen on the road day in and day out. I can't thank you enough for making this journey so special.
There is a so much to learn from the journey of entrepreneurs. Many entrepreneurs are role models, succeeding through exemplary dedication and business acumen. Their success is not only in business but also in inspiring the youth to pursue their dreams. We are fortunate to have such leaders in business in Bangladesh who have transformed their sectors and inspired others to do the same. One such prominent entrepreneur who is bringing ease and efficiency to the broken supply chain industry through his dedicated efforts is Rajib Das, the Founder, and CEO of Loop Freight.
Rajib is a passionate founder who leads by example and understands the degree of perseverance needed to do well. He has set out to build Loop Freight with the vision to grow into a $100 million business within the next 2 years. He is leveraging the tools of technology and building strong relationships to redesign the movement of commercial goods for the next-generation of shippers and carriers. From a macro perspective, Rajib is innovating for a leaner, faster, and more agile supply chain in Bangladesh and beyond.
In an interview with CEO Insights, Rajib gives us the highlights of his
entrepreneurial journey and also shares how he is redefining corporate performance in the supply chain sector.
Brief us on your educational and professional background. What basic lessons did your experience teach you?
I graduated with a degree in Supply Chain from The University of British Columbia (Vancouver) and started working for the Port of Vancouver and the likes of shipping lines such as Maersk & Hapag Lloyd at a very young age. The exposure made me understand the operational inefficiency that lies within the global ocean freight industry. Through the experience, I realized the urgent need to fix the many broken value chains in the global logistics sector.
With the sheer passion and determination of Rajib and his team, Loop Freight received the National Award for Industrial Innovation in 2020
Raised in a family that is involved in the textile business, I grew up with an understanding of how broken logistics systems can severely victimize manufacturers from a potential customer's lens. I had a chance to work with multiple freight forwarders & truckers and realized the severe pain points that the industry faces at large. Loop exists to solve these problems and the idea came out of this personal nightmare of facing several of these supply chain challenges first hand. It felt almost like an epiphany when I realized the scale and gravity of the problem across multiple industries.
What challenges did you face in the initial days of your entrepreneurial journey?
I heard many No's instead of Yes from my family when I decided to become an entrepreneur in such a disorganized sector. Despite our business background, my family was skeptical about me getting into the logistics business and one my biggest challenges to overcome was to convince them otherwise. My parents wanted me to complete my MBA and continue working in the family business. However, I glad that I pushed back and pursued becoming a founder of a startup.
Although it was challenging to be an unsalaried person, especially in comparison to my friends who were earning in six figures and living flashy lives, I felt happy with my decisions and enjoyed both the
highs and lows of being a founder of a startup. I didn't draw a single penny for the first two years but the financial constraints made me mentally stronger.

What are your core responsibilities at Loop Freight?
As a CEO, my responsibilities include setting up the vision, inspiring the troops, and ensuring sufficient cash flow to execute that vision. Furthermore, I'm the torchbearer in all things related tofundraising, Operations, HR, Sales, Product, Finance, and day to day strategy while keeping the macroeconomic picture in mind. At an early-stage company, it is important to keep your feet on the ground and be involved with the team as much as possible without micromanaging as a leader.

Highlight the methods/strategies of yours that transformed Loop Freight's entire work culture and client relationships?
The best thing about being a startup is that you can design your own culture. For example, we hardly waste time on meetings. Ever, People are always welcome to walk in and seek cross-functional collaboration.

As a leader, I'm not afraid to take risks and try out unconventional means. As part of efforts to maintain this culture of collaboration and trust, we will be placing an 'Ask the CEO'box in our office in Q3 so that anyone can drop a question to address any issue, anonymously if they choose to, and I will answer those questions in weekly interactive session.

We are also moving to a 4000 Sq Ft open office space with game rooms, book shelves and free massages we firmly believe that people get a lot more done when they love to be at work. For a day every month, employees will be asked to work with a different department, in order to better understand the overall business and build empathy with other departments.

How do you balance your personal and professional life?
I think work-life balance do not apply for most entrepreneurs. For us, I think it is closer to work-life integration aswe genuinely care for both our families and our startups. However, with proper time and task management, I try to show up for both, the best I can. When I am extremely stressed, I look forward to stepping back for a few hours and rejuvenating with family and friends.

Another way I try to spend quality time with my dear ones is by limiting hours on the phone. In fact, I maintain separate cell phones for my personal and professional use.