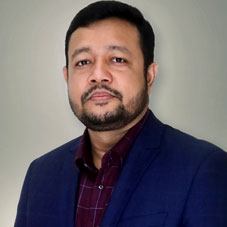 He is a pioneer in the industry and leveraging his industry expertise and experience, he has been able to create a unique and successful business model for DIGI-MARK SOLUTION.
Bangladesh is turning out to be one of the world's least developed countries; it was the main electoral pledge of the present government. To develop the nation, the government is coming up with the vision, widely known as 'Digital Bangladesh'. Striving to make the best out of the given scenario in Bangladesh is DIGI-MARK SOLUTION. The company is exclusively focused on professional Security & Automation product distribution in Bangladesh. Our products include CCTV and IP surveillance, Biometric Attendance & Access Management System, Home and Office Automation, Burglar Alert and others automation equipment. Our supplying and servicing support is available in all corners of Bangladesh. Md Sahariar Alam is the CEO of the organization and under his guidance, the company has been able to break new business frontiers.
In an exclusive interview with CEOINSIGHTS, Md Sahariar talks more about his professional journey and the unique business operations of DIGI-MARK SOLUTION.
Give us brief details about your educational and professional background. How do you leverage those learning to lead your organization?
I am a Graduate from University of Calcutta. Along with that I have completed my Honors' Diploma in Network centric Curriculum from NIIT. Along with that I have completed some industry standard courses form different organizations from all over the world. From my educational learning I can combine the technological
knowledge along with the demand of the clients which help me to develop my company growth and evaluation.
Tell us about the journey so far at Digi-Mark solution. As the CEO of Digi-Mark solution, highlight the current roles and responsibilities undertaken by you at Digi-Mark solution
Digi-Mark Solution started its journey in 2006 and so far, we are serving our country for about 16 years with the topmost support and satisfaction of our valued clients. As the CEO and Founder of Digi-Mark Solution I am performing the responsibilities of making major corporate decisions, managing the overall operations and resources of the company, acting as the main point of communication between all the department heads and corporate operations and being the public face of the company. The financial decision is also being finalized by myself as Digi-Mark Solution is a Proprietorship Company.
Growth is never by mere chance; it is the result of forces working together. Be loyal on your work, Success will come to you with all the blessings
Kindly throw some light on the products offered by Digi-Mark solution. What amongst these would you regard as your flagship offering?
Digi-Mark Solution works with a vast product lineup in security and automation products such as like- Access Control & Time Attendance device, Security Surveillance, Entrance Control & Parking Barrier, Security Scanning devices, Home & Office Automation products etc. If I need to say about the flagship product, I can say that Digi-Mark Solution is a Pioneer Distributor of Access Control & Time Attendance segment.
What are the differentials factors of your organization that separate you from others in the Bangladesh market? Explain your USP
"Simplicity is the best policy". In my personal life I love a simple lifestyle and in my business policy I try to impose this as well. I worked out
with some organizations' policies which I found so complex to deal with. But at Digi-Mark Solution the policy is simple "Provide better service and perfect solution" along with the Loyalty to the clients make us different from others.

In your journey so far, which are the milestones that bestowed you with utmost satisfaction both as an individual and a corporate professional? Would you like to share any life-changing events that have made a huge impact on you?
So far in my business journey I have faced lots of ups and downs and learned how to cope up with the situation. As I previously said that I started from a zero situation when time by time I improve myself as well as my company structure. For about 9 years I ran the company from a single office. But in 2015 I opened Digi-Mark Solution's first branch at a prestigious location in Dhaka. That was an awesome feeling and achievement for me to take the step forward to spread out the business area and to go closer to the customers. After that brave step today Digi-Mark Solution operates 8 branches in the capital city Dhaka and the Port city Chittagong. All branches are located at the core business points of the country. Today the average annual growth of Digi-Mark Solution is around 30% - 35% which is the result of the hard work and dedication of my beloved employees. It feels so great when I see my team working all over the country with full confidence.

What are innovations and up gradation currently happening in the company?
Currently as Digi-Mark Solution is competing in the top segment in our business area we are developing the corporate working environment in the company. Company work is now divided into specific departments and every department is working with their deployed responsibilities to develop the organizational growth. Company is hiring expert and experienced employees to improve the working capacity along with the capability. We have a strong administration department by whom the whole organization is under I fluent rules and regulations which helps to run the organization fluently. We have an Expert Engineering Division to ensure the support of the valued clients. Moreover, our sales team is working hard to complete the demand of the customers.