Ronnie Surty: On A Mission To Create A 'Future-Fit' Organization That Produces 'Fit-For-Purpose' Products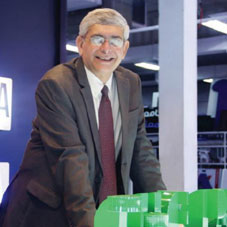 In Bahrain, the signage market has had considerable growth owing to the number of projects within segments of retail outlets, hospitals, banks, new airport and government institutions. As government and corporate spending increases post COVID-19,there will be a significant opportunity to grow within Bahrain and Saudi Arabia.
To meet the demand for quality signage in Bahrain and Saudi Arabia, Awal Plastics has always been the first choice. The number one signage manufacturer in the Middle East was founded by Mohamed Ahmed Ali Bucheeri and Abdulla Abdulrahim Hasan Bucheeri.
Awal Plastics designs, fabricates, installs and maintains all types of signage, catering to all major customer segments from the government to banks, healthcare to hospitality in Bahrain, Saudi Arabia and around the Middle East region focusing on customer service from start to finish. The company has a mission to become the strategic supplier of choice by catering to a diverse customer base and providing each customer segment with the best-in-class specialised and innovative 'fit-for-purpose'solutions, thus enhancing visibility for their visual communication needs.
Ronnie Surty, Group Chief Executive Officer, Awal Plastics recently engaged with CEO Insights magazine, check out these snippets from the interview.
Take us through your educational and professional background.
My formative years were in Mumbai where I studied while working and eventually built a successful career that has lasted for more than 38 years and still counting. When I was just 19 years old, I moved from selling cutlery for a major cutlery manufacturing company in Bombay to Hong Kong and started selling consumer electronics and later was managing international brands, which included segments in automotive and FMCG. My success story was made possible by my ability to understand each unique business aspect with a focused, analytical and disciplined approach, along with a passion for learning and nurturing people. I have developed professionally by focusing on a track record of success in various cross-functional and senior management roles.
As the Group CEO, how has your journey been so far at Awal Plastics W.L.L.?
Having led and managed diverse teams of people from various ethnic backgrounds in my previous jobs, following which, nine years ago when I joined Awal Plastics and took over as the Group CEO, my sole aim was to transform the organization from being a 'family-driven business' to a 'corporate business entity'.
Factoring 'Continuous Improvement' with a strong focus on 'Sustainable Organic Growth' is what creates a culture to nurture and grow the talent of varied ethnic and cultural backgrounds. Having a people-oriented leadership style and approach, where I am passionate about developing talent and people through employee engagement and creating a talent pool with a succession plan, the nine years of success stories can be largely attributed to one and all in the organization who believed in the growth strategy and supported the execution by adopting it and living it in their day-to-day working life. The outcomes are self-evident as results speak for themselves!
For the last 53 years, the company's success has been achieved by its value driven approach over the years earn your respect and grow your reputation by manufacturing best-in-class products
Define Awal Plastics W.L.L. as an organisation and its current position in the industry.
For the last 53 years, the company's success has been achieved by its valued riven approach over the years:'earn your respect and grow your reputation by manufacturing best-in-class products'. The entrepreneurial spirit of both founders always got the better of them to stay ahead, using his expertise and entrepreneurial instincts, Mohamed Ahmed Ali Bucheeri a banker since the early 1950s, established a business that was geared toward the future and Abdulla Abdulrahim Hasan Bucheeri used his ability to support the manufacturing and innovation aspects of the business.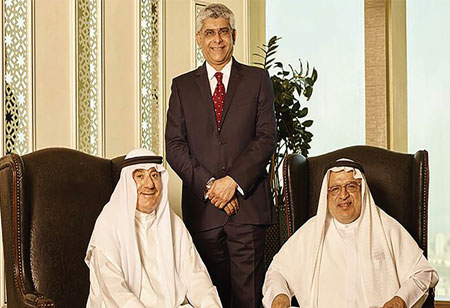 What are some of the most captivating difficulties you have encountered in your professional journey of over 30 years? What did you learn and how did you overcome those challenges?
The biggest factor in any organisation is the resistance to change and bringing the employees out of their comfort zone to move in an efficient and progressive mode by making them realise that the change is progressive and productive, thus making them believe in the change, to be the catalyst for change. Any organization is as good as their last success story and the momentum for growth should be the hunger that drives the organization to grow organically.
To achieve collective and sustainable success in any organisation, one needs to identify and remove bottlenecks that stall progress and implement effective and robust controls. This can only be possible by implementing standard operating procedures and mapping them to a reliable and user friendly ERP solution. Unfortunately, Awal Plastics did not have a fit-for-
purpose ERP solution at the time when I joined the organisation. Hence, the organisation transformation was initiated by creating robust "Standard Operating Procedures" for each and every department which were then aligned to a documented "Business Process Blueprint" and mapped into the ERP system for the entire organisation.

The management and operations of the organisation were re-organised with controls embedded at every level into the ERP system. The financial and operational controls coupled with due diligence and management reporting were automated, hence every division and function was transformed into a profit center, accountable for building a strong successful and sustainable business model.

Tell us about your leadership approach and governance style. What has been the success mantra that constantly helps you arrive at positive outcomes?
When I joined Awal Plastics, a thorough understanding of operations from the perspective of every function and department had to be done to understand the business requirements and core competencies of Managers teams, manufacturing cost and more so to understand the ROI through various elements of the investments that were already done.

"People-Process-Technology" being factored and focused on as the main drivers had to be reinforced in terms of ROI, efficiency, cost management time management, prioritising and above all achieving the organic growth through functional management accountability that would make the company sustainable in a very competitive environment year on year. Furthermore, understanding the regional market dynamics and creating regional and global joint ventures and new product developments would help the company diversify and grow factoring in the restrictions within the restricted geographical territories.

Based on your strong professional experience, what advice would you give to the upcoming leaders in the same industry?
The main focus should be on creating an organisational culture that unites the focus on managing development through a team with an "out-of-the-box, can-do, will-do, make-it-happen" thinking approach, where ideas are identified and work showcased collectively as a team to prioritise implementation. The success story of the organisation is in its collective success through agile and motivated people at every level.

Ronnie Surty, Group Chief Executive Officer, Awal Plastics
Ronnie is a strong people leader passionate about people development employee engagement, change management and diversity. He likes cooking, reading and traveling his favorite book 'Living the 7 Habits: The Courageto Change and How to Succeed with People by Steven Covey' inspired him to put his expertise in understanding people in the organisation and motivating them to drive positive results for the company, albeit through a reward and recognition concept.