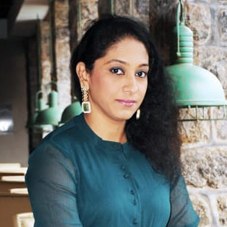 There is a reason why Shakti, the ultimate cosmic energy in Hinduism, is a female deity – the unparalleled power of women to create another life! The definition of this power also implicates the sacrifices she makes – from hosting changes in her body throughout the pregnancy period to partially or completely giving up her career. A recent study shows that more than 40 percent of women with fulltime jobs discontinue their STEM career(or switch to parttime jobs) after having their first child. But when the time came, Shwetha Bharathwaj, Founder & CEO of HerAlpha India's first woman only investment platform(Android App available in Google Pay), stood amidst the rest 60 percent of mothers and stoutheartedly chose the path of entrepreneurship; thanks to her perseverance that's imbued with a great vision: financial inclusion of women.
The drastic genderdisparity in India in terms of financial inclusion made her decisionmaking easier. In recent years, even though female bank account ownership has exploded to a whopping 77 percent (of all women in India), their participation in financial services and financial literacy have not yet reached similar levels. But imagine, while living proudly in a country where Nirmala Sitharaman, a woman from a small village in Madurai, is the first fulltime woman finance minister, our women population definitely deserve more and could do better. Although, 'doing better' doesn't necessarily mean that they need to take a space ship to a whole new world of advanced account management. You might remember the old spice containers in the kitchen where your mom used to stack up her spare change that helped them meet the expenses during the month end or in case of an emergency. HerAlpha is giving women a chance to not only save those spare changes in a better way using a trusted mobile app, but also invest them in low risk liquid mutual funds. At their finger tips, the HerAlpha App provides its users with the power of Micro Investing by replicating that good-old spice container saving habit through its digital 'Spicebox Savings' solution. The users could invest small amounts (as low as Rs.100) in Spicebox Savings.
Shwetha asserts, "The marginal levels of engagement with the banking functions beyond simple withdrawals and deposits by women implicate that mere account ownership can't be equated to financial inclusion or the effective use of banking services. Every woman deserves an equal chance to succeed." She adds, "To level the playing field, we embarked on this journey. We make them financially literate and offer end-to-end financial services under one roof". Shwetha walks the talks through HerAlpha, which is a complete paperless & digital investment consulting & financial services platform comprising SEBI registered investment advisors at the back-end.
Financial Inclusion of Common Women
Anything from as simple as shopping to credit spending, managing debt, and even Mutual Fund(MF)investment strategies, the gender disparity is a lucid phenomenon just like the old adage: 'Men Buy, Women Shop'. HerAlpha has tailormade each and every financial solution manifested on the platform, docking the objectives strictly around the perspective of an Indian woman. "We hand hold the first time women investors by all means, providing them comprehensive information starting from the very basics. Under our
wings, we make them comfortable with investing in MF and then slowly expose them to other products that would benefit them,"adds Shwetha.
Within a couple of years of its existence, Shwetha and her venture have already made a world of difference to hundreds of lives across the country. One among them is Shanthi, who was fighting against her unfortunate fate and sorrow after she lost her beloved daughter and husband in successive years. The 47-year-old widow crippled through her life, working as a nanny with a mere hand-to-mouth living. The heartbroken mother had to sell her small house, as she couldn't live there with the eternal void created by their demise. But with all the money, she was still in the middle of nowhere, having no clue about what to do next. HerAlpha lent its hands and helped Shanthi plan her finances, keeping in mind her age, risk-appetite, and most importantly, the need for a stable life with regular income. Her investments were diversified across various asset classes to address her retirement needs, in addition to bestowing her regular income. Today, while leading a stable life, Shanthi perceives HerAlpha as her personal finance manager, who changed her life.
We hand hold the first time women investors by all means, providing them comprehensive information starting from the very basics
Making it Simpler
It's indeed interesting the way Shwetha has opted for a simple approach to render solutions, promoting basic banking systems like micro investment and savings. The case in point is solutions like 'Her Financial Concierge', where women can simply drop their number and a SEBI registered investment advisor would call them and act as GPS for their financial requirements and queries. In addition to this, HerAlpha also manifests a carefully curated content segment called 'HerVarsity', which is an easy-to-grasp collection of MF, Finance & Investment lessons. "We are also elated to present HerFinance, which is series of financial workshops for women. In one of our recent sessions, we noticed equal participation from young men as well. No one really noticed how more than an hour was passed, as they sat engrossed in understanding finance," adjoins Shwetha. To make its offerings further holistic, the company has recently partnered with ClearTax to file Income Tax Returns for women, free of cost.
The web platform's seamless, intuitive & highly user friendly interface in truth significantly complements the overall experience of all HerAlpha services. The platform boasts of investment in world-class technologies that enable the company to offer completely digital services with intact quality. "I am very intuitive and techsavvy by nature and hence I always lookout for what is new in the market," adjoins Shwetha.
En route to the future, Shwetha bets big on a great future for MFs in India. She elucidates, "Even though MF industry's Asset Under Management(AUM) is growing drastically and stands at Rs.25.64 trillion as of August-2019, MF penetration is just 11 percent of the GDP. Low penetration level implies a vast untapped market. According to a report by Deliotte India, digitally invested AUM which currently stands at Rs. 250 billion will cross Rs. 1 trillion by 2021". Having created its own niche with all women services and with its entire product portfolio built on Indian stack, HerAlpha is well on track to benefit from this opportunity. Shwetha is also well aware that the technologies will play a crucial role in leveraging the favorable environment.
The Super Mom
Today, while being busy setting
"Having created its own niche with all-women services and with its entire product portfolio built on Indian stack, HerAlpha is well on track to benefit from this opportunity"

organizational goals, Shwetha is also a supermom of two kids and maintains an exemplary worklife balance. Her kids are proud not only of her vision and growth, but also that their mom never compromises her familytime. Furthermore, a fitness freak, she also divulges that relentless workouts play an important role in her life in terms of inculcating discipline and living a stress-free life. An embodiment of women empowerment, Shwetha loves what she does professionally and personally. She continues to encourage women to beat the stereotyping that they don't understand Technology and Finance. "We live in an era where two women space-scientists have launched India's second space mission (Chandrayan-2) to the moon. Women should be free from any inhibition to explore theircareer or entrepreneurship journey in finance and technology," she says. "As they say, women are foolish to pretend that they are equal to men. We are far more superior and always have been," Shwetha concludes.

Key Management:
Shwetha Bharathwaj, Founder& CEO
A postgraduate in commerce & a SEBI registered investment adviser, Shwetha possesses more than 13 years of experience in the Banking and Financial sector, working with leading institutions. She also boasts of her deep rooted experience in managing people and running the operations. Her experience in Product, Technology and Operations along with the knowledge of financial products has helped her shape up HerAlpha.

Hobbies: Fitness Workouts, Painting & Crafts

Favorite Cuisine: As a Vegetarian, Shwetha loves Tamil Brahmin Foods like Vatha Kuzhambu, Thayir Sadham and Mavadu.

HerAlpha in Spotlight:
•India's first women only investment platform
•Completely paperless digital services with world class technology involvement
•Every product & solution in the platform is thought from the women perspective
HerAlpha is all set to launch simplified benefits solutions such as Tax Planning, Insurance Planning, and Retirement Planning

Clients Talk:
"I previously burnt my hands a couple times by investing in MF without much insight. I was introduced to investing in MF as a regular habit by Shwetha from HerAlpha. I started with investing Rs.100 daily using HerAlpha app. The app is highly userfriendly. We could get details related to current value, invested value, and much more. Also, the HerAlpha team provides quick solution when we have an issue. Two months ago, I didn't have an emergency corpus to meet unforeseen expenses. Now I have accumulated Rs.18,000, which is also growing. I am looking forward to for more investment options with HerAlpha," ~ Lakshmi, a corporate employee and mother of two kids.

Quick Facts:
•Year of Establishment: 2018
•Office: Chennai
•Offerings: A one-stop-shop platform for all the financial needs of a woman

Word of Wisdom:
"We are very excited to partner with a company like HerAlpha, as we believe Financial inclusion for women in the MF market is a much needed initiative. Women are meticulous and long term investors who save for the well being of the family. All they need is the right guidance and education. We are very pleased & excited to partner with Shwetha Bharathwaj of HerAlpha and truly believe in her mission" says Sundeep Sikka, ED and CEO, Reliance Nippon Life Asset Management Ltd.