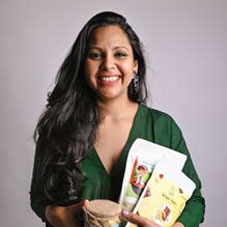 India has broken into the top 5 obese countries in the world. Obesity and nutritional illiteracy are two major issues standing in between the country's vision to stay healthy and focused. Given this glaring issue, Sonali founded Feed Smart, a health food brand that sells products that are highly nutritious, irresistibly tasty, loved by kids of all ages, super convenient, and 100 percent clean. The company's vision is to become an honest brand that enables families to become happy healthy eaters.
Sonali Saraogi Singh graduated from Warwick University and completed her masters in business management at Imperial College, London. After 10 -12 years of working in the food & beverages industry, she finally took the leap into entrepreneurship which led her to incept Feed Smart in 2021.
CEO Insights Magazine engaged in a one-on-one interaction with Sonali Saraogi Singh, let's hear from her.
Could you give a brief account of your professional background and experiences? What inspired you to establish Feed Smart and what drives you today?
After spending an enriching 10 years in the world of food and hospitality that included running operations for fine dining restaurants, planning and executing large catering projects globally, and setting up cloud kitchens, I established my niche around product development and operations.
When my daughter turned six months and was ready to consume solid foods, I experienced the challenge of sourcing 100 percent clean, high quality foods for children. While some brands did exist there was reason enough to believe that there was a lot of scope
for improvement. I also couldn't help but notice the rise of obesity amongst children and the fact that India has been earmarked to have 27 million obese children by 2030. This inspired me to start building a solution for children starting from the very beginning of their relationship with food. healthy upbringing with food for all human beings.
I truly believe that laying a strong nutritional foundation helps build the overall well-being of a human. Tackling obesity in India is a mammoth task and we hope we can make a positive social impact by addressing this issue.
I believe, following a disciplined daily routine with 100%consistency is the key to success
Could you tell us about the unique experiences Imperial College London offers and what did you learn from the campus beyond academics?
The best part about studying in a world renowned college is the people you meet. I met highly driven, creative, and intelligent students who uplifted my experience during my master's study. The course in itself was extremely dynamic and we were often broken up into groups to make our mini business plans. Studying in the heart of London is a phenomenal experience and that was also among my primary reasons to pick Imperial College. Just living and experiencing a city like London is a form of education in itself.
How would you define Feed Smart as an organization and its position in the market? What is the unique proposition that your organization offers to clients?
Feed Smart is a young, dynamic, value driven organization that truly believes in complete transparency. You get exactly what you read on our website, there are no hidden doors. At the core of it, we're working towards enabling families to become happy, healthy eaters. Our products are 100 percent clean, highly nutritious, and kid centric yet family friendly.
Tell us about your leadership approach. What are the guidelines or methodologies you follow to lead
your team?
As a leader, I listen, mold, and empower my team. Clear effective communication is the corner stone of any successful business top to down and between teams.

The team is as good as its leader, so as long as I do my part honestly and effectively my team does the same.

Could you reflect on some of the toughest challenges you have encountered in your journey so far? How did you overcome them and what did you learn from them?
Deciding to become an entrepreneur and setting your base to succeed as one is a massive challenge in itself. Getting your products, packaging, and website ready to launch is the first step. Acquiring sales is the second. Growing consistently and progressively month on month is extremely important and challenging. I learn, absorb and conquer every single day. One has to remain focused on the target, follow a routine and stick to it day in and day out!

What advice would you give to budding industry leaders?
It's not important to know 'How' - you just need to be clear on what you want to achieve. Routine and discipline set you free so establish one and take it one day at a time. Everyone you meet, hire, or associate with has gone through their struggles, we are all a sum total of our experiences. Be aware of that and set your expectations accordingly. Try not to be too hard on yourself, the race is long and, in the end, it's only with yourself.

Sonali Saraogi Singh, Founder, Feed Smart
Sonali's experience is spread across all formats of a F&B brand. From restaurants to international caterings to cloud kitchens she is passionate about operations and a product development expert. She is driven by a sincere love for food and believes in laying a strong nutritional foundation that will help to build the overall growth & well-being of a human.

Quick facts:
•Hobbies: Fitness
•Favorite Cuisine: Italian, home cooked Indian
•Favorite Book: Blitzscaling, Gone with the Wind
•Favorite Travel Destination:Italy