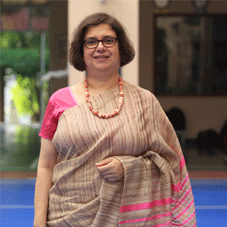 We must ensure that education is relevant to the changing times. We are preparing children for a life in the future, that may not even exist today. It is important that we teach our children skills rather than concepts. They need to be capable to learn, unlearn & relearn right through their life. These are the skills we must continue to focus on. We must prepare our Students for disruption. This has been beautifully illustrated during the pandemic.
Pathways World School Aravali was the first School to be launched under the Pathways Group in the year 2003. The institution focuses on developing skills needed for a productive society and promoting the individual's sense of worth, values, and high ethical standards. The campus is situated on 34 acres of land on an elevated, wooded site along the majestic foothills of the Aravali Hills. Recognizing the seamless administration of Sonya Ghandy Mehta at Pathways World School, CEO Insights engages an exclusive conversation with her. Kindly peruse the excerpts of the Director's insights.
Brief us on your educational and professional background.
After pursuing my graduation in Psychology and Education, I started my career as a teacher for special children. In fact, I always wanted to be a teacher. I believe that without ambition, one starts nothing. I did realize that my calling and ambition
lie around changing the world, transforming lives, and giving them a future beyond their desire, which should happen right at a very young age, and this is possible only in the profession of being a Teacher.
My first exposure as a teacher was addressing a class of young adults when I was 21 years old. It was rather strange to have my students who were either of my age or even older than me. It made me think about their future because they should not have been in a school at that point, but they were because there was no vocational training.
Sonya's desire as an educator is to prepare students for life in an environment that is safe supports risk-taking, and invites a sharing of ideas
After a year, I left for the US to pursue my Masters and gained a Post Graduate Degree in Education from the University of San Diego. I came back and started a vocational training center for young adults with disabilities. That was when I understood the whole concept of how education needs to be made relevant for the learners. And, that applies even for general education. Along with my vocational center, I was heading a special school for around four years.
Later, I joined as a Special Educator at Shri Ram School, Headed the Learning support department at Indus International School before moving into general education administration. My journey took me to heading The Assam Valley School. After 30 years of teaching and administrative experience spanned over Special Education, setting-up Vocational Training Courses and Mainstream Education in ISC, IB, and IGCSE Curricula, today I am leading Pathways World School as the School Director.
What basic lessons did your journey teach you for developing, implementing value-driven education?
The first thing I learned early in my professional life is making education relevant. I believe that education cannot be limited to the classroom and textbooks. In our ever-changing world, it is crucial for educators to constantly reinvent themselves. What was relevant 5 years ago might not be so today. It is not enough for us just to be teaching the syllabus to students, we must ensure that they understand to apply these in real life.
Another thing that I realized is, if you have high expectations for a student
- be it, somebody, with special needs or someone who is completely able bodied, they will always work harder to reach that expectation. I think it is very important for a teacher to see the child's potential and push the child to reach that potential. It could be in sports, the classroom or in any other sphere.

Enumerate on your Leadership Style
I have always believed in a collaborative style of leadership. I believe the saying, "Alone, we can do so little, together we can do so much." When a team is working together for the same goal, it will be achieved faster. I do not believe in micromanaging, because it's best to delegate a task and then give them the space to go ahead and do the job. I also have an open-door policy for students, staff members, or parents. I don't want any roadblocks in their way - the more approachable we are the more connected we are.

I encourage teachers also to constantly develop themselves. To encourage our students to be life-long Learners, we as educators, too, must walk the talk. If teachers are not going to keep abreast with the new things that are happening in education, they will not be able to be the best for their students. We do have regular professional development and programs for student & staff well-being.

The COVID-19 Pandemic has been a huge learning experience, especially for teachers because it pushed us to learn and think out of the box. I think that this was one of the huge silver linings for the education space; we all realized how to leverage technology in a way that makes education and learning much more interesting for the students.

It is important to introduce technology in education but it's also equally crucial to ensure that we have all our security systems in place. First and foremost, we should make them understand that they need to use technology very responsibly. This has been also a very big focus for us because students sometimes tend to not realize what they do in the digital space. We make them have a responsible digital footprint left behind.

Sonya Ghandy Mehta, CEO, Pathways World School
Clientele
The biggest reward is when students come back to school and talk about the positive impact that we have had in their lives. And, I get the utmost feeling of accomplishment when people come for admission, and they say that they've heard very good things about Pathways, wanting their child to be part of our student body. Those are the rewards and recognitions that make the most sense.