Pallavi Mishra: Nurturing Responsive And Motivated Students Through A Dynamic, Success Oriented Education Program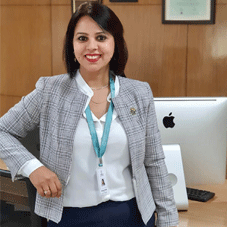 Today, the learning deliverability has been witnessing a significant change. One can say it's getting more immersive, and technological driven, to make the students future ready. Also, with respect to this, the offering of learning to the students would also mean to make them aware of every knowledge which helps him/her to be a better person tomorrow. Here is where Oakridge Inter-national School has been making a difference. As one of the top 10 international schools in India, it has perfectly articulated its learning infrastructure to provide a most influential learning environment for the students. All the stakeholders are perfectly aligned with its education system. It is a robust part of the world's leading premium schools organization, named Nord Anglia Education, and has garnered the best reputation in building a community of leaders, over a foundation of shared beliefs, values and ethos.
In conversation with Pallavi Mishra, Principal at Oakridge International School,
What makes Oakridge International one of the top 10 international schools in India? Elaborate on the academics program and curriculum of Oakridge International. What differentiate it from the other educational institutions in India today?
Oakridge International since inception has been dedicated to nurturing responsive and motivated students through a dynamic, success oriented education program which perfectly empowered the students with a global and local perspective. The school offers a wide ecosystem of learning with global exposure and also by collaboration. It is also one of the first IB schools in the country offering various International Curriculums. Also, to make students aware of the outside world, the school also invites Guest Lectures featuring imminent personalities from across industries.
We also ensure that the students get to indulge themselves in strategic developmental programs
in association with reputed International Universities like Oxford and Columbia. And to top it off, their global presence and associations not only guarantee the best university placements for its students, but also enable students to excel both academically and personally; thereby creating compassionate, future ready individuals.
It will emphasize the simultaneous development of spirit, mind, and body in accordance with India's rich history, and it will endeavor to send out complicit, responsible, and imaginative students who are committed to change and progression in India's and the global environment's progress
How have you been bridging the gap between all the stakeholders so as to offer a robust learning platform for students? As technology intervention has become somewhat imperate today? How have you leveraged the same for better deliverability of education?
As technology has become imperative in these times, we have always been abreast with the advancing market dynamics. Even during pandemic times, we ensured to deliver education to students by leveraging technology platforms and enabling continuity of learning. The world is getting rapidly interconnected, wherein, we want to provide the best of education to the students by consistently innovating ourselves with the changing times. Our robust education infrastructure gives us the edge in offering a rich Co-Curricular Enrichment Program (CCEP) that supports in bringing out the creativity and hidden skills in every student.
What inspired you to join Oakridge Inter-national and how has been your journey so far?
I always had the zest of teaching since my young years, and the same was the environment in the home as well. I have leveraged this decades of experience in the education domain both from teaching and administrative aspects. The fact that a better education can have the most effective impact on positively transforming a person, gravitated me into this segment so as to do the same for my students. So, I have
been consistently transforming myself and also the children and the colleagues at the school and work-place, while also the family that I'm responsible for. This same approach has been aiding me to keep the ethos and vision of Oakridge International intact and create compassionate, future-ready individuals who can positively influence the world as a whole.

In your professional journey so far, which are the milestones that bestowed you utmost satisfaction - both as an individual and as a principle?
I have always believed in establishing a culture of co-operation and collaboration between all stakeholders so as to reach the goal together. As the principle of the school how do you organize your day to meet the various demands and commitments required. When it comes to strategy that I have been implementing at Oakridge would be the consistent professional development for all our teachers, while creating a safe and supportive environment for all our learners, with focused emphasis on all round student achievement in academics, sports, music and art.

Please mention the awards and recognition you and Oakridge International have received in the journey till date.
To name a few, Oakridge International School was ranked No.1 in the 'India's Best Places to Work 2016' in the education sector by Economic Times. So, it's a home to the most amazingly dedicated and creative faculty which shows the competency of the school. Oakridge Gachibowli School was ranked as No.1 International School and No.1 School in Online Teaching in Hyderabad in the Times School Rankings 2020. Furthermore, Oakridge Visakhapatnam School was also ranked as No.1 International School and Best International School Curriculum in Visakhapatnam in the Times School Rankings 2020. Also, for the 5th consecutive year, the school is ranked as the Best International School in Mohali and Chandigarh.

Pallavi Mishra, Principal, Oakridge International School
Close to two decades of experience in entirely international curricula including IBDP, IBMYP and IBPYP. She has successfully spearheaded the authorization process for all the three IB programmes, establishing the first IB continuum school in Chennai, Tamil Nadu. Her hands-on experience with teaching and dealing with young minds has strengthened her philosophy that 'value based and academically sound education is possible only through partnership of school and home.'