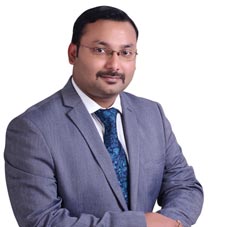 The onset of the digital era has not only trans-formed every major industry, but has also opened new avenues for the exponential rise of various industries. e-Learning is one of them. Heavily dependent on the availability of internet services, e-Learning enables anybody to access high quality education from a remote location. With the Indian government's push for a `Digital India', internet penetration has grown massively, connecting even the interior-most pockets of the country. As a consequence, the e-Learning industry has been on a rise. Working with an early mover advantage in the industry is SpireTec Solutions, a provider of learning services, IT consulting, and venue business to corporate customers worldwide.
Founded by Abhishek Kumar (Founder & CEO), a master trainer with over 13 years of experience in the learning and development industry, the company has championed personalized training to become one of the fastest growing names in the Indian L&D market. Working towards bringing about sustainable transformation through learning and skills development, SpireTec is known for its quality training services. In an indepth interview with the CEO Insights, Abhishek takes us through his entrepreneurial journey of building SpireTec and the various factors that make the firm a solution provider of choice for global clients.
Take us through your professional journey before founding SpireTec. What were some of the challenges that you faced in the initial leg of the entrepreneurial journey?
It has been a long and exciting journey so far. Before founding SpireTec in 2018, I had worked with five learning and development firms over a span of 13 years. For two of these organizations, I had been a part since the startup phase and had helped build the companies from scratch.
It was on one such day that I was looking back at my journey and connecting the dots. That's when I realized that there was some hidden potential in me, and thus I started developing a business model that would provide quality training as per the market needs and add value in
terms of increasing work performance. I then developed channel association partnerships with various vendors, quality trainers and companies around the globe. Within three-four years of starting-out, we partnered with many companies and grew our clientele immensely.
However, getting to this point was not a cakewalk and I had to face stiff competition from various players in the market. Over the years, industry requirements and clients have remained the same, but the number of players catering to the requirements has grown manifold. Additionally, we also face challenges pertaining to cost bench marking, building trust with the customers & trainers, fitting quality service within the grade upon the cost selling as per the client and creating a high performance team.
Client satisfaction is our key motto; wherever we receive training enquiry from a client, our first objective is to understand their requirement
What are the various trainings & solutions that you offer to your clients?
We are a provider of training and consultancy services to various organizations worldwide. Our team specializes in rendering online training, classroom training and on-site training to professionals pertaining to various technologies and tools. Through our online training modules, we cater to clients across the globe. Available 24x7, this service can be availed by users at their own convenience at any time of the day and any day of the week. Additionally, we render classroom trainings as well, which could either be one-on-one or a group session depending on the requirement of the clients. We provide full support in terms of technical training, management training or any other form of industrial training.
Owing to our partnership with a host of clients across countries such as Afghanistan, Qatar, Angola, Saudi Arabia, Mauritius and India, we can conduct sessions around the globe. Apart from training, we also provide consultancy for application development, infrastructure support and technology consultancy.
Tell us about your service delivery process. How does the SpireTec team ensure that its client's requirements are met?
Client satisfaction is our key motto; wherever we receive training enquiry from a client, our first objective is to
understand their requirement. The process begins with a questionnaire that we send to the client, aimed at gauging their requirement and knowledge level. Then, a call between the client and our trainers is conducted. Based on the client's need, we find the best suited trainer in our database who would match the client's knowledge level. After due consultation, we propose the correct course or training program that would fulfill their requirement and help them better their day to day activity.

SpireTec's objective is not just to sell our training courses, but our main focus is on quality delivery and client satisfaction. We believe that time & money are important assets for everyone, and I ensure that when a client invests either with my company, they are not disappointed.

What is in store for the company's future? Are you working on upgradations or innovations of any kind?
We are currently working on developing industry-specific training keeping in line with the varying internal procedures followed by different industries. Every other company provides project management training, but we are trying to build a solution through which we can provide training to their employees based on their everyday work requirements. Upon completing the training, they will have hands-on understanding of what the process is. They can then work towards improving the process. In terms of latest technologies, we are working towards incorporating AI, machine learning, data science, blockchain, IoT, Cloud computing and AWS in our capabilities.

Going forward, SpireTec team will focus on aligning itself with different industry standards, create a differentiation in terms of cost & quality, and establish a strong brand name. We are also looking towards raising funds in the years to come.

Abhishek Kumar, Founder & CEO
Armed with over 12 years of experience in the field of learning & development, Abhishek is a master trainer with capabilities across different technologies and tools. A corporate trainer with a proven track record and an astute entrepreneur, he is proficient at managing and leading teams for running successful training operations.

Offices: India (Delhi), Mauritius (Port Louis), Afghanistan, Angola, UAE, Qatar and Rwanda

Offerings: Live virtual training, on-site training, customized training, infrastructure support, application development, technology consultancy, web development, and ISO auditing & consultancy