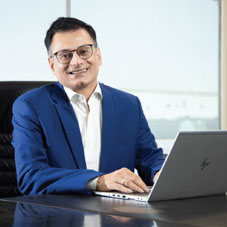 Behind every successful organization, lies effective leadership with sharp decision-making abilities and management skills. A true leader possesses the necessary skillset required to transform the organization's management for the better to help his/ her firm take a plunge into new heights of success. After years of experience working for some of the fortune 500 companies, in his quest for new challenges,Sumit Ghoshaljoined Universal Tube & Plastic Industries as its CEO. In the last two years, he has brought in major transformation and brand-building within the organization by transforming the organizational values and missions, setting up an effective management system that focuses on employee welfare and safety, and opting for effective brand building and innovation.
In an exclusive interview with CEO Insights, Sumit shares his overall professional experience, the methodologies he has adopted to revolutionize UTP Group's services to be at par with current industry standards, and much more:
Tell us about your professional back ground and experiences. What inspired you to take up the role of CEO at Universal Tube & Plastic Industries?
After my schooling in a Catholic school in India, I went on to do my engineering and master's in business administration with marketing and finance. I have also done an executive course in business planning and risk management from AIM, a Harvard Institute. I am a techno-commercial graduate and have always been excited about new challenges. Throughout my career, I have worked in some Fortune 500 companies, such as Nippon Steel, Arcelor Mittal, and Tata Steel. I spent most of my career at Tata Steel, where I have worked across many verticals and products in many countries. My last assignment at Tata Steel saw me heading the Middle East and North Africa business of the company. Throughout my career, I've been involved in various restructuring across verticals, product lines, and branding.
After working for decades in some of the top companies, I decided to take it up as a challenge and work
on some thrilling new profiles, where I would start the business and the ideas that I always wanted to implement while taking the new company to next level. The owners of the UTP group are based in the Middle East, US & UK, also had similar visions and plans. We connected and I decided to join this organization because of the challenges of the job and the thrilling transformation process that I'm going through while taking my employees and company along.You also get to do a lot of things in a small firm, which you may not be able to do in larger companies in terms of ideas and processes and taking the business to the next level. So that's one of the reasons I have joined the UTP group and have been there for the last two years.
Strive to create a business that creates value for stakeholders, and leaves a legacy of giving back to the environment, community, and the next generation
Define Universal Tube & Plastic Industries as an organization and its products/service portfolio that keeps it afloat in the industry.
UTP group is an industrial products manufacturing company with a business legacy of around 30 years and has several business units. All of those business units together are called TheUTP Group. My primary focus has been to synergize the teams and resources at UTP in offering the market a greater range of solutions, newer opportunities, newer revenue streams, and differentiated products for the customers. According to me, Universal Tube is a great company, but it's still in a crowd. I want to take it forward and have a vision and aspiration in terms of product quality, product innovation, automation, and customer satisfaction. I also want to create a sustainable business both in the domestic and export markets to set up a bright future for the firm.
How are you planning to adopt new tools/technologies to revolutionize the company's services to be at par with current industry standards?
We did an introspection to understand our current status, and based on the study, we designed the mission, vision, and values for UTP. Our entire team at UTP group has imbibed those values in them to transform the company, the lives of their people, and the communities surrounding them. We want to create a strong internal management system, purely based on data. We also want to develop and build high-potential employees.
We want to develop a KPI-based
organization while focusing on employee welfare, health, and safety. We want to look at human-to-human relationships for all our customers. Strategic Partnerships will be playing a vital role in an organization's success. Recently, we launched our most important brand called Nexum in central London to cater to the UK and Europe markets. Starting from branding to business practices, we are trying to change and take the company forward.

Based on your strong professional experience, what advice would you give to the upcoming leaders in the same industry?
The advice I would like to give to budding entrepreneurs is to keep it simple. Focus on your core competency. Irrespective of the sector you are in, always look after the four core aspects of business, which are innovation, customer relationships, cost, and economic value addition. Strive to create a business that creates value for stakeholders, and leaves a legacy of giving back to the environment, community, and the next generation.

Instead of trying to do too many things, focus on things that are important for your business. Keep it simple, and just don't lose sight of giving back and creating value for the shareholders. Always try to make your business EBA positive. Whether there is a recession or your business is thriving, you need to remember that interest in any business would only be there till the time the business performs to the next level and it should be as good and thriving as it is today even after 10-20 years.

Sumit Ghoshal, CEO, Universal Tube & Plastic Industries
Sumit Ghosal is a multiple award-winning seasoned professional with years of experience working for some of the Fortune 500 companies across the world and is presently working as the CEO of Universal Tube & Plastic Industries. A focused individual with effective leadership skills, he is also serving as the Director of the Steel Producer's Committee, UAE.

•Favorite Cuisine:Chinese, Indian Fusion
•Favourite Travel Destination: Auckland, New Zealand
•book:The Tipping Point by Malcolm Gladwell,Start with Why by Simon Sinek, Theory of Constraints by Eliyahu M. Goldratt'
•Hobbies:Cooking, Painting, Music

•Awards & Recognitions:
•Asian CSR Leadership Award for Community Development
•Capexil Award by Ministry of Commerce and Industries, Govt. of India
•CEO for Life Award by Govt. of Italy and Govt.of UAE
•Director of Steel Producer's Committee –Tube & Pipe Committee, UAE