Ullattil Achu: The Major Force Behind Starting And Establishing Dyarco International Group As A Prominent Brand In Qatar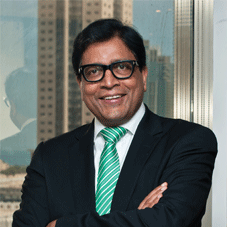 Amongst few Indian corporate leaders who are acknowledged for their finest skillset and professional proficiency across the globe, Ullattil Achu is a distinguished name. Owing to his specialized skill set and business expertise across the verticals of business start-ups, acquisitions, and restructuring of sick companies, Ullattil Achu has been leveraging his position as the Group CEO of Dyarco International Group to yield impeccable solutions. Passionate about leading, guiding and helping his team members to be more creative by exploring their true potential, he is keen to make them feel better while working in an enjoyable business environment. Equipped with numerous awards and accreditations, the humble nature of Ullattil Achu recognizes being referred to as 'a person good to deal with' to be his most noteworthy honors.
Engaging in a distinctive discussion with CEO Insights, Ullattil Achu shares the various nuances of starting and establishing Dyarco International Group as a prominent brand in Qatar.
What different roles have you been undertaking at Dyarco? How has your journey been with this organization so far?
I was instrumental in establishing Dyarco International Group in Qatar. Dyarco group has a futuristic vision and believes in extending world-class services and hence, our group is able to serve clients from all parts of the globe. The foresight and faster adaptability of our group keep us separate and unique in the ever-changing global market. When the Covid pandemic hit the world and many organizations were adversely affected, our team found out innovative ideas for survival and development, which reminds me of a saying, 'when the going gets tough, the tough get going'. We are also happy and fortunate with the proactive measures taken by His Highness the Amir, which helped Qatar to be one of those countries that had little to complain about.
With over 22 years of experience working in renowned banks, how do you align your organization with your vision and mission to generate value for the company?
I believe that the most important ingredient for any business to survive and grow in the market in the long term is its ability to serve the partners with high transparency and trust, which ultimately add value to human life. At Dyarco, we always search for opportunities to set higher goals and contribute more towards the benefits and satisfaction of our business partners and other stakeholders, which are in alignment with our vision and mission. The experience I had during the execution of a World Bank-funded project in the Caribbean, also taught me to be more realistic than an idealist while handling unpreceded challenges.

What are the strategies /methods that you created and executed at Dyarco that helped it reach to the ladder of success?
The blockade gave us an opportunity to develop internal resources. We realized that in order to be committed to the national goals, such as the 2030 National Vision of Qatar, a company has to establish solid production units aligned with the principles of the vision. Now that the blockade has been lifted, we have more supplying options, if necessary, though the strategy remains the same. We need to produce in Qatar, and that is our growth strategy towards 2030. For example, we started the preliminary work of a new paint factory. There has been a great deal of industry coming into the country, and that will not change. For example, now in many large supermarkets, the Made in Qatar section is huge. Now, with the lifting of the blockade, 'Made in Qatar' products will be sold in stores in Dubai and Saudi Arabia, our growth strategy is definitely based on these developments. Depending on the competition in terms of pricing and product quality, we will have to adjust the sectors of interest and our strategy.

We do not travel much nowadays, though we communicate faster than ever from our screens. Now, shipping costs have dramatically risen. So, technology allows us to control costs and compensate for losses. There will be a stabilization of shipping rates, and margins will be interesting, thanks to the new trend of communicating digitally. Physical interactions will only be for the most important issues.

How do you motivate and keep inspiring the team to get productive results in the business? What's your success mantra?
Our group's utmost strength is our capable employees. There are timely appraisals and periodical sessions to support and inspire the employees. We set goals and hold periodical meetings to review the gap between the goals and the actual performances/achievements in order to take corrective measures from time-to-time. The feeling of
achievement inspires the team to put in better efforts and achieve more in the future, which creates a positive vicious circle. We create team players, who help among themselves to achieve organizational goals and thus their own individual goals. My success mantra could be 'we build people, who build our businesses.

How are you aligning with rules & regulations and certifications to meet the requirements of the government?
We have dedicated departments to ensure that our actions are in alignment with rules and regulations. The management team holds monthly meetings to discuss various challenges and the team of managers together approach major challenges and resolve them. We have a proper Quality Management System in place along with the Business Excellence practices, which ensure a higher degree of standards and meet more than adequate certification requirements of the government.

In your professional journey so far, which are the milestones that bestowed you with utmost satisfaction - both as an individual and as a Group CEO?
I try to enjoy whatever I do. My course of business challenges is norm and winning over it to achieve targeted results, always gives me utmost satisfaction. The achievement of consistent growth and a happy team around give me a lot of satisfaction as an individual and as a team leader. Making Dyarco a strong group of over 30 companies with diversified activities would be regarded as my major achievement.

Ullattil Achu, Group CEO, Dyarco International Group
A non-resident Indian for over 42 years, Ullattil Achu has 22 years of working experience in prominent International Banks. He has held senior executive management positions and business leadership roles, apart from being involved in a World Bank-funded project during the initial 22 years of his professional career. As the Group CEO of Dyarco International Group, Qatar, he has been managing Dyarco for over 20 years and is also the Executive Director of many other international companies operated in Qatar. He is also the Chairman of his family business, Leena Group of Companies which is predominantly into hospitality and allied operations and was originally established over 90 years ago in Kottakkal, Kerala, India.


HOBBY: Reading and a little bit of writing.
FAVOURITE CUISINE: Vietnamese food.
FAVOURITE BOOK: Enlightenment Now by Steven Pinker