Rajan Jagdish: A Leader Recognized And Affiliated For His Outstanding Technical Expertise In Security System Services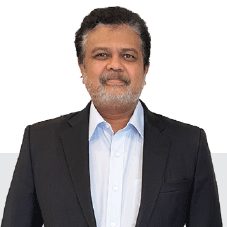 We look to various areas of success to direct our way forward while searching for motivation to put our entrepreneurial journeys on track. We draw inspiration from top global leaders, but it is easy to overlook the fact that some Indian-origin leaders have founded renowned and prosperous businesses abroad. Rajan Jagdish, co-founder and Managing Director of Garnet Technologies is one such flourishing Indian-Origin Leader in Qatar. In an exclusive interview with CEO Insights, Rajan Jagdish enlightened us about his professional journey in Qatar and the factors that contributed to his successful leadership journey.
Highlight about your educational and professional background. Also, tell us about your unique skill sets and strengths that differentiate you from your peers in the industry.
I have a certification in Electronics and Communication, Software development and degree in Business Administration; combination of Technical Expertise, Industry specific knowledge and People Management Skill sets are probably my greatest strengths. I started my career as a source code writer in 1991 and moved to Qatar in 1996 joining the prestigious JBK Group in an administrative position, a non-IT role responsible for managing the day-to-day operations for the then-Business Head and present Group CEO, a contrast shift considering my software background at that point of time.
Being my first overseas job, I took whatever came my way while waiting for the right opportunity; soon after, a project related to an IT and electronic system came up, and with the support of my current CEO, was able to get myself involved. At first, I was skeptical how I would manage the technicalities of the project, but then I moved ahead and must say that was the starting point for a significant shift and progress in my career. It has been a long 25-year ride, with Garnet Technologies, a spin-off established in 2005.
A great leader often possesses a blend of leadership qualities such as creativity, inspiration, vision, and empathy. Your views on this
The sustainability and growth of any business is to foresee the future and expand; it takes the collective experience and expertise gained over a period to be able to identify the market potential and needs; adjusting the business offerings accordingly is of paramount importance; customer always have different set of requirements and expectations.
I believe that over time have learned to focus and provide individual attention; we do not try to generalize or have a business model that works for all customers. Instead, we developed our own set of regulations / guidelines depending on the type of customer we are dealing with; analyzing the customer mindset and quickly adapting to it is one of the key features of achieving customer satisfaction and business growth.
With a vast career spanning 30 years, achievements devising innovative, cost-effective solutions that expand technical capabilities, contribute to revenue growth and overall profitability. What's your success mantra that has led you so far? With your experience how do you align your organization with your vision and mission and bring value to the company?
Quality of delivery and Customer satisfaction are two main factors I emphasize as a leader and
recommend to the rest of my team members to practice as well; this has been my motto over the years. As subject matter experts, we must go the extra mile to find the best solutions that exceeds customer expectations; there is a delicate balance between achieving technical excellence and staying within the client's commercial budgets; this is where the knowledge and expertise gained comes into play.
By bringing value to our customers, we gain their loyalty and thus business continuity; this has always been a core concept that I have adhered to over the years. Whatever the customer needs are within our business context, I believe we should put ourselves into it and try to ensure that they get the desired results. My vision is to be able to adapt to the changes in Technology and meet customer expectations; with the boom in social media platforms and availability of online data and information, the knowledge of the customer has also dramatically increased, as an organization and team leader being able to recognize this and adapt accordingly is the key factor between success and failure.
Quality of delivery and Customer satisfaction are two main factors I emphasize as a leader
Your rich experience and leadership have enabled you to successfully lead the team of professionals to run the day-to-day management, how do you motivate and keep inspiring the team to get the productive results in the business.
My team members are very important to me and are pivotal in the success of the organization; the collective contribution and efforts of my team member have been instrumental to my personal career growth as well as where I stand today within the organisation; as a team leader I have ensured that every member of the team understand the importance of their role and the contribution to the company's success.
Individual attention to each employee ensures they are mindful of their roles, are completing their duties, and producing results that will contribute to the company's success; above all, words of appreciation and encouragement when they perform goes a long way in keeping the employees motivated and performing better. As a team leader, I try to identify individual's strengths and weaknesses, and focus my attention on their strengths while educating them to overcome their weaknesses; this ensures they improve their skills, while boosting their morale; am a firm believer that it is the combined efforts of the employees that determine the success of any organization, and goes without saying that must be ably lead too.
In your professional journey so far, which are the milestones that bestowed you with utmost satisfaction - both as an individual and as the MD?
There have been several moments, but nothing larger than being able to transform an entity from what it was to what it is today. During my significant journey with the Group, I have been a part of the team that oversaw the growth from a humble 10 personnel single entity to 1000+ employee multi-national specializing from System Integration to IT and Software Services, Technology Consulting, and manufacturing.
How are you aligning with rules & regulations and certifications to meet the requirements of the government?
We are obligated to strictly comply to the specific rules and regulations of the respective Country because we are required to do business in a variety of industries. The first step is to identify the category of the market we fall into and then we look at the laws and regulations that pertains to the specific industry. A team is formed whose sole
responsibility is to keep businesses and employees informed and updated of the rules and regulations need to be adhered, so we make certain that any certification that is needed, the employees are either educated or qualified to receive that certification.

Please mention about the awards and recognition you have received in your journey till date
Being recognized and looked up to as a leader by your co-workers and employees are by far the greatest recognition in my career; there have been numerous awards from different business associates for excellence in marketing, however the standout to me personally would be the recognition and award by Secured Cities and Security Technology Executive (STE) magazine, USA for being the number one Security System Integrator for a specific project in Qatar.

As per Secured Cities and STE "The Security Innovation Awards are open to all vendors, integrators, consultants and end-users. This coveted honor recognizes the most impressive collaborative project highlighting the lead vendors, integrator (or consultant/engineer) and the end-user client." Receiving this Award is truly an honor and recognition for the capabilities and expertise of the Company and its leadership.

Your Closing remarks / comments for aspiring leaders and young personnel
A dream and a goal, hard work, perseverance and most importantly patience is what you need to take yourself to the next level; there is no elevator to success, everyone must walk the staircase to the top; those who exercise grit and endurance, reach their goals while others take the easier option of the exit door.

When you do reach the pinnacle of success, there is nothing wrong in celebrating your achievement and living your proud moments, but equally important is having your feet firmly rooted to the ground. Remember what eventually defines you as a person are your human values and characteristic traits and not the title on your business card.

Hobby: Music and gardening is what I do in time for myself

Books: I read a mix of fiction, self-improvement and Industry related technology and management books; have a collection of 200+ books across these subjects; Ken Follet's "The Third Twin", Irving Wallace "Second Lady", Sydney Sheldon's "Rage of Angels" are some of my all-time favorite fictions while I take inspiration from books on Warrant Buffet and the achievements of my nations greatest achiever and former President Shri Dr. A.P.J. Abdul Kalam

Travel destination: I have been away from India for a while now so have not travelled much within India; Slovenia and Italy would probably be my favorite travel destination

Cuisine: typical south Indian vegetarian meal.

Rajan Jagdish, MD, Garnet Technologies
Jagdish is a Company Unit Head, an experienced corporate leader, subject matter expert and a business growth strategist; he specializes in process management and customer interaction. Experience gained from a career spanning 30-year period of which 25 years have been in the design, engineering, and implementation of industrial grade integrated electronic security management systems, related IT software and hardware infrastructure for the oil and gas industry, city-wide security monitoring and incident responsive central control rooms, data center, active and passive data networks Secured Cities and Security Technology Executive (STE) magazine, USA honored Rajan Jagdish for Security Innovation for the most impressive collaborative Integrated Security System project in the World in 2014.
LOCATION: Doha, Qatar