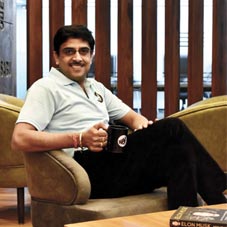 Despite the immense benefits that co-working spaces bring to the fore, the industry in India is still at its nascent stage, courtesy the lack of awareness of the benefits ­ both for consumers and potential JV partners. Especially in cities like Kolkata, the absence of a vibrant and booming startup ecosystem is a further challenge. However, the sector is witnessing a gradual acceptance due to its concept of stay and grow, which enables not only the startups, but also the MNCs who can divert their focus, time and cost from the non-core activities of their business to the productive zone. Enabling the businesses in the city of Kolkata to reap the benefit of world-class co-working space is Worknests.
Co-founded by Rajesh Goyal (MD & CEO), Worknests in all true sense transpires to your personal nest through its customized services. Rajesh uses his decades of experience working with global clients across the world to create this experience that not just enables, but empowers and excites his clients to do more.
Before starting Worknests, Rajesh had spent more than two decades working in the IT industry in various leadership roles for global companies. He had the opportunity to travel to and work across the globe, and had experienced first-hand the workplaces, offices and environments in those countries and client offices. He has always wanted to bring that culture to the Indian companies, where they can be proud of their work environment, and that is what he has created through Worknests.
The Vision Behind
Worknests' vision is `to build a vibrant environment for businesses and professionals to work, connect, collaborate and feel inspired by each other; a work environment that one feels proud of'. Accordingly, the firm has designed Worknests in tune with this vision. The intent is to let everyone working in their designed workspace to feel excited about coming to work every morning and feel so proud of the workplace that they want to show it off to friends and families as `a cool, vibrant and wonderful place to work from'. "We have built Worknests into a best-in-class co-working and serviced office environment and have infused best practices from across the globe ­ from places like San Francisco, New York, Amsterdam, Singapore and others ­ and combined them with the local sensitivities of India", assures Rajesh.
Worknests' workspace and cabins have been ergonomically designed to make one feel comfortable and at home, even while working. Open 24x7, the facilities & amenities include a spacious Lounge, a grand Reception area, a cozy Reading Corner and a tastefully done Café
that serves beverages, freshly-prepared hot snacks and light food.
Quality Driven Customized Offerings at the Centre
Worknests offers a wide variety of options designed according to the needs of freelancers, startups, professionals, SMEs as well as big businesses. Worknests' exclusivity lies in the firm's `Customer-centricity' (its laser-like focus on the customer and its needs), `Work Environment' (not just the best-in-class physical infrastructure but vibrancy in the overall environment at the workplace), 'Ability to Customize' (for short-term as well as longer term needs), `Elasticity' (planned as well as unplanned), and `Flexibility' (customized contracts for each customer based on their priorities, plans and constraints).
We believe in offering complete solution that addresses not just our customer's immediate needs, but also future requirements in a well-connected and vibrant workspace environment
Worknests keeps in mind the various unique requirements of the growing customers. Businesses which are on their trajectory of growth may have dynamic work-space plans that evolve based on various factors, therefore, Worknests works closely with customers to ensure timely availability of desired workspace through its `Planned' and `Unplanned' Elasticity model. Making a note of clients' short term and medium term plans, Worknests customizes the solution for the client, there-by bringing in a sense of flexibility and assurance for customers to grow without hesitance. "We believe in offering complete solution that addresses not just our customer's immediate needs, but also future requirements. Hence, we sit with the customers to under-stand their business, Mission and Vision and plans along with the pain areas in the current setup. We also ensure that they have assured availability of workspaces to cater to their growth", adds Rajesh. Besides, Worknests' support services further extend to HR, Accounting, Chartered Accountants, Legal, Branding and others, through an ecosystem of curated partners.
Worknests' approach towards clients with a personal touch has been really instrumental in building the company's reputation for being a well versed & result oriented co-working service provider. Rajesh informs that he and his team personally conduct meetings with client's executive teams to understand their goal and design a solution in shortest time. The objective is to speed up the decision-making process for the clients. Further, Worknests has empowered its own team to take quick decisions and actions. The firm's onsite Community Manager, IT support team, and Café Manager attend to any customer needs with sub-second response times. As an edge to its service, Worknests has a very vibrant and connected "Worknests Community" that holds regular events to bring together
everyone working from Worknests facilities. The company also has a `Worknests CEO Club' to facilitate interactions between the CXOs of companies that work out of Worknests.
State of the art Workplaces
Worknests' facilities are equipped with super-fast Wi-Fi enabled with best-in-class network equipment like firewall and access control. Individual and company-wise access is enabled to prevent any breach of privacy. Access to workplace is controlled through latest Access Control hardware and software for access through card, finger-print and passcode. A tab-based, paperless visitor management system is installed to manage and track all visitors. Visits can also be pre-scheduled online by the host to allow faster access to the visitors.
Nevertheless, technology is not all that connects Worknests with its clients. Rather, it is the firm's endeavour to be their clients' business partner more than just a provider of chairs and tables; hence, Rajesh connects with them personally and interacts to understand their views, feedback, concerns and issues, if any.
Further, Worknests is working on a few things, one of which is to enable customers to self-design their workplace with the click of a mouse.
Future Endeavours
Currently, we are focused on expanding in Kolkata. But by this year end, we plan to expand to other cities starting from the Eastern region. By 2025, we plan to have at least 50,000 seats across the country.
Rajesh Goyal, MD & CEO
Holding over two decades of experience working in various global leadership roles for companies like cognizant, atos and britannia industries, rajesh is scripting a fresh story of co-working in the `city of joy', the beautiful city of kolkata.
Quick Facts
Established:
2019
offices:
Kolkata
Offerings:
Co-Working Workspace Based On Hourly, Virtual, Hot Seat, Fixed Seat, Private Office, "Build To Suit", Conference Room, Training And Workshop Area.
Exceptional Packages And Options:
1. Hourly options for workspaces, meeting rooms, conference rooms, workshop areas and training facilities.
2. Virtual office that gets one an address and reception services to handle mails, guests, etc. Along with flexible workspace for upto 2 days a week
3. Workspace options ranging from a single seat to a few hundred seats
4. Open, shared workspace to private, lockable offices (even for a single seater)
5. Flagship, standard, pre-built formats to fully customized ("build-to-suit") option.