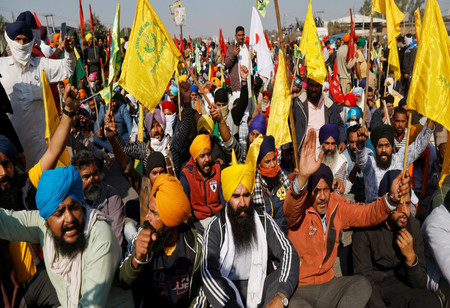 The Supreme Court had pulled the Centre for its handling of the farmers protest against the new farm laws. It said that 'it is extremely disappointed' with the way negotiations between them were going. The apex court further said on Monday that it will constitute a committee headed by a former Chief Justice of India to resolve the matter.
The farmers welcomed the Supreme Court's verdict to stay the implementation of three farm laws but said that they would not call off their protest until the legislations are repealed.
The umbrella body of around 40 protesting farmer unions, Sankyukt Kisan Morcha has called a meeting later in the day to decide the next course of action.
The farmer leaders said they are not willing to participate in any proceedings before a committee appointed by the Supreme Court, but a formal decision on this will be taken by the Morcha.
"We welcome the court's order to stay the implementation of the farm laws, but we want a complete repeal of these laws," Abhimanyu Kohar, a senior leader of the Morcha told PTI.
Harinder Lokhwal, another farmer leader, said that the protest will continue until the three controversial farm laws are repealed.
"The agitation will continue. We are against the idea of a committee, but there is a difference between a committee formed by the government and a committee formed by the Supreme Court," said Bharatiya Kisan Union (Punjab) senior vice president Manjeet Singh.
The committee formed by the Supreme Court will look into the farmers' grievances against the three laws.
The four members of the committee set up by the apex court are BKU president Bhupinder Singh Mann, Shetkeri Sangathana, Maharashtra president Anil Ghanwat, Pramod Kumar Joshi, director for South Asia, International Food Policy Research Institute, and...