Indian Financial Analytics Industry to Reap $1.2 Billion in Revenue Annually, Predicts a Recent Study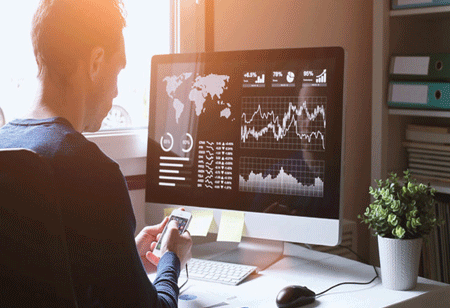 CEOinsights Team
With Bigdata and Analytics offering profound insights into customer behaviour & necessities and facilitating companies take efficient business decisions, in recent times, many banks & financial institutions are setting-up their own in-house analytics units and Center of Excellence, fuelling the Indian Financial Analytics vertical on a vertical growth curve. In light of this, Analytics India Magazine and Jigsaw Academy jointly conducted a study to ascertain this fertile market segment in India. As per the study, the financial analytics industry in India is pegged to reap an estimated revenue of $1.2 billion annually.
Titled 'Analytics & Data Science In Indian Financial Sector - A Deep Dive 2019' the study was conducted over a six months period, and gives a 360 degree overview of the Indian financial analytics sector and the leading financial companies who are on a high growth trajectory due to their robust analytics practices and adept financial analytics talent.
"Financial institutions in India have created tremendous opportunity by capitalizing on AI and machine learning. Another key observation is that financial organisations are continuously investing in improving the core capabilities of finance teams through skill development programmes delivered through stakeholders," says Bhasker Gupta, Founder & CEO, Analytics India Magazine.

The study also brought to light that 7,000 freshers were added to the financial analytics workforce in India in 2018, and the currently, 60,000 analytics practitioners are working in the financial ecosystem. Additionally, the report also throws light on the latest hiring patterns in India, the averagesalaries of financial analytics professionals across various roles & experience levels, leading financial hubs in India, and top financial firms hiring analytics talent in India.

Other findings of the study indicate that currently, 60,000 data science & financial analytics professionals work in the finance sector in India, and there are approximately 36,000 openings related to financial analytics in various organizations across India. Also, Mumbai continues to lead the chart in terms of number of analytics professionals in the finance vertical with 33 percent, followed by Bangalore with 24 percent analytics professionals in the finance sector.

"If enterprises fail to give their teams the right tools and training to enable and make data-driven decisions, they will miss out on the huge growth potential presented by emerging technologies such as artificial intelligence and machine learning. With these technologies, practitioners can drive new revenue streams and achieve key business objectives -making them much sought after in the organization," says Gaurav Vohra, Co-Founder & CEO, Jigsaw Academy.