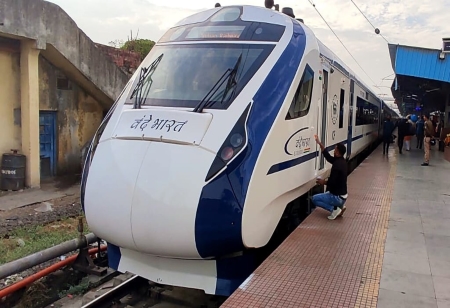 For the delivery and installation of numerous crucial parts for the Vande Bharat Express, Indian Railways awarded Mobility Solutions Ltd. a contract of Rs 100 crore. According to a statement from MSL, the business is currently delivering and completing the order.
MSL, a company that manufactures a wide range of FRP (fibre-reinforced plastic), GRP (glass-reinforced plastic), sheet metal, and various railway interior solutions, is a member of the diverse JCBL Group.
According to the deal, MSL would provide eight nose cone pieces, 16 rakes of interior panelling with restrooms, and 16 coaches each rake.
The creation, provision, and installation of FRP interior panels for the roof, sides, walls, and partitions, toilet with doors, accessories, roller shades, and other essential equipment are all included in the project's scope, according to the statement.
The firm also stated that its production operations are operating at full capacity, with the deliveries scheduled to be finished at the Integral Coach Factory (ICF) in Chennai by the end of the current fiscal year.
"As more and more Vande Bharat trains start running, there is an urgent need to deliver high-quality components for assembling them," said Rishi Aggarwal, Managing Director of JCBL Group.
Indian Railways' most recent supply agreement is intended to increase the Vande Bharat Express' overall effectiveness, dependability, and safety, according to the statement.
The business produces ready-to-use sub-assemblies of seats, windows, bus-related parts, and more.
MSL stated that it also intended to offer original equipment manufacturers (OEMs) and government agencies customised solutions as substitutes for conventional materials.